Owners Review - Wellness Dog Food
08.11.2021.
Every product and service on World Dog Finder is independently selected by our editors, contributors, and experts. If you purchase something through our links, we may earn a referral fee. Learn more
---
Wellness might be one of our favorite dog food brands. However, deciding what brand to pick for your new dog or whether to switch your dog to new dog food can be tricky and challenging. For new dog owners, it is one of the first major decisions they will have to make. Picking the right dog food will make a world of difference to dogs' health and overall wellbeing. Plus, dog owners should pick the food that will support their dog's lifestyle.
That is exactly why we decided to talk to the vets, trainers, and nutritionists on our team and prepare this helpful Wellness dog food review. We will take a closer look at the manufacturer, ingredients they use in their recipes, recall history, and overall quality. Plus, we will pick three of our favorite Wellness products that might be a suitable choice for your dog. We hope this Wellness dog food review will help you make an informed decision about picking the right brand worthy of your dog.
Wellness dog food manufacturer
At Wellness, the company claims they are focused on the dog's health. They claim their mission is to "provide you with wholesome, natural pet food that is the best it can be." A great thing about Wellness is that it has its own manufacturing facility right here in the US. They are located in Indiana, and they work with local farmers and suppliers to get the best possible ingredients in their food.
Ingredients are exactly what sets good manufacturers apart from the bad ones. You can have a famous brand, but if the ingredients you use in your dog food recipes are bad, the food will simply have below-average quality. So, let's take a closer look at the most important things to look for in Wellness dog food recipes.
Protein
Dogs might be omnivores, but the main nutrient should be animal protein. More precisely, high-quality animal protein. Wellness uses high-quality protein sources like turkey and chicken. They also use meat meals, which is not necessarily a bad thing since meat meals contain more protein than fresh meat.

Carbohydrates
Carbohydrates earned a somewhat bad reputation, but they are necessarily bad for dogs. Carbs are a great energy source, and they will support your dog's favorite activities. Some of the carb sources Wellness dog food uses are potatoes, peas, brown rice, and wheat. Of course, these aren't the only source of carbs, but it shows Wellness is focused on high-quality sources.
Vitamins, Minerals, Oils, and Antioxidants
A complete canine diet should include essential vitamins, minerals, fatty oils, and antioxidants. Wellness dog food has ingredients that are packed with these things. They often include things like blueberries, green tea extract, rosemary extract, flaxseed oil, and many more fantastic sources of essential nutrients. These small but vital parts of a balanced dog food recipe play a crucial role in many body functions.
Wellness recall history
One of the things we always look at closer when researching a dog food manufacturer is its recall history. We know that producing dog food on a large scale is challenging and accidents and contaminations can happen. However, the way a company reacts, their response, contact with customers, and honesty will determine what we think about them in the future. Here's the most recent Wellness dog food recall history;
Wellness Dog Food Recall 3/18/2017
Wellness Dog Food Recall 10/30/2012
Wellness Dog Food Recall 5/5/2012
The recall they had in October 2012 was due to moisture, which is an issue of the production process. The 2017 recall was due to beef thyroid hormone. Only the May 2012 recall was due to possible Salmonella contamination in the whole Diamond Pet Foods factory. All recalls were voluntary, and the company had a terrific response every time. Plus, only three recalls in 10 years is a pretty good score sheet.
Which Wellness product should you choose?
Wellness is one of our favorite dog food manufacturers, and we honestly think their dog food is above average. We tried it on our dogs, and their coats were healthy and shiny, their muscles were well developed, they never had a bad reaction to the food, and they seemed to like the taste.
After we took a closer look at all of Wellness's 14 "Complete Health" recipes and 12 "Core" recipes and discussed it with our team, we decided to specially mention these 3 dry dog foods;
Best Wellness dog food for puppies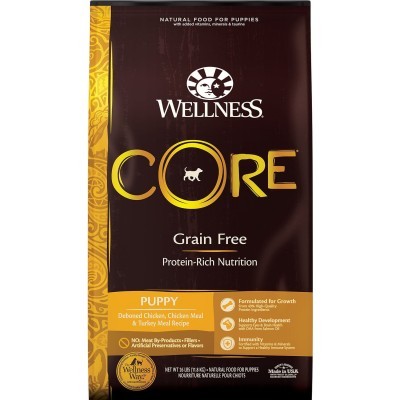 If you're looking for high-quality puppy food, you should look no further than Wellness CORE Grain-Free Puppy Recipe. This is a grain-free recipe, which is not necessarily the best thing ever. Luckily, they have a grain-inclusive recipe as well. Their puppy dog food is one of the best puppy foods overall. It includes things like chicken, salmon oil, fruits, and veggies to ensure your puppy has a healthy development. A fantastic pick you will not regret.
Best Wellness dog food for adult dogs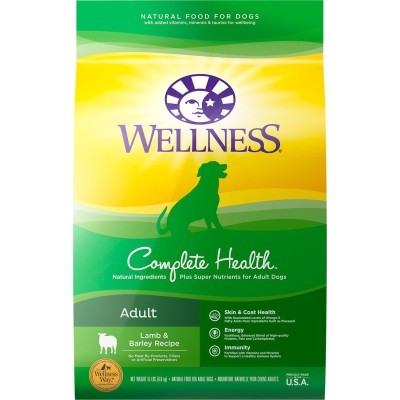 If you have an adult dog and want to provide them with a complete and balanced diet, the Wellness Complete Health Natural Dry Dog Food is the right choice. This recipe uses lamb as its primary protein source, which is something all adult dogs will love. As soon as you open the bag, the smell indicates this is not just some ordinary dog food. This food contains grain, antioxidants, glucosamine, and everything your dog needs to support their current lifestyle. However, supplements like glucosamine will prevent your dog from having joint issues later in life.
Best Wellness dog food for senior dogs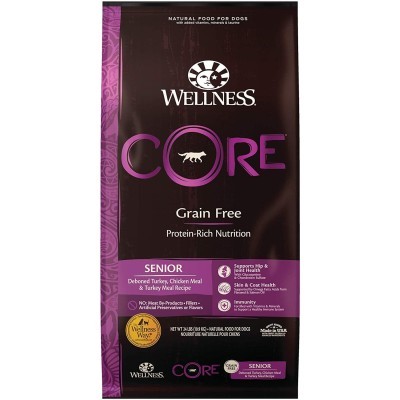 Senior dogs need different nutrition than adult dogs. At Wellness, nutritionists are aware of that, which is why they created Wellness CORE Grain-Free Senior Deboned Turkey Recipe. This dog food is packed with probiotics to keep your dog's digestion running smoothly. It also contains glucosamine, chondroitin to keep the dog's joints and hips moving effortlessly, and omega fatty acids for coat and cognitive health. Plus, senior dogs are prone to cancer, so the antioxidants in this recipe are a huge benefit.
World Dog Finder team