The 5 Best Playpens for Dogs
09.11.2021.
Every product and service on World Dog Finder is independently selected by our editors, contributors, and experts. If you purchase something through our links, we may earn a referral fee. Learn more
---
Keeping your dog safe has to be close to the top of your priority list. If you have to leave your puppy at home, one of the best things you could do is make sure the puppy (or a dog) has a safe space to play in. Dogs can get in all sorts of trouble, and it is best for both of you if they have a designated playing area. The easiest way to do that is by getting your dog or puppy a playpen.
What to look for in playpens for dogs?
Not all playpens are the same. Some are simply better. Whenever you're getting some equipment for your dog, it would be best not to get the first one you come across. Look for a few crucial things that will make it safer for you and your dog. Here are the most important things you should look for in playpens for dogs;
Material
Dog playpens come in all sorts of materials. You can get a metal playpen or a nice wooden one. They can also function as room separators, so functionality should be important too. We prefer metal playpens since it's highly unlikely your dog could destroy them.
Size
The second most important thing is the size. You should make sure your dog has plenty of space to move around and play. For example, if you're keeping your puppy inside the playpen, the puppy needs enough space for sleeping, playing, and potentially potty area if they'll be left alone for some time.
Weight
Weight is something you should strongly consider when getting a playpen for dogs. These things should be easily portable, and you should look for something you could quickly move from one space to another. Look for sturdy but lightweight models.
The best dog playpens
The best dog playpens will combine all of these characteristics. You can prefer wooden playpens over metal ones; just make sure they're safe, large enough, and you can move them easily. Here are our recommendations for the best playpens for dogs;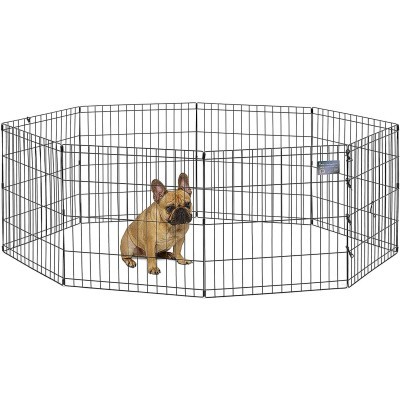 Our favorite portable, lightweight dog playpen is the MidWest Foldable Metal Dog Playpen. This model is very sturdy, safe, and large enough, so the dog has plenty of space for all activities. This playpen is ideal for indoor and outdoor use. The e-black coat finish protects the playpen from elements, and it even comes with a 1-year manufacturer warranty. A great thing about it is that it is extremely easy to assemble. It is really light, so you can move it from spot to spot without issues. There are 5 different sizes, so no matter what breed you have, this playpen's got you covered.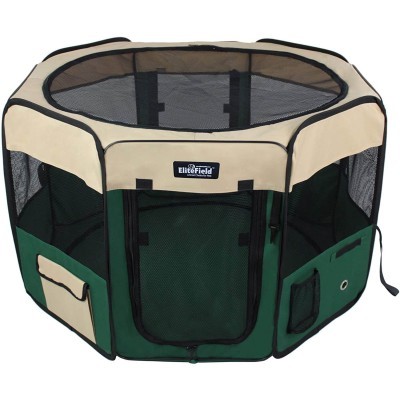 If you travel a lot and you need something you can take with you, the EliteField 2-Door Soft Pet Playpen is absolutely the best available choice. This model comes with stakes, handy storage space, and a carrying bag. It is incredibly easy to fold or pop up. The stakes will keep it stable if you're using it outside, and the playpen can keep your puppy or dog protected even from predators like hawks. This is an ideal model for camping, traveling, or leaving your puppy in someone's care.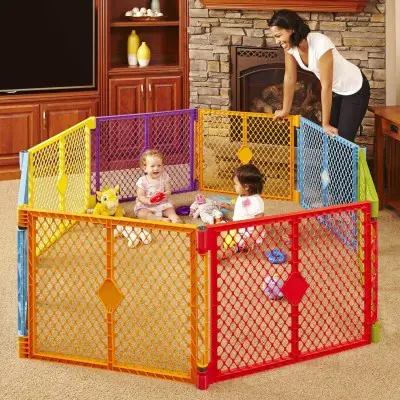 If you're looking for something you can use slightly differently than the manufacturer intended, the Toddleroo by North States Superyard might be the right choice for you. This model is primarily designed for toddlers. Since our dogs and toddlers have similar energy levels, this playpen can contain both. It is really easy to set up, affordable, and relatively large. Your dog will have enough space to play in while staying relatively safe and contained to a specific place. You can order the 6-panel or the 8-panel version.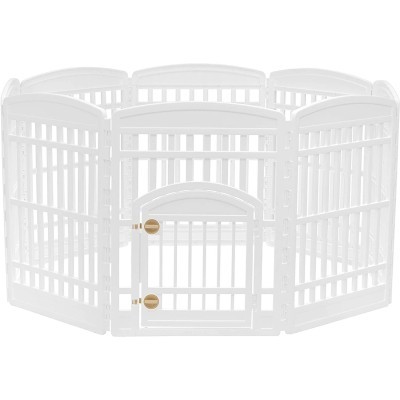 The IRIS USA 8-Panel Dog Playpen looks great and comes at a reasonable price. Dog owners seem to like it a lot, and they mentioned they mostly use it indoors. If you're looking for something you can easily fit inside and make sure it isn't an eyesore, this might be a great and affordable option. However, the playpen is made of plastic, making it less strong than wooden or metal ones. Still, it's pretty lightweight, and if you have a small dog, this might be ideal for them.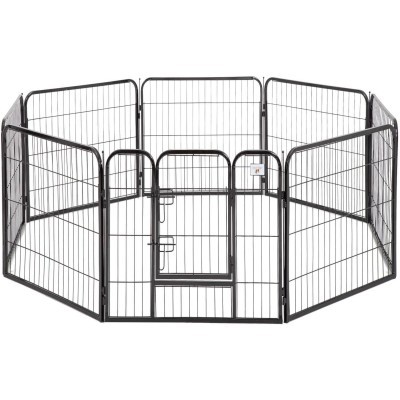 One of the best possible choices you can make is the BestPet Dog Playpen. Not only is it very sturdy, but it looks great as well. The BestPet Dog Playpen provides a large, safe area for your dog. You can make sure your dog has enough space to sleep, play, and even go potty. This playpen is an excellent choice for all dog owners whose dogs can't roam freely across their whole yard. It is foldable and extremely easy to set up. You can take it for camping, and if you're a dog show attendee, this is a great tool to have at your disposal.
World Dog Finder team