Best Memory Foam Dog Beds in 2023
01.05.2021.
Every product and service on World Dog Finder is independently selected by our editors, contributors, and experts. If you purchase something through our links, we may earn a referral fee. Learn more
---
A great mattress means the difference between waking up fresh and energized for a new day and waking up feeling tired and cranky. If you ever slept on a bad mattress, you probably know the feeling. Humans spend about ⅓ of their life sleeping, and dogs even more than that. If a good mattress is essential for you, imagine how much your dog needs one.
Luckily, there are memory foam dog beds available, and your dog will greatly benefit from them, especially if they are older. Dogs with arthritic and skeletal issues need proper lumbar support. There is nothing better than a memory foam dog bed to provide that.
What to look for in memory foam dog beds?
Not all memory foam dog beds are the same, and before you pick the first model you come across, here are some things you should know.
Sleeping position
The first thing you need to think about is your dog's favorite sleeping position. If your dog curls up while they sleep, getting an elliptical or round bed might be a good option. If your dog loves sleeping on their side, fully stretched out, a rectangular memory foam dog bed might be a better option.
Size
The second most important thing is the size of the dog bed. There is no point in getting a dog bed that cannot fit your whole dog. Make sure you order a memory foam bed that is large enough for your dog.
Type of foam
The foam part of "memory foam" is quite important, as you can imagine. Some beds come with whole sheets of foam, and others offer shredded foam as a suitable option. You should always go for the full sheets of foam since they provide better support. Shredded foam is usually used in cheaper, less quality memory foam dog beds.
Thickness
An essential part of these dog beds is the thickness of the memory foam. In this case, you want to go for the thickest possible dog bed. Keep in mind, thicker beds are more expensive, but your dog will get better support.
Additional features
Some memory foam dog beds offer additional features like removable, machine washable covers, bolsters, and waterproof covers. If you think some of these might be useful to you and your dog, look for an option that offers these useful features.
Now you know what the most important things to look for in memory foam dog beds are. Check out these fantastic memory foam dog bed recommendations your dog will absolutely love.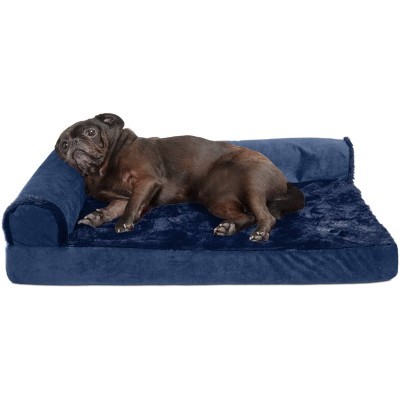 The best option for a memory foam dog bed (according to dog owners) is the Furhaven Pet - Southwest Bohemian Kilim Dog Bed. This dog bed comes with an extremely soft surface your dog will love to nap on. The memory foam is thicker than what is usually found in memory foam dog beds. This model even has bolsters on two sides for additional head and neck support. The Furhaven Pet dog bed comes in five different sizes and even offers different types of memory foam. If you live in a warmer climate, you might want to think about the option with infused cooling gel. This is a fantastic product and a top recommendation.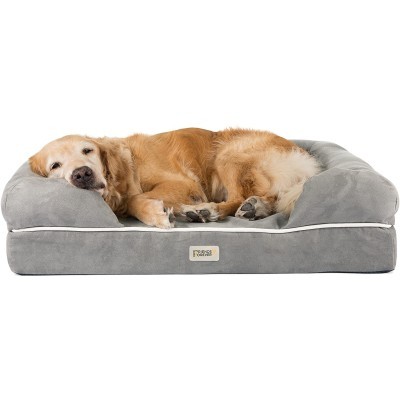 The Friends Forever Orthopedic Dog Bed is the best option for senior dogs that need that extra comfort and support. This model comes with bolsters on three sides, so your dog can lay however they want. This memory foam dog bed comes in four size options and four color options, which is usually more than enough to satisfy everyone's taste. The cover is removable and can be easily washed in a washing machine. The manufacturer boosts their dog bed is chew-proof and very durable. According to many positive reviews, dog owners seem to agree with them.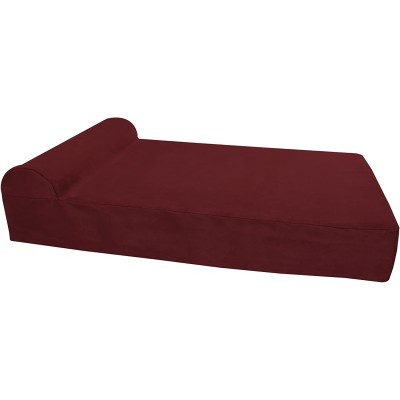 Most skeletal issues and arthritis problems are connected to large dog breeds. If you share your home with a large dog, there is only one memory foam dog bed you'd want to get them - the Big Barker Dog Bed. The manufacturer claims this dog bed will keep its shape for at least 10 years, not something many manufacturers will take responsibility for. The orthopedic memory foam will provide your dog with unparalleled lumbar and joint support. Your dog will absolutely love their new, comfy dog bed. Plus, the micro-suede cover is very easy to clean and maintain.
World Dog Finder team