Dog Stairs for Bed - Buyers Guide for 2023
18.03.2021.
Every product and service on World Dog Finder is independently selected by our editors, contributors, and experts. If you purchase something through our links, we may earn a referral fee. Learn more
---
The sad truth is that our dogs will get old. It is most likely they will leave us before we leave them. To make their senior years as comfortable as possible, getting them dog stairs for bed is a good idea. Your dog might have trouble getting around, and jumping is a young dog's game. Why not make your dog's life easier and simply get them pet steps that will make coming to bed with you easy.
What dogs can benefit from pet stairs?
Pet stairs can be useful to dogs of all ages and sizes. They are not exclusively for senior dogs that have health issues. You don't want to miss out on sharing your bed with your dog while you still can just because your dog cannot climb like they used to. Plus, puppies and smaller breeds could use a little help as well. Here are just some of the dogs that could use dog stairs for bed;
Young puppies
Older dogs
Arthritic dogs
Injured dogs
Sick dogs
Dogs recovering from surgery
Tiny and Teacup dogs
What to look for in dog stairs for bed?
Choosing any kind of device that will have to carry our dog's weight should be a careful process. You don't want to end up with a product your dog will end up falling from. This should not be an impulse purchase. Make sure you take your time and do the research needed to get the best possible product. Here are some of the most important things to look for in dog stairs for bed;
Breed and age of your dog
Your dog's breed and age will determine what kind of steps they will need. Small dog breeds, puppies, or Dachshunds have short legs. They will need pet stairs with small-sized steps. You don't want a product your dog cannot use.
Grip
The grip on both sides is very important. The best stairs for dogs should not move when your dog climbs them. They should grip the floor below them with ease. Things like rubber or silicone are great if you have wooden floors. On the other side of pet steps, there should be a material that will prevent your dog from slipping. Make sure the grip is good on both sides of the pet steps you choose - it is vital for your dog's safety.
Place where the dog climbs
Think about the place the dog stairs will be used. Is your bed higher than the living room couch? If so, make sure the pet steps you get are adjustable. If the size is roughly the same, rigid, stable dog stairs will be a great choice.
Dog's health
Your current dog's health status is vital when picking dog stairs for bed. If you have a dog with severe health issues like osteoarthritis or hip dysplasia, choosing pet stairs that are easier to climb is probably a good idea. Make sure your dog can actually use the things you buy.
Now that you are familiar with the most important things to look in dog stairs for bed check out our list of recommendations for these products;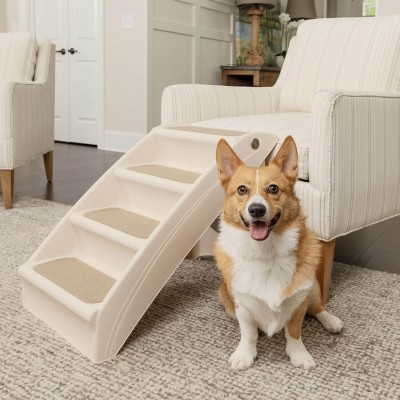 Our top pick for best dog stairs for bed is the PetSafe Solvit PupSTEP Plus Pet Stairs. These foldable dog stairs are great for different platforms. They are lightweight but sturdy enough to withstand most dog breeds. These pet steps are carpeted and have rubber grips, so there is no need to worry about stability.
Pros
Great value
Foldable
Stable
Cons
Some owners complained about rubber grips
The Pet Gear Easy Step II Cat & Dog Stairs are great for dogs and cats. These lightweight, wide steps are amazing for different surfaces. The best thing about them is that they can withstand a dog that weighs up to 150 pounds. If you have a large senior dog, these dog stairs for bed will be an excellent choice. They are carpeted, and they have rubber grips, so they are stable even on the shiniest floors.
Pros
Stable
Durable
For dogs up to 150 pounds
Cons
Some owners reported getting a faulty piece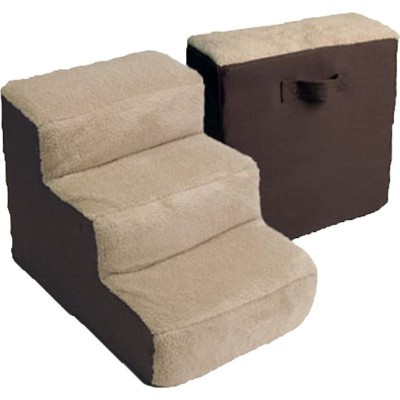 The Dog Steps by Cozy Pet are excellent for small breeds and puppies. These pet stairs for bed are wide enough to support energetic puppies while climbing. They have carpeted surfaces for extra grip. Manufacturers say these steps can withstand dogs up to 150 pounds, but we noticed they work best with smaller dogs.
Pros
Soft
Stable
Machine-washable surface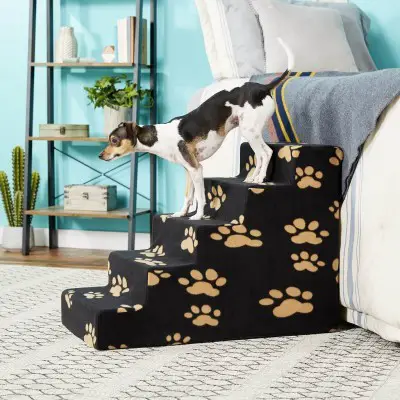 If you are looking for something with a bit of flair, then Best Pet Supplies Paw Print Foam Dog Stairs might be the right choice for you. These dog stairs come in several options, and you can choose 3-step, 4-step, or 5-step count, depending on what you need. They are a bit pricier, but they make up for it by style and stability. It is an excellent choice for larger and smaller dogs or homes with multiple pets.
Cons
Slippery on some surfaces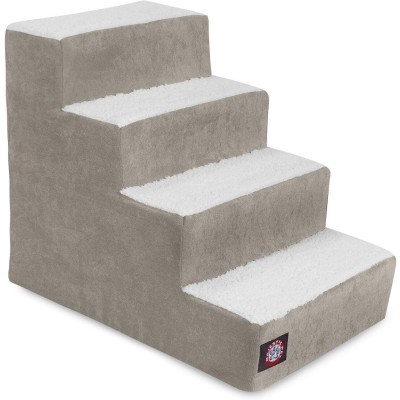 The Majestic Pet Villa Dog Stairs come in several varieties. You can pick options with three or four steps and lightweight or heavy-duty. This model has a great design and goes well with most interior designs. If you have a dog who is not as mobile as they used to be, getting these dog stairs for bed will be a great choice. These pet steps have foam inserts instead of the usual cardboard construction.
Cons
For dogs under 25 pounds
Slip on wooden floors
World Dog Finder team