How To Choose the Best Leather Dog Collars?
28.05.2021.
Every product and service on World Dog Finder is independently selected by our editors, contributors, and experts. If you purchase something through our links, we may earn a referral fee. Learn more
---
If you are a dog owner, you know dogs need many things. The first thing you need to provide for your dog is high-quality dog food and access to fresh water at all times. That will ensure their basic life needs are met. After that, you should get your dog a leash, collar, bed or crate, and toys. There are many options to choose from, and some products are simply better than others. When picking dog collars, we are firm believers that quality is essential, and there is nothing better than leather dog collars.
What to look for in leather dog collars?
If you're interested in getting a leather dog collar for your dog, you should know what to look for. Leather collars come in all sorts of sizes, designs, and purposes. Unfortunately, not all leather collars are good or even suitable for your dog. Here are some of the most important things you should look for in leather dog collars;
Material
It seems that leather dog collars can come in one material - leather. But leather can be real or faux. There are some differences, and we lean towards genuine leather. Real leather dog collars are long-lasting and stronger than faux leather. Genuine, high-quality leather will absorb oils and sweat from your dog's coat, and it will prevent chafing and hair loss. However, high-quality faux leather is better than overly treated low-quality genuine leather.
Buckle quality
The leather dog collar is only as strong as its weakest point. In most cases, the weakest point on a dog collar is the buckle. Look for cast metal buckles with no sharp edges that could hurt your dog. Make sure the metal is rust-resistant and coated with protective layers.
D-ring
The best leather dog collars should have at least one high-quality D-ring. It makes no sense to get an expensive collar that has a weak D ring. This is the ring the leash attaches to, and you have to make sure it won't break easily. Some D-rings come with a tiny space, but you want to look for rings that have no gap on them. The gap will only widen as your dog pulls on the leash.
Design
Leather dog collars come in different designs and models. They have a significant advantage over other dog collars because, in our opinion, they look fantastic. You can't get a better-looking dog collar than one made of leather. Plus, there are different designs and accessories available. However, you need to make sure those are all properly attached and withstand some wear and tear.
If you get a good-looking dog collar, you'd want to get a great dog leash with it. Check out this article - Best rope leashes.
Here are some of the best leather dog leashes;
Our top pick in the leather dog collar category is the Custom Catch Personalized Dog Collar. This model is made of soft leather and is ideal for smaller dogs that love having a stylish dog collar. The best thing about this collar is that you can engrave your contact information if your dog runs away or gets lost. These collars are durable, and the leather is high-quality. We would pick these ones for smaller dogs, but they also come in different sizes for all breeds.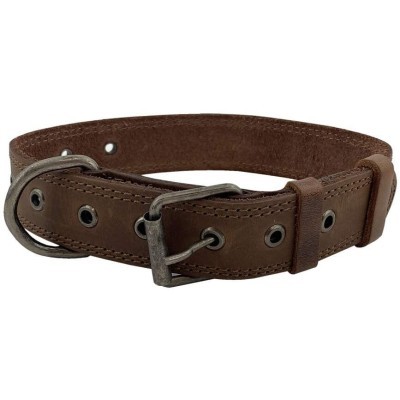 If there is one thing we can't resist, it's a well-designed leather dog collar. Since we have a medium-sized dog, we personally chose the Hide & Drink Rustic Leather Dog Collar. We love the rustic, worn-out design and high-quality leather this model offers. Some leather collars can be stiff, but this model is very flexible. The flexibility doesn't affect the durability, and the manufacturer offers a 101-year warranty. We cannot be more satisfied with this collar and would recommend it with ease.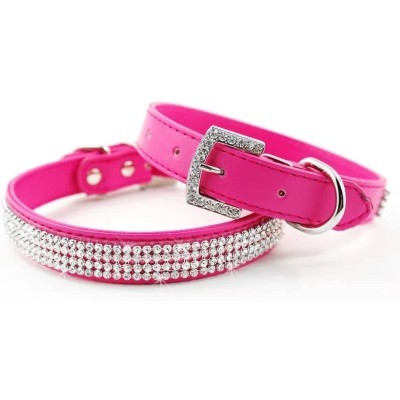 If you have a tiny dog like a Chihuahua, you might want to consider the Didog Full Crystal Rhinestones. This leather dog collar will introduce some bling to your dog's life. Not only is it very stylish, but it is also very well made. This collar is durable, and you can be sure a small dog won't be able to destroy it. However, since this model comes with tiny "diamonds," you have to be sure your dog won't chew on the collar. It is not the best choice if your dog loves playing with their collars.
World Dog Finder team