3 Best Large Dog Crate For You To Choose
15.05.2021.
Every product and service on World Dog Finder is independently selected by our editors, contributors, and experts. If you purchase something through our links, we may earn a referral fee. Learn more
---
Large and extra-large dogs will need a crate that can fit them comfortably. That is why you should look for the best high-quality large dog crates out there. Crates are a great way of keeping your dog safe and comfortable. Plus, dog crates allow your dog to have a cozy place just for them, where they can go when they want some peace and quiet. If you pair it with a nice crate cover, your dog will have a nice private "room" where they can take a comfy nap even in the middle of a busy day.
How to pick a large dog crate?
Most dog owners with large dogs are worried they will not find a dog crate that is large enough to hold their dog. However, it is relatively easy to measure, and here is what you should do;
Measure your dog from the tip of their nose to the base of their tail. Add 3 - 5 inches to that number, and you will get the necessary crate length.
Get your dog to sit, and measure how far the tallest part of their head is from the ground. Your dog's head is the tallest when they sit. Add 3 - 5 inches, and that is how you will get the necessary height of the new large dog crate your dog needs.
Luckily, manufacturers make crates with a good length-width ratio, so there is no need to worry about that. If the length of the crate is correct, the width will be too. 
What to look for in a large dog crate?
There are some essential differences between small and large crates that extend beyond the size. For example, a small crate will be strong enough even if it has lighter material and thinner wire. However, larger crates will need thicker and sturdier metal. Here are some of the most important things to look for in large dog crates;
Material
Besides picking the right-sized crate for your large dog, sturdy material is probably the most important thing. Large dogs are powerful, and the idea behind a crate is that it can keep your dog out of harm's way. To do that, the crate needs to be solid and durable.
Helpful features
There are tons of helpful features the best large dog crates have. Look for things like wheels, removable pans, side doors, collapsable structures, and dividers. All of these things might not be that important if you will only use the crate in your home, but they can get in handy in thousands of situations.
Safety
There is nothing more important than safety. If you are picking a large dog crate, make sure it is safe. It should have no sharp edges your dog could cut themselves on. The crate's door should securely close, and if they have a special locking mechanism, even better. However, you need to make sure you can quickly get your dog out of their crate in case of emergency.
IMPORTANT NOTE: Dogs should never be in the crate with their collars. Their collar can get caught on the wire, and that can cause serious problems.
Here are our top picks for XL and XXL dog crates.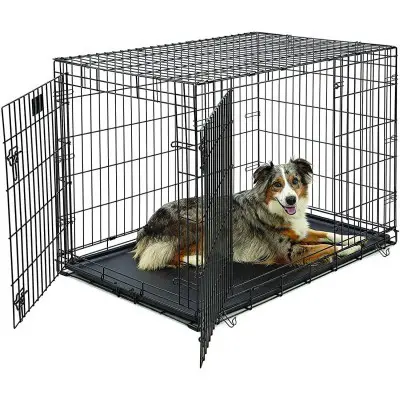 Our top pick for the best extra large dog crate is the Double Door Folding Crate for Large Dogs by MidWest Homes. This model is filled with useful features, and it is collapsable for easy transport. This is an ideal dog crate for all dog lovers, owners, and even breeders going to dog shows. It is durable and sturdy enough so it will keep your dog safely contained and secured. Plus, it comes in several sizes and can accommodate dogs up to 110 pounds.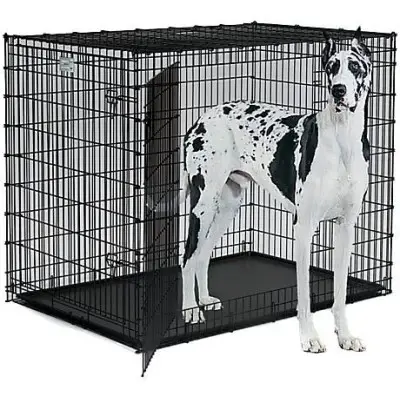 If you have a giant dog breed, like a Saint Bernard or a Great Dane, you will need an XXL dog crate for them. Luckily, MidWest Home has you covered. Their XXL Giant Dog Crate is described as ginormous and can easily fit even the largest dog breeds. Just like our top pick, this model comes with single or double door options. It is collapsable, and the metal wiring has a safe E Coat finish that prevents rust for a long time. However, this is an XXL dog crate, so you will probably need another set of hands to help you put it together.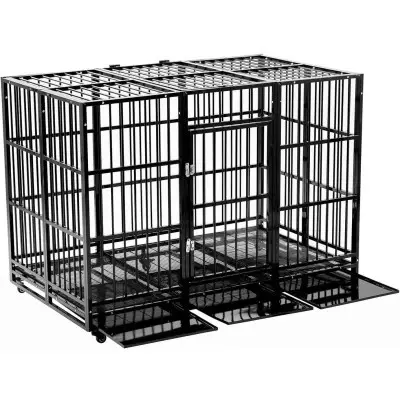 If you are looking for a designer large dog kennel, look no further than the Walnest Dog Crate for Large Dogs. This model comes in several size options, but the thing we like the most about it is its elegant structure. The bars on this crate are thicker, which means they are more durable. Plus, this XXL dog crate has lockable wheels, making it ideal for transportation. The removable bottom makes cleaning very easy, and even if your dog has an accident in the crate, you can simply take the plate out and clean it. This is an excellent choice for all dog owners with large dogs.
World Dog Finder team