Top 3 Kong Dog Harnesses
07.05.2021.
Every product and service on World Dog Finder is independently selected by our editors, contributors, and experts. If you purchase something through our links, we may earn a referral fee. Learn more
---
Kong is one of the best-known names in the pet industry, and there is an excellent reason behind it. Kong makes high-quality pet products, and it is company dog owners are fond of. Their rubber toy is one of the most popular dog toys ever created, and if you already have it, you know how durable it is. All of their pet products are made with care and attention to detail, and those principles are a part of Kong dog harnesses.
Why pick Kong dog harness?
Picking a dog harness, in general, is a good idea. The pressure that a standard collar puts on the dog's throat and neck will be gone, and you can have better control over your dog. The pressure of pulling a leash will be dispersed over a large area of the dog's body. Dog harnesses are a great way of teaching your dog leash manners, and a harness will discourage them from pulling on the leash.
There are many different dog harnesses you can choose from, but Kong dog harnesses are a synonym for quality. They are made of durable materials and offer helpful features other dog harnesses simply don't include. Kong thought about things "out of the box," and they included reflective material, storage space, and padded lining. If you are looking for a Kong dog harness, here are the best possible choices you can make;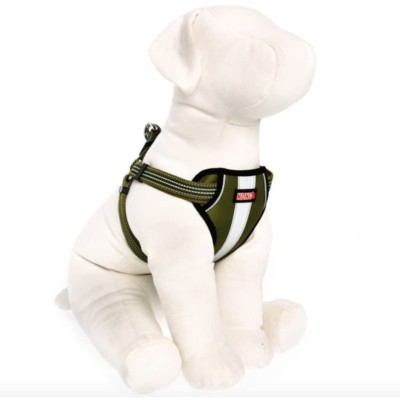 The KONG Comfort Dog Harness is this company's best-selling dog harness, and it is easy to see why. This harness includes neoprene lining for your dog's comfort. The harness is made of nylon webbing, so you can be sure it is strong enough to hold even the strongest dogs. The plastic buckles are strong, and this Kong harness includes reflective stripes on the dog's chest for added visibility. The padded handle on the back of the harness makes it very easy to grab your dog and redirect them from unwanted behavior. Not only is this harness great for training, but it is also great for everyday use.
If you are a new dog owner, you should learn more about leash training your dog. If you have any issues with that, check out this article - How to leash train a dog.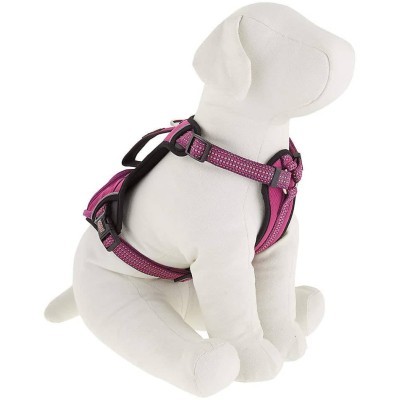 All Kong dog harnesses are practical and durable. Still, the KONG Reflective Dog Harness includes a helpful pocket that can easily store smaller items you might need during your dog's walk. This is the best option for larger breeds, and this Kong harness only comes in Medium to Extra Large sizes. The straps are fully adaptable, and the padding makes it comfortable for dogs. The padding is soft enough to prevent chafing, and the reflective stitching will help make your dog more visible in low-light settings. Before you decide to get one, make sure you measure your dog and order after you carefully considered sizes and fitting.
If you are looking for a Kong dog harness for training, this is the best choice you can make. The KONG Comfort Padded Chest Plate Dog Harness has a large handle you will often use during different types of dog training, and this is an ideal choice for your dog if they need to learn some leash manners. Leash training is a vital part of every dog's life, and you'd want your dog to be comfortable and happy during this process. The nylon and neoprene material in this Kong harness made sure it is comfortable and durable enough. Plus, all Kong dog harnesses have a pretty budget-friendly price that offers a lot of value for money invested.
In conclusion
There are different dog harnesses from Kong you can choose from. Luckily, all of them are high-quality and need no special introduction. Kong harnesses are a great tool that will help train your dog, especially if they are puppies that are just getting used to being on the leash. When looking for any dog harness, make sure you look at the material, durability, comments, and recommendations from other dog owners and professionals in the field. It is always better to do some research than to buy the first thing you come across.
World Dog Finder team