Best Dog Pool Floats for Summer
24.04.2021.
Every product and service on World Dog Finder is independently selected by our editors, contributors, and experts. If you purchase something through our links, we may earn a referral fee. Learn more
---
There is nothing more fun than enjoying the warm summer weather with your dog right by your side. If you have a pool you and your dog can enjoy together - even better. Keeping your dog safe in a pool is vital, and some dogs might not be the best swimmers out there. Luckily, there are useful things like dog pool floats that can help you deal with that problem.
Why should you get a dog pool float?
The obvious reason to get a dog pool float is - fun. Pool floats will provide you, your dog, and your family with a lot of summertime fun. Plus, dogs that love being close to their family but are not the strongest swimmers will get a safe way of enjoying pool time without being immersed in the water.
Things to consider when getting a pool float
There are all sorts of pool floats; some are developed specifically for dogs, but you are not restricted to them. You can get "human" pool floats that will do the job as well as dog pool floats. However, dog pool floats are usually tougher since they have to endure sharp nails and teeth. Here are some of the things you'd want to consider before you choose a dog pool float;
Usage
Think about where the dog pool float will be used. You can get all sorts of designs and shapes, and your backyard pool will provide more liberties than an ocean or a lake. If you intend to use the float outside your pool, you should choose safety over design.
Shape
Dog pool floats come in different shapes and sizes. Your dog might prefer some shapes over others, so make sure you adapt to your dog's preferences. Plus, think about how your dog acts in the pool; are they relaxed, or do they play? Answering that will let you know what shape you should get.
Weight limit
Not all pool floats are the same, just as not all dogs are the same. There is a massive difference between a Chihuahua and a Golden Retriever. Make sure you get a dog pool float that can carry your dog's weight.
Material
This is probably the most important feature to look at in dog pool floats. The float doesn't have to be developed specifically for dogs, but it has to be sturdy enough to withstand the claws that might puncture them.
Stability
The second most important thing is stability. There is no point in getting a dog pool float that will constantly flip your dog into the water. Make sure the float you choose is stable enough to withstand a constantly moving dog or puppy. This is crucial if you have a dog that is not too comfortable around water.
If you are preparing for a field trip to the beach, here are some things you should know about taking your dog with you - How to prepare your dog for a beach day?
Now that you know what to look for in dog pool floats, check out our 3 favorite dog pool floats.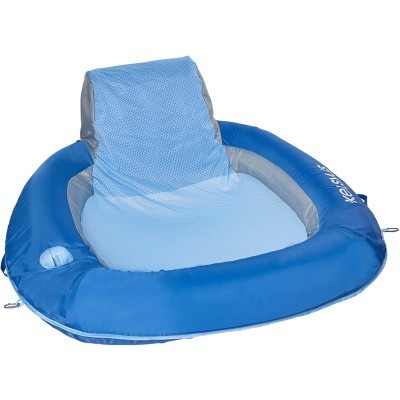 Our top pick for dog pool float is not developed for dogs but for adult humans. The Kelsyus Spring Float Pool Chair is ideal for adults, which means it will have no weight issues when it comes to keeping your larger dog afloat. The middle part of this pool float is mesh. That means your dog will float just under the surface, which will give them additional cooling effects. This is a top recommendation you will not regret buying.
Pros
Safe for pools and lakes
Durable
Stable
Even for larger dogs
Cons
Some owners have difficulties filling it with air
If you want to get a pool float you and your dog can use, the Float Papasan by SwimWays is an excellent choice. This is another chair-type pool float dogs seem to love. It might not have been developed for dogs, but dogs will enjoy it nevertheless. This model has an inner spring, so you can be sure it is durable and sturdy enough even for larger dogs. One of the best things about this pool float is that it has a weight limit of 250 pounds, which is more than enough for most breeds.
Pros
Weight limit
Lets water in for additional cooling sensation
Dogs love chair-like function and design
Cons
Not for open water
Not big enough for dogs to stretch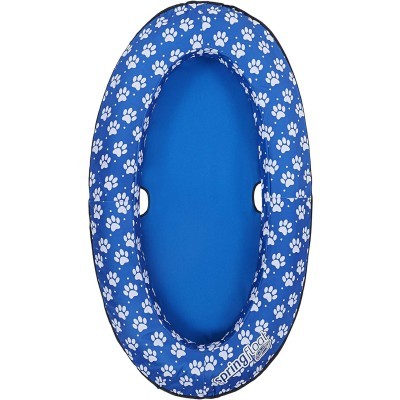 There is no better choice when it comes to pool floats developed for dogs than the Paddle Paws Spring Float Dog Raft. This model is intended for dogs larger than 65 pounds, but it also comes in smaller sizes for smaller dogs. This dog pool float is durable enough to withstand scratching and occasional biting. Plus, it has a spring for added stability and two holes that let water in and out for additional cooling.
Pros
Stable
Size options
Large
Durable
Cons
Not all dogs love water in their floats
World Dog Finder team