Best Dog Pools for 2023
11.03.2021.
Every product and service on World Dog Finder is independently selected by our editors, contributors, and experts. If you purchase something through our links, we may earn a referral fee. Learn more
---
Some dogs love water - that is just a fact. If you have one of those pooches at home, it is probably a good idea to get them a dog pool where they can safely enjoy playing in and around the water.
Dogs are naturally drawn to water, and some breeds especially prefer swimming or getting cool on hot summer days. Dogs with double coats will love nothing more than to take a quick dip and cool off that summer sun. Some of the breeds that absolutely love swimming are:
Labrador Retriever
Newfoundland
Poodle
German Shepherd
Types of dog pools
Those are not all the breeds, but as you can see, getting them a fun doggy pool would really make your dog's day. Getting the right dog pool might not be the easiest thing to do, and there are some things you should consider before buying, but first, here are all available types of dog pools.
Swimming pool
Although we might call them swimming pools, not all pools are fit for swimming. Dog swimming pools need to contain plenty of water and have enough room for dogs to swim in. Make sure you have enough space in your backyard for such a purchase.
Inflatable pool
As their name suggests, inflatable pools are filled with air, and they come in different dimensions. They can be big enough for swimming, but they are not the most practical thing in the world, especially for dogs with sharp claws.
Paddling pool
Paddling, or wading pool, is a smaller-sized pool that contains enough water for cooling off. These pools are rarely too deep, and if a dog wants to get fully immersed in it, they will have to lay down. It is pretty safe for dogs and for children.
What to look for in a dog pool?
You don't want to end up getting the wrong thing and spending your hard-earned money on something you will not be happy with. You should consider some things before getting a dog pool, and these are the most important things.
Dimension
Obviously, the first thing to think about is dimension. You shouldn't get the smallest pool if you have a large dog breed, and you should not get the biggest pool if you have a toy dog breed. Small dogs could jump in the pool and have trouble getting out.
Purpose
Think about why you want to get your dog a pool. Is it just so they can cool off a bit, or do they need something they could swim in and maybe lose a couple of pounds. Knowing why you are getting a pool will help you with picking a specific model.
Material
Dog pools are made from different materials, and the one that would fit your dog the best will depend on your dog's character. If it is an active dog that loves to scratch and chew, you should go with a strong polymer pool that will be harder to puncture. If your dog is calm, you can go with a cool inflatable option.
We think that giving your dog the opportunity to cool down during hot days is a great idea. That is why we decided to prepare this list of the best dog pools, and whichever one you choose, you will not make a mistake.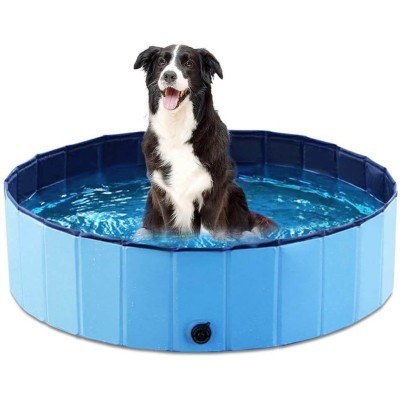 The Jasonwell Foldable Dog pool is our top pick. This dog pool has a diameter of 32 inches and a height of 8 inches. It is more than enough for your dog to cool off and safely play in the water. It is made from a durable PVC material that prevents slipping. It has more than 19.000 positive reviews and will easily withstand the most active dogs.
Pros
Durable
No-slip material
Foldable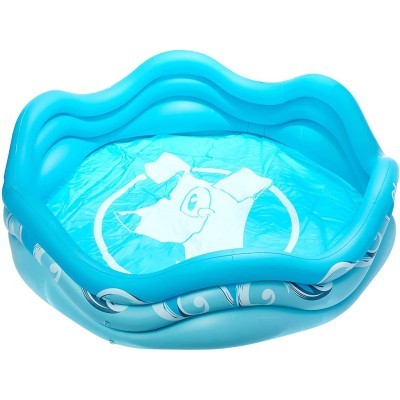 If you are looking for an affordable and budget-friendly option for a doggie pool, then look no further than the Alcott Inflatable Pool for Dogs. This dog pool is excellent for all dogs that want to cool off during summer days but are not too keen on running around or in and out of the pool. Its plastic might be durable, but nothing can withstand the claws and teeth of a playful dog. This pool has a 48-inch diameter and is 12 inches tall.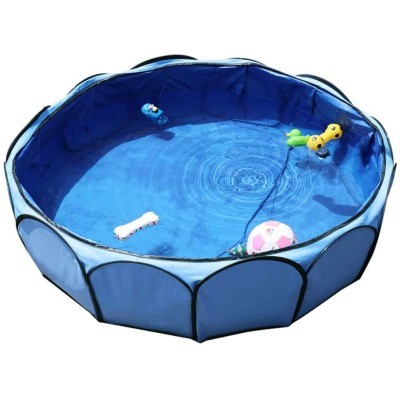 If you want a multifunctional dog pool, this is the one for you. Petsfit dog pool is an ideal swimming pool in the summer, and it makes a perfect ball pit in the winter. It is 12 inches deep and 41 inches wide, making it suitable for small and medium-large dogs that want to play in the water. The inside layer is inlined with durable plastic, making it puncture-proof.
Pros
Puncture proof
Large
Multifunctional
Cons
Some owners reported stability problems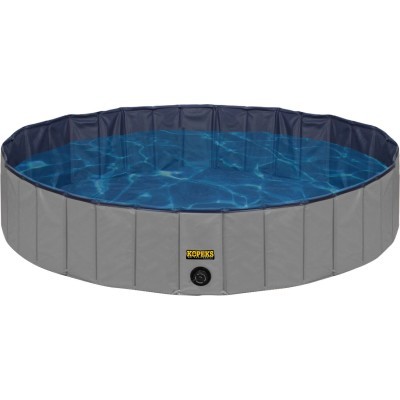 This is an ideal dog swimming pool for small and medium-sized dogs. The KOPEKS Outdoor Portable Dog Swimming Pool comes in different sizes, and you can adjust it to your dog's breed and size. It is 12 inches deep and 48 inches wide, so make sure you never leave your little dog without any supervision. This dog pool is light and should hold up well even if it gets scratched.
Pros
Foldable
Easy to store
Has a drain pipe
Cons
Some owners reported stability problems
Does your dog love beach days? Do you know how to keep them safe on a beach? Check out this article - How To Prepare For A Dog Beach Day.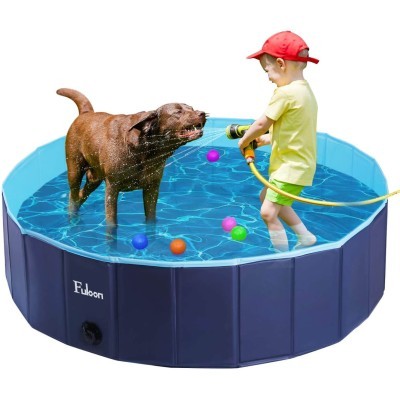 If you are looking for a lightweight, portable dog swimming pool, the Fuloon PVC Pet Swimming Pool is the right choice for you. It comes in four different sizes and can be easily be placed anywhere. It has a drain for easy emptying. The PVC material should be durable enough to withstand an occasional scratch or bite. It might not be the cheapest option, but what it lacks in price, it makes up for in quality.
Pros
Durable
Drain
Foldable
Lightweight
World Dog Finder team