Dog Nail Clippers You Must Have in 2023
31.01.2021.
Every product and service on World Dog Finder is independently selected by our editors, contributors, and experts. If you purchase something through our links, we may earn a referral fee. Learn more
---
Owning a dog is a responsibility and one that should not be taken lightly. Many aspects of care dog owners need to think about, and clipping their dogs' nails is one of them.
It is a good idea for an owner to start getting their puppy used to having their paws handled from the moment they arrive at their new home. If you are looking for advice on nail clippers and how to get your new puppy used to having their nails clipped, then you have come to the right place. 
Start slow and introduce your dog to nail clippers. Make sure you give them plenty of treats that will make a mental connection. Your puppy will associate nail clipping with receiving treats. This will make your life a lot easier, and you won't have so many problems every time you need to clip your dog's nails.
There is another way to take care of your pup's nails, and that would be hiring a professional groomer to do it. Usually, dog groomers will take care of several things in a grooming session, and those things are:
Coat care
Bath
Nail clipping
Ear cleaning
Some professional groomers can even perform anal gland extraction. It is a delicate process that needs to be done to prevent infections and other health issues that can arise.
When should you cut your dog's nails?
Choosing the appropriate time for cutting your dog's nails is not that difficult. It is essential to know that you shouldn't let your dog's nails grow too long because too long nails can cause:
Posture problems
Spine problems
Walking problems
Lameness
Infections
If you can hear your dog's nails clicking on the floor, you'll know it is time to get the nail clippers. If you are interested to learn more about the nail clipping process, you can check out this helpful article - How To Trim Dog Nails.
One of the basic things you will need to safely clip your dog's nails is proper nail clippers. In the vast ocean of available products, it can be problematic to choose something that will work for you and your dog. That's why we prepared a list with these 7 great nail clippers that are hard enough to take on the strongest dog nails.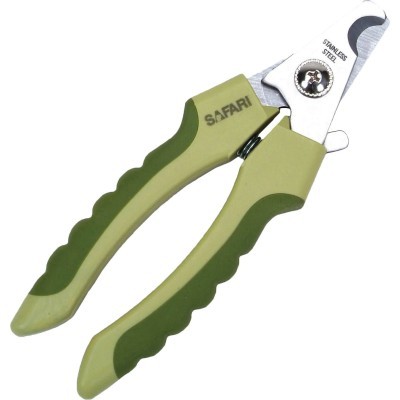 Although the name says nail trimmers, this is actually a nail clipper. Safari is our TOP PICK for a reason. It has a stainless steel blade that stays sharp for a considerable time, and it cuts through nails like a hot knife through butter. Most dogs hate having their nails clipped, so being able to do it quickly is very important. These clippers have an ergonomic handle and are quite large. This is an excellent product, and it is a top recommendation.
Cons
Too large for some owners
Not small dog-friendly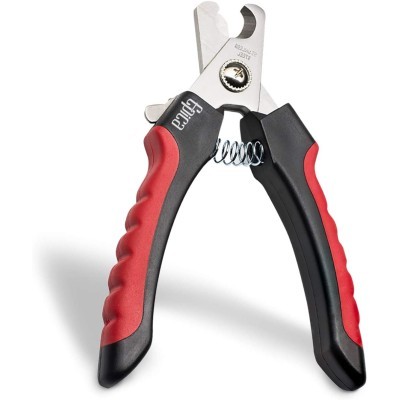 Just like our TOP PICK, Epica made great and affordable dog nail clippers. These clippers would be our choice for large dogs. They are pretty sharp and don't require immense strength to cut your dog's nails. This is also the best option for large dog breeds like Great Danes, Newfoundlands, or Greyhounds. Epica nail clippers are durable, and you can feel the quality from the moment you put them in your hand.
Pros
Durable
Affordable
Great for large dogs
Cons
Not for small dogs
Might be too large for some owners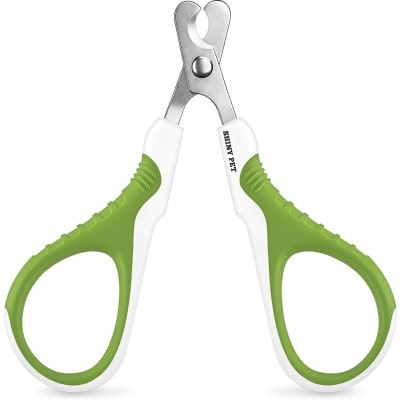 Not all dogs are large, and small dogs need their nails clipped as well. These angled clippers are the best choice for all owners with small dogs or even other small animals like cats or bunnies. These clippers are easy to handle and will do the job correctly. Just make sure you know how much you can cut without hurting your dog. Plus, these clippers have the best overall rating. Their score is 4.7 with more than 6.000 Amazon reviews. That is seriously impressive.
Pros
For small dogs
Easy to handle
Creat reviews
Cons
More expensive than large clippers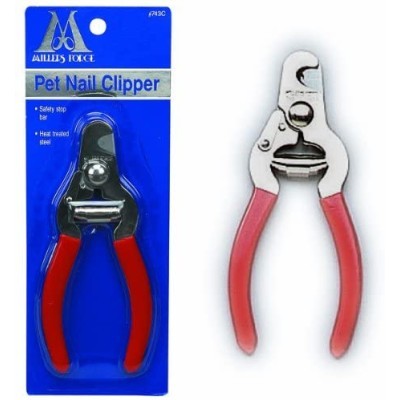 Millers Nail Clippers offer more traditional nail clippers for small dogs. They are sturdy and sharp, so you can be sure they will do the job perfectly. Their smaller size makes them ideal for smaller breeds like the Toy Poodle or a Cavalier. This product is made from stainless steel, and it has a safety that will prevent overcutting the nail. Some owners even said they can be used on larger breeds, up to a Labrador's size.
Pros
Stainless steel
Safe stop
Cheap
Cons
Not for all breeds
Not the best design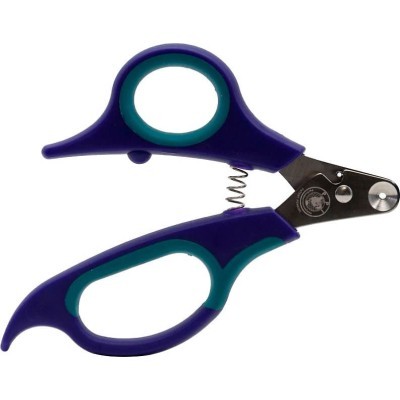 If you are interested in getting well-designed and easy-to-use nail clippers that are available in different sizes, then Zen Pet Nail Clippers are the way to go. These clippers have a circular blade, which will significantly reduce the possibility of any accidents happening. They come with precise measures, making it easier to pick one that will exactly fit your dog. Other nail clippers offer either small or large sizes, and sometimes that can be confusing.
Pros
Circular blade
Easy to use
Cons
Large size might be a problem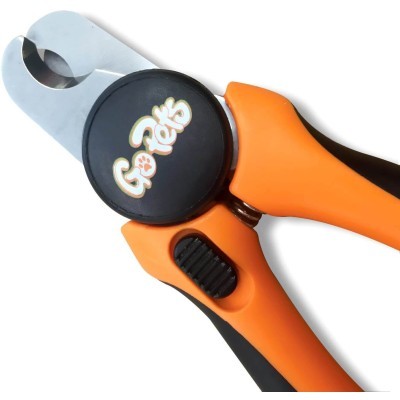 For a more professional dog nail clipping approach, you should go for the GoPets Pet Nail Clipper. They might be a bit pricier, but their ergonomic handle, stainless steel blade, and effectiveness justify the price. It has a safe stop that will prevent overcutting the nails and make sure you safely perform the job. These clippers come in two sizes, and skilled groomers and owners can make them work for dogs of all sizes.
Pros
Safe stop
Ergonomic handle
Stainless steel blade
Two sizes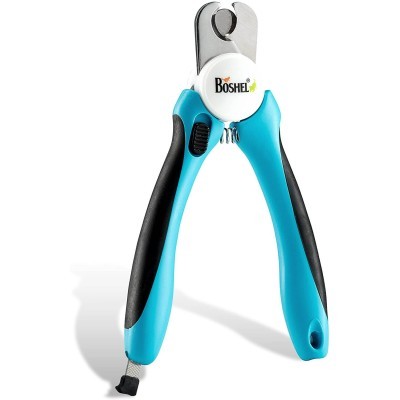 For a more affordable professional option, Boshel offers an ideal product for pet parents. It has an ergonomic handle that makes them sit quite comfortably in hand and a safe stop that will prevent you from cutting the nail too much. The blade is made from stainless steel, and it even comes with a file that allows you to polish any uneven or sharp edges.
Pros
Affordable
Ergonomic
Safe stop
World Dog Finder team