Best Dog Muzzles in 2023
12.02.2021.
Every product and service on World Dog Finder is independently selected by our editors, contributors, and experts. If you purchase something through our links, we may earn a referral fee. Learn more
---
Dog muzzles can be a great training tool! They are not only for dogs with behavioral problems, dogs that are aggressive or overly enthusiastic barkers. Not only can they prevent your dog from getting into trouble, but they can also save your vet's fingers.
What to look for in a dog muzzle?
Getting just any type of dog muzzle won't cut it. Not all muzzles are the same, and you want your dog to be as comfortable as possible yet prevented from biting or chewing stuff. There is a lot of difference between a Doberman and a Boxer's snout, so not all models will fit all dogs. You should be careful when picking one for your dog, especially if they will often wear it. Here are the most important things to look for;
Fit
The first thing you need to make sure of is that the muzzle fits your dog. As we said, there is a vast difference between the snout of a Wolfhound and the snout of a Pug. Some dogs have flat faces so that they will need a different type. Make sure you provide them with a good fit.
Breathable
The next thing you need to make sure of is that the muzzle is breathable. You don't want to cause your dog to overheat because they can only regulate their body temperature through panting, and shutting their jaws tight might not be the best idea.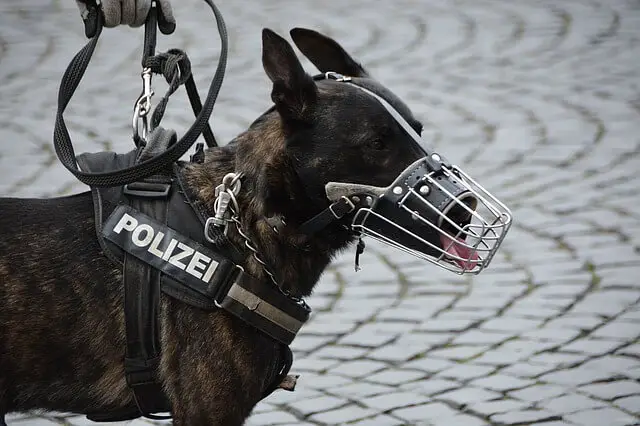 Material quality
There is no point in getting one that can easily get broken. Make sure you get one that is sturdy and made from durable materials. Plus, your dog will most likely try to break it.
Type
There are different types of muzzles, and not all of them are safe for long-term usage. Some models might be better for short trips, while others need to be large enough to allow the dog to drink and pant.
Style
This might not be the most important thing, but a dog with a colorful muzzle will seem less scary than a dog with a sturdy metallic one. Muzzles have a bad rep, and if you don't want to cause panic everywhere, you go, pick a colorful one to make your dog look more friendly.
When to use a muzzle?
Muzzles should not be used only for dogs that have behavioral issues or are a bite risk. There are plenty of situations when it can get in handy. It can be an excellent tool for when you:
Go on a hike
Go to the vet
Go to the groomers
Training
Doggie daycare
Socialization
New and unfamiliar situations
Don't be afraid of the stigma that comes with dog muzzles; instead, use your well-behaved, muzzled dog as a great example of what a dog can become. Here are the 5 best dog muzzles.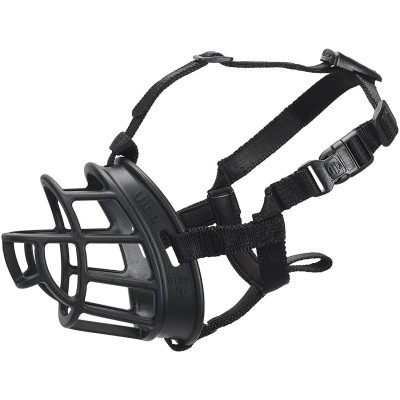 The Baskerville Ultra Muzzle is our top pick, and for a good reason. It is flexible and durable enough, but it doesn't prevent your dog from drinking or panting. This is the basket-type muzzle made from soft and lightweight rubber that will fit just about any dog breed. The straps are fully padded, and they can be adjusted to make a tight yet comfortable fit. This type of muzzle can be used from puppyhood, through training, and for safe visits to the vet.
Pros
Durable
Comfortable
Good value
18.000+ positive reviews
Cons
Might not be suitable for giant breeds with long snouts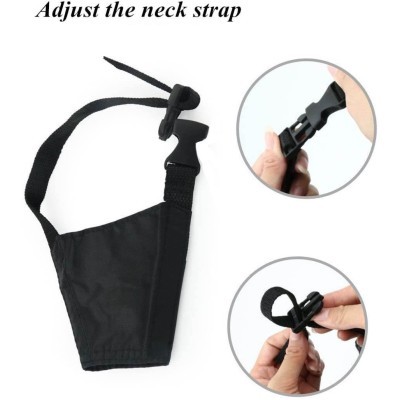 If you are looking for an affordable muzzle your dog will wear occasionally, the Ewinever Breathable Dog Muzzle is the way to go. It is ridiculously easy to use, and it comes in different sizes. It has an adjustable strap and a quick-release buckle that will make getting it on and off very easy. It is made from a combination of nylon and Oxford cloth, making it comfortable and breathable. Plus, it costs about 10$.
Pros
Affordable
Comfortable
Adjustable
Breathable
Cons
It comes in 5 sizes, and you won't need 4 of them
You might want to think about getting your dog a harness instead of a collar. Check out this article for ideas - Best Dog Harness for Your Dog.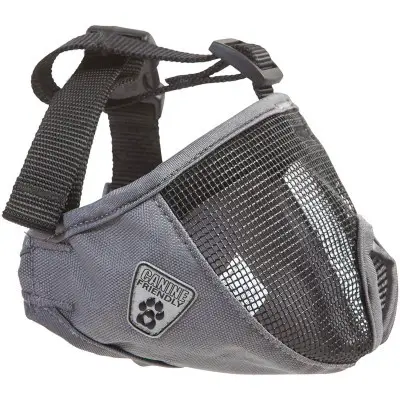 Dogs with flat faces and short snouts might need a muzzle as well. The problem is they can't fit the "standard" muzzle. Luckily, the Canine Friendly Short Snout Dog Muzzle has you covered. This is an ideal type for French Bulldogs, Pugs, Boxers, and other short-snouted dogs. It is a perfect way to make sure your dog won't bite anyone or eat something they are not supposed to. This muzzle will cover most of your dog's face, but it is the only safe way to stop a flat-faced dog from biting. It is durable and made from nylon, so there is no reason your dog should have any trouble breathing.
Pros
Breathable
For flat-faced dogs
Durable
Made from nylon
Cons
Covers the whole face
No padding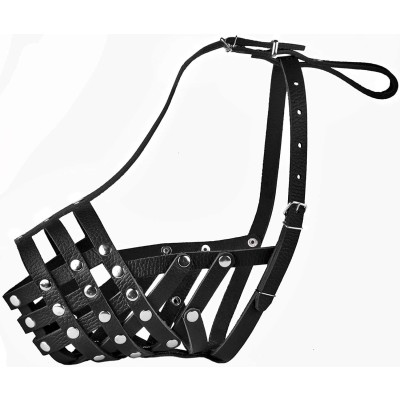 If you have a Pit Bull-type dog that needs a muzzle for training, walking, or vet visits, then CollarDirect Pitbull Dog Muzzle has got you covered. It is a handmade muzzle that will fit that type of dog snout. It is ideal for Staffordshire Bull Terriers, Amstaffs, and other dogs with similar snouts. It is made from genuine leather, so you can be sure it is durable. The leather won't cause discomfort, chafing, or hot spots. It might be a bit pricier than other dog muzzles, but you are getting a high-quality, handmade product.
Pros
Genuine leather
Durable
Impossible for dogs to get it off
Cons
Only for Pit Bull-type dogs
Pricey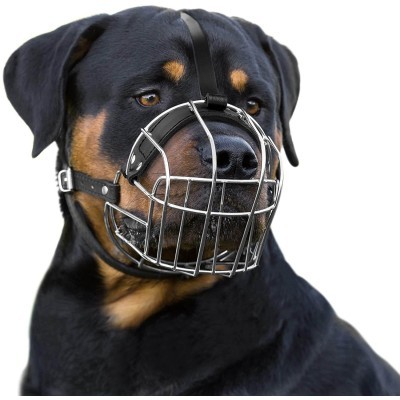 If you are looking to get a traditional dog muzzle that will be ideal for your large dog, the BronzeDog Dog Muzzle is the perfect product for your dog. It has a wire cage that will prevent your dog from biting, but it has padding, so there is no reason your dog should feel uncomfortable. The wire cage will allow your dog to drink and eat, and there is no breathing problem with metal models. This one was made with Rottweilers in mind, but BronzeDog offers other types for Dobermans, Amstaffs, Pit Bulls, Presa Canarios, and other dogs that could benefit from it from time to time.
Pros
Padded
Secure
Comfortable
Breathable
Cons
Missing padding on the sides
Pricey
World Dog Finder team