5 Best Dog Jackets for Winter - The 21/22 Season
26.11.2021.
Every product and service on World Dog Finder is independently selected by our editors, contributors, and experts. If you purchase something through our links, we may earn a referral fee. Learn more
---
If you're a Husky or a Malamute owner, you know that getting them a dog winter jacket doesn't really make sense. However, some dogs don't have thick, double coats that will keep them completely isolated from the cold. Breeds like Greyhounds, Dobermans, or Maltese, might need a doggy winter jacket. Their thin coat is not warm enough to keep them from being very cold in winter conditions.
Why should you get your dog a jacket for winter?
There is one reason why you should get your dog a winter jacket - to keep them warm. If you love going on long walks in the crisp winter weather, you probably want your dog to join you. That might be impossible for dogs with single-layered coats that don't keep them warm enough. If you have a dog like that at home, your dog could really benefit from having a new winter jacket.
The other reason is more for you than your dog - winter jackets are stylish. To be completely honest, we love winter a lot more than we love summer. You can easily combine different clothes and styles. On top of all that, you can throw on a winter jacket that will keep you warm. Plus, if you're too warm, simply take a layer of your clothes off; that's impossible during the summer.
What to look for in dog winter jackets?
Just like any other product you're buying for your dog, you shouldn't just pick the first dog winter jacket that might seem cool. Dog jackets for winter come in different materials, colors, sizes and can have helpful features like being waterproof. Here are some of the most important things to look for in dog winter jackets;
Material
Obviously, the first thing you should look for is material. Dog jackets for winter come in all sorts of it, and some are simply better than others. Most jackets are made of polyester, but some materials are easier to keep clean.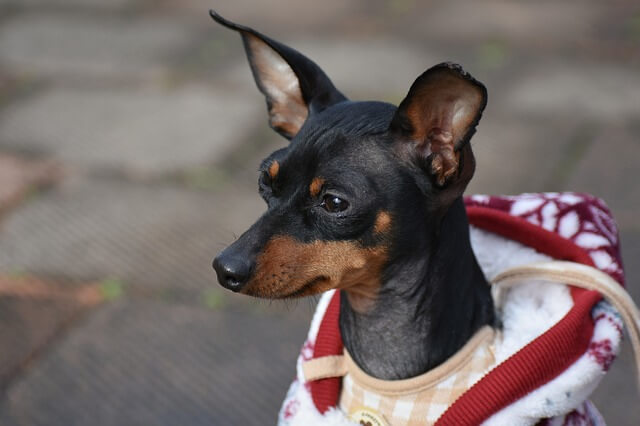 Colors
Colors might only seem important for style, but the truth is, they are essential for safety as well. Bright colors and reflective material will make your dog more visible in dark, misty winter conditions. Everything that contributes to your dog's safety is a good thing.
Climate
The climate you live in should play a big part in your decision-making process. If the temperatures get extremely low, you will have to get something warmer. Your choices might be limited, but your dog's warmth and health are what come first.
Waterproofing
A wet dog will lose body warmth a lot faster than a dry dog. You must keep your dog dry and warm in these extremely cold conditions. Luckily, different dog jackets for winter will precisely do exactly that - keep your dog dry. Make sure you pick a dog winter jacket that is waterproof.
Size
The exact size of your dog might also determine what type of dog winter jacket you can get. Some jackets only come for large dogs, and giant breeds, like the Great Dane, might be limited with their options. If you decide on a jacket model, you need to make sure you order the correct size. Check the manufacturer's size guidelines and make sure the jacket fits your dog.
The best dog winter jackets
If you think your dog might benefit from a doggy winter jacket, you might want to start exploring your options. It can be confusing facing so many options, and many owners don't know where to start looking. Luckily, we are here to help. We prepared a list of carefully selected jackets for winter that are good enough even for our own dogs. Here are our recommendations for the best dog winter jackets;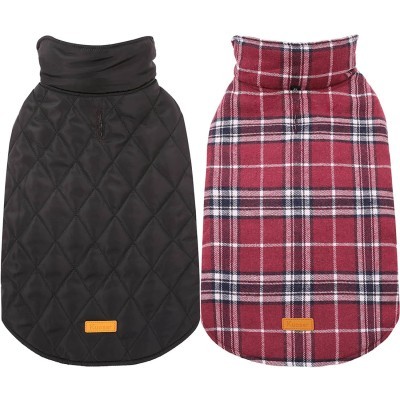 The Kuoser Cozy Dog Winter Jacket is our top pick because it has amazing features. Not only will it keep water out, but it will also keep the wind out. It is easy to maintain and clean, and it is reversible. You get two different styles in one dog winter jacket. This model also comes in 7 sizes and 7 design options. It is a great choice you certainly won't regret.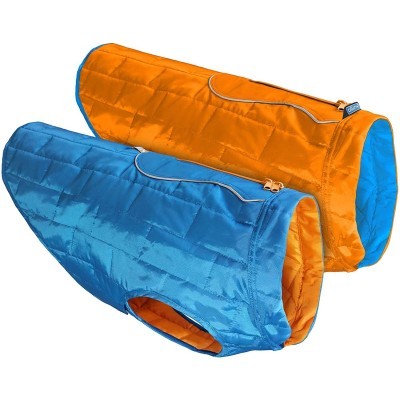 Our second pick is the Kurgo Loft Dog Jacket. This model was a contender for the TOP PICK spot but nearly lost simply because we prefer Kuoser's design. However, this is another fantastic pick that is reversible, waterproof, and windproof. It is every bit as good as our top pick, and you can be sure you won't be disappointed. Make sure you check the correct size for your dog so you don't have to make returns.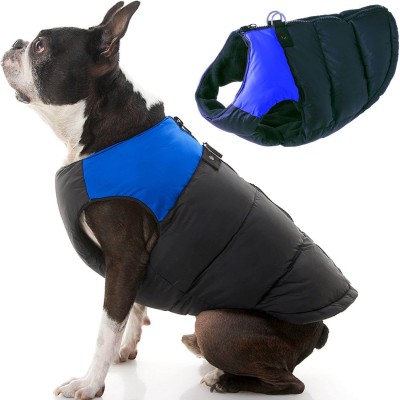 If you're looking for the warmest dog jacket, the Gooby Padded Dog Jacket should be a strong contester. This is meant for dogs with thin hair that doesn't keep them warm enough, but they live in cold areas. This model has a fleece lining, which is something you find in human winter jackets. This dog jacket is incredibly warm, and the outer layer will repel water. Plus, it comes in 12 different colors and 4 sizes. You can easily keep your dog warm with the Gooby dog jacket.
The Zack & Zoey Polyester Nor'easter is good enough for dogs that live in cold areas but not the absolute coldest. This dog winter jacket will keep the water and rain away from your dog's body, and the warm fleece lining will keep them comfy while they're on their daily walkies. This is an excellent choice for dogs of all sizes. Plus, it's pretty stylish and modern. All in all, a great choice.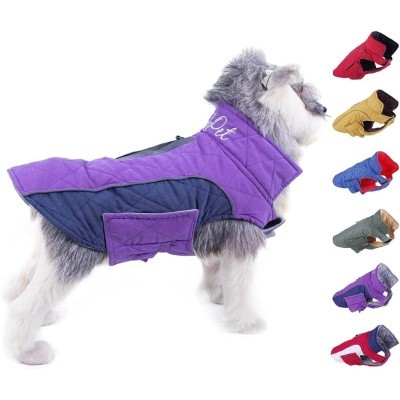 The ThinkPet Dog Cold Weather Jacket is another fantastic option for dogs that live in icy areas. This will even keep Frenchies, Italian Greyhounds, or Chihuahuas warm. This dog jacket is made of polyester. The inner linen part is specifically designed to provide maximum comfort and warmth. It is lightweight, so your dog's movement won't be limited or compromised in any way. Another fantastic choice for dog owners and their dogs.
World Dog Finder team