Best Dog Grooming Tables
19.02.2021.
Every product and service on World Dog Finder is independently selected by our editors, contributors, and experts. If you purchase something through our links, we may earn a referral fee. Learn more
---
Getting a dog grooming table might not be necessary, but if you have a dog that sheds a lot and requires grooming, maybe getting one is not such a bad idea. It will help you speed up the process and make it a lot safer and comfortable. Your dog will be positioned higher where you will have a clearer view of their coat. It is the easiest way to spot those details you usually miss.
What to look for in a grooming table?
Though it may not seem like that, there is a big difference between a good and a bad grooming table. One will make your life easier, and the other one will frustrate you. It doesn't matter if you are a regular dog show attendee, or you would simply like to have something practical at home for your dog; there are certain things you should look for in a dog grooming table. The most important things are;
Adjustability
The main difference between a good and lousy grooming table is its adjustability. You should be able to quickly adjust the grooming table's height, which will make your grooming task easier, comfortable, and you don't have to buy different sizes for small and large dogs.
Loop and arm
A good table should have a movable "arm" with a loop for keeping the dog still during the grooming session. Some dogs might enjoy pampering, and some might hate it. The adjustable arm with the loop will keep even the most active dogs still.
No-slip
Great dog grooming tables should have useful features that will make your job as easy as possible. One of the must-haves is the nonslip surface on top and rubber soles on the table's legs. That is vital for the dog's safety.
Material and sturdiness
Something that should hold a 50-pound dog cannot be made from lousy material. The table needs to be firm and stable. You don't want to end up with a dog that jumped on the table, only to have the table collapse underneath them. The dog will never want to get on a table again. The material should be firm but light enough so you can easily move and adjust the table's position.
Storage
Look for useful features on your future grooming table. Make sure it has storage underneath like a shelf or a basket. There is nothing more irritating than having to look where you put your grooming equipment. You should avoid placing anything next to your dog because they can get distracted.
If you are looking into grooming tables, maybe one of these grooming tools might be handy - Shedding season grooming tools.
Now you became an expert in grooming tables, and here are our picks for the best grooming tables for professional and amateur use.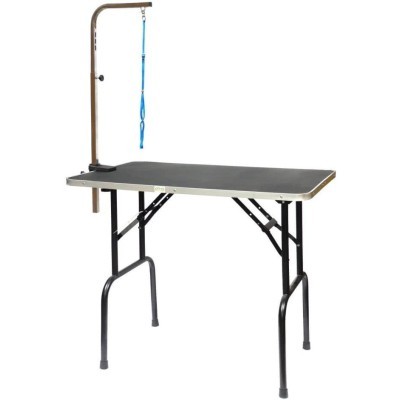 The Go Pet Club Dog Grooming Table is the best table you can get. This is a foldable table that comes in several sizes. The problem with it can be that it isn't a one-size-fits-all table, but if you have one or two dogs at home, this is the right choice. It is light and stable. It features a non-slip surface, and the legs have rubber for stability. The arm and the loop are fully adjustable.
Pros
Not too pricey
Stable
Rust-free material
Cons
Not a professional table
For home use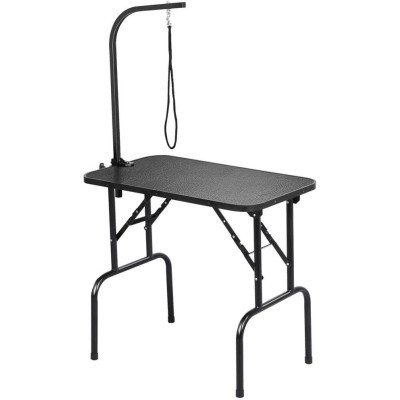 If you are looking for a professional grooming table, the Yaheetech Foldable Grooming Table is the right choice. There are some restrictions, but most average groomers feel this is more than enough. The arm is adjustable, and tall dog owners might struggle since the table doesn't go high enough, but your average height owner should have no problems. The loop noose is detachable, and it is easy to use. This is a great tool to have if you are often on dog shows or your small dog needs a lot of grooming.
Pros
Non-slip surface
Adjustable arm
Affordable
Cons
The height is only 30 inches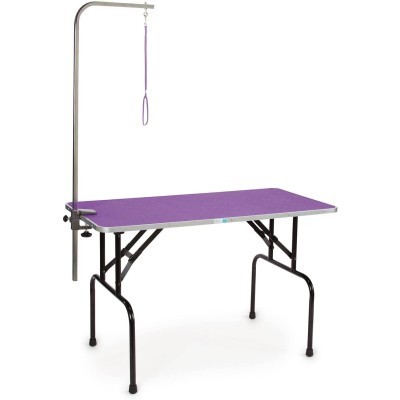 If you have a small dog you would like to groom at home; then Master Equipment Pet Grooming Table is the way to go. This is not only practical and easy to use, but it is also very budget-friendly. Most buyers said they were pleased with how this grooming table worked for them. Not only is it very stable, but it is the best looking grooming table. The Master Equipment table doesn't have long legs, so it needs to be used on elevated flat surfaces. The rubber feet will block it from sliding, and the adjustable arm will fit dogs of different sizes.
Pros
Design
Lightweight
Affordable
Cons
Some owners said they expected "more"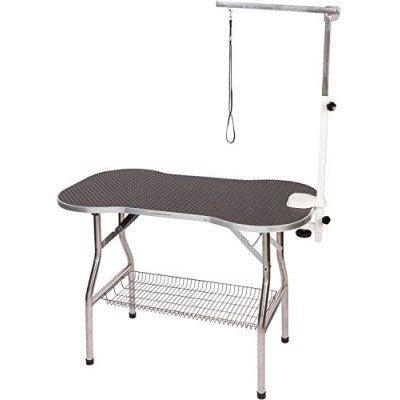 If you are searching for a heavy-duty grooming table, then look no further. The Flying Pig Grooming Table is ideal for all dog owners who would love to groom their larger dogs themselves. This table holds pets up to 330 pounds, so you can believe it is sturdy and strong enough. It has an adjustable arm with a loop noose to keep the dog steady. It is foldable and relatively tall. One of our favorite things about it is the practical shelf underneath it, with plenty of space to store your grooming kit. It is surprisingly light and easy to fold and transport.
Pros
Sturdy
Stable
Practical
Non-slip surface
Different sizes and colors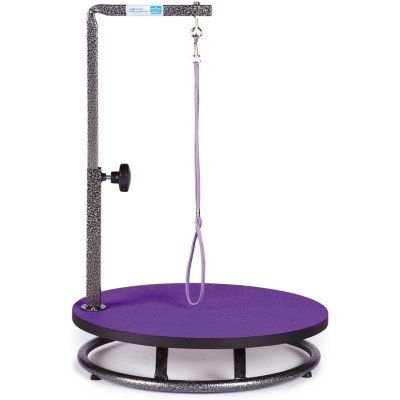 Master Equipment doesn't only make grooming tables for small dogs. They have a model that is sturdy and large enough for the biggest dogs. This model can hold 220 pounds, which is more than enough for breeds like Golden Retrievers or Afghan Hounds. It has an adjustable arm and a non-slip pebbled rubber surface. You can pick your size, and this grooming table is available from 30 to 48 inches.
Pros
Stable
Adjustable arm
Dogs up to 220 pounds
World Dog Finder team