Top 5 - Dog Food for Weight Loss
06.11.2021.
Every product and service on World Dog Finder is independently selected by our editors, contributors, and experts. If you purchase something through our links, we may earn a referral fee. Learn more
---
One of the most worrying things about dogs in the US is that most family pets are overweight. Some are slightly overweight, and some are obese. While overweight dogs are cute, there is nothing cute about the health issues that come along with canine obesity. Many dog owners have to resort to dog foods for weight loss to help their beloved pets reach a healthy body weight.
What is important in dog food for weight loss?
Specialty dog foods have different recipes than most commercial dog foods. Like the rest of dog foods, the ones made for weight loss should have high-quality animal protein, vitamins, carbs, fats, and supplements. However, the percentages of those things in the overall recipe are different. Here are the most important things to look for in the best dog food for weight loss;
Protein
Animal proteins are the most important thing in any dog's diet. However, in the best dog food for weight loss, the percentage of protein should be higher. The same goes for fiber, which will make sure the dog's digestion works properly. Carbs are important, but overweight or obese dogs should ingest a limited amount.
Calories
Just like in human weight-loss regimens, calorie intake is important for your chubby dog. The ideal amount should be 300 - 400 calories per cup.
Probiotics
Probiotics are fantastic for digestion. When switching your dog to weight loss dog food, they might get an upset stomach. Probiotics will make sure your dog's digestion stays on its course.
Palatability
Dogs gain weight because we give them tasty things or too much food and not enough exercise. If the weight loss dog food is not palatable, the dog might protest and not eat it. Make sure your dog tries and likes the food you are considering.
What is the best dog food for weight loss?
If you have a dog that could lose a couple of pounds, you need to pick the best possible dog food for weight loss. That means talking to your vet and researching different dog foods. Sometimes, getting a lot of information at once can be confusing. That is why we decided to prepare a list of the best dog foods for weight loss. Here are our recommendations;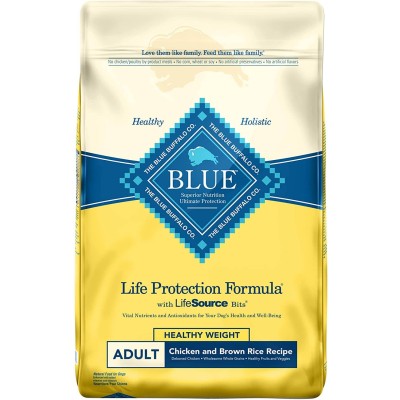 The Blue Buffalo Healthy Weight formula is our top pick. Dog owners seem to love this dog food for weight loss. Most importantly, it is really effective. It will help your dog regain a healthy weight, but it doesn't compromise its palatability. This dog food has fewer calories, is low on fats, and has fantastic protein sources. Plus, it comes with a reasonable price tag.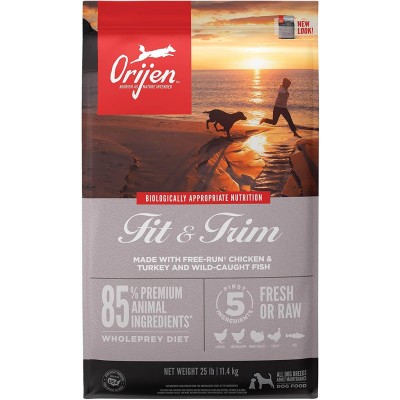 If you have a budget that allows you to buy this dog food, ORIJEN Fit and Trim Dog Food comes highly recommended by many dog owners. We are huge Orijen fans, and in our opinion, it is one of the best choices you can make for your overweight dogs. This food contains high-quality animal proteins - chicken, turkey, and wild fish. This dog food promotes a healthy weight, and you can be sure your dog will absolutely love the taste of this weight loss dog food.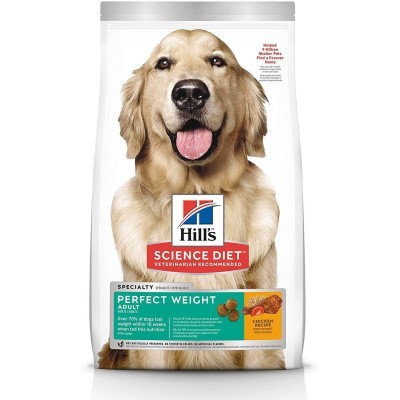 Hill's Science Diet for Weight Management is clinically tested for losing weight. Nutritionists at Hill's laboratory created a fantastic dog food for all obese and overweight dogs. This one gets its animal protein from chicken, and as we already established, chicken is a fantastic protein source that can keep the price reasonable. The company claims adult dogs lose weight in 10 weeks after switching to their dog food. It is an interesting statement, and it promises quick results.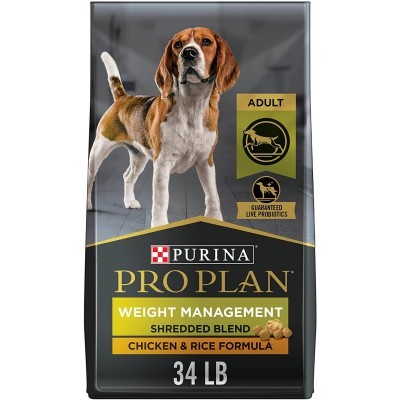 If you're looking for high-quality dog food for weight loss that comes at a reasonable price, Purina Pro Plan Weight Management has got you covered. It is a fantastic choice dogs seem to love. This is another chicken-based recipe. It includes plenty of probiotics that will ensure your dog doesn't suffer gastrointestinal issues while switching to this food. It includes grain and just enough calories to support the more active lifestyle overweight dogs should have.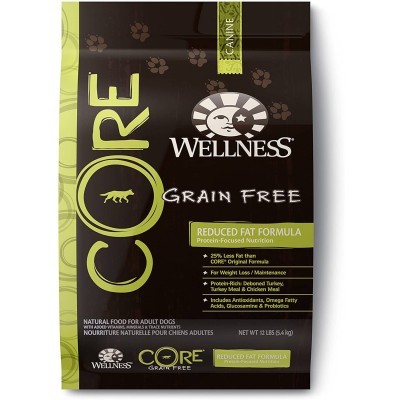 We decided to include Wellness CORE Natural Reduced Fat dog food on this list because we believe it is vastly underappreciated. Wellness, in general, produces fantastic dog food. After examining this recipe, it is pretty easy to conclude this is no exception. They get the majority of their protein from chicken and turkey; both are fantastic protein sources. The most important thing is that it has reduced fat and calories. It is an excellent choice for all overweight dogs.
World Dog Finder team