Canidae Dog Food Review [2023 Update]
11.06.2021.
Every product and service on World Dog Finder is independently selected by our editors, contributors, and experts. If you purchase something through our links, we may earn a referral fee. Learn more
---
Here at World Dog Finder, we are huge Canidae fans. We personally feed our dogs with this dog food and cannot be happier with it. However, when choosing the right dog food for your dog, the right choice can be challenging to make. That is why we decided to make this helpful Canidae dog food review that might help you make your decision.
Company history
Canidae is a company that was established in 1996. They pride themselves in being a company that uses high-quality ingredients they themselves played a part in cultivating and growing. They work with all sorts of small family-owned businesses that supply the company with absolutely amazing food sources. They have a state-of-the-art facility in Brownwood, Texas, where they updated the manufacturing process but kept their original values for the food quality.
Ingredients in Canidae dog food
With quality being one of the things they are most proud of, we have to take a look at the ingredients Canidae uses for their dog food. Let's take a look at carbs, fats, and protein.
Protein sources
Canidae boosts themselves by using only the best animal protein for their dog food. A closer look at the ingredient list on their dog food reveals they usually have an average to high protein amount. Their dry dog food usually has around 27 - 28% protein, while their vet food usually includes a lot more, about 41%.
Fats
There are different types of fats, and they are not all bad. Most dog owners associate fats with gaining weight and being unhealthy, but unsaturated fats found in some protein sources are great for dogs' brains, lowering cholesterol levels, reducing inflammation, and building stronger cell membranes. Canidae dog food usually has low to moderate amounts of fats in its recipes.
Carbohydrates
Carbs are another nutrient that gets a bad rep, but it makes a great energy source for the dog when they're carefully included in balanced dog food. Canidae dog food review tells us they have moderately high to high carbohydrate content in their dog food. If you have a dog that prefers being inactive and is prone to obesity, you should stay away from this food.
Canidae recall history
When you are producing dog food on a large scale like Canidae, mistakes and accidents are bound to happen. Dog food recalls are nothing to be ashamed of, but we will reserve the right to judge a company by its reaction. Luckily, Canidae has a pretty neat recall history.
May 2012 - The only recall that happened in Canidae's history was not even their fault. Their parent company, Diamond Pet Foods, issued a statement that Salmonella was found in their factory in Gaston, South Carolina. Luckily, Canidae dog food ended up being clear of any kind of contamination.
Canidae dog food review top picks
If you are interested in trying out Canidae for your dog, you can be sure you will make a great choice. However, some dog foods are simply better than others. Even within a great brand like Canidae, we have our favorites. Here are our top choices from this prestigious brand;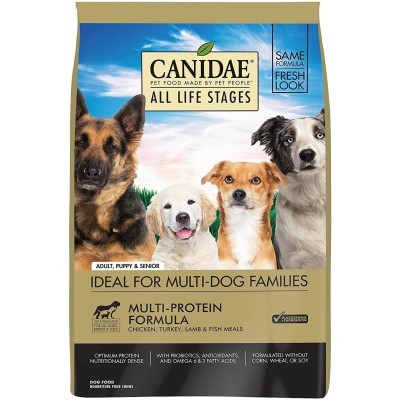 If you are looking for a high-quality formula for your dog food, our top pick in this Canidae dog food review is the CANIDAE ALS Premium Dry Dog Food with Whole Grains. This dog food recipe includes three different protein sources that are all equally good - lamb, chicken, and turkey. This recipe includes prebiotics and probiotics to keep your dog's digestion running smoothly. It even includes supplements like glucosamine for the dog's joint health. This is a great choice, and a dog food dogs really seem to love.
Our second pick and the food we use for our dogs is the Canidae PURE Grain Free Limited Ingredient Dry Dog Food. Our dog loves this food's palatability, and they seem to never get enough. This dog food recipe only includes 7 ingredients, so if you have a dog with allergies, this might be the right choice for you. This dog food recipe includes omega fatty acids that are great for the dog's skin, coat, and cognitive development. There are different protein sources you can choose from, but we personally prefer salmon.
If you have a puppy and you want to immediately put them on the best possible food, there is a unique recipe for puppies from Canidae. The CANIDAE Under The Sun Grain-Free Dry Dog Food for Puppies includes all the nutrients your developing puppy needs. It comes in several different tastes your puppy will absolutely love. We would like to mention the whitefish recipe, which is not something traditionally included in puppy food. It is a high-quality alternative protein source packed with omega fatty acids, which help your puppy develop their cognitive skills. This is an excellent choice for all puppies and their owners.
World Dog Finder team