Best Dog Cooling Vests for Summer of 2023
13.05.2021.
Every product and service on World Dog Finder is independently selected by our editors, contributors, and experts. If you purchase something through our links, we may earn a referral fee. Learn more
---
The summer is nearly here, and you know what that means; beaches, hot weather, and cold drinks. We love summertime, but since we are trying to be responsible dog owners, we should not forget our four-legged friends. Sure, they will enjoy running on the beach and swimming, but hot weather can be deadly to dogs. That is when dog cooling vests can help you and your dog. Here is what you should know about them.
What to look for in a dog cooling vest?
Not all products are the same, and you should never buy the first thing you come across. Some dog cooling vests are simply better than others, and there are a few specific things you should look for in them. Here are some of the characteristics to look for in dog cooling vests;
Active period
Cooling vests should have a reasonably long active period when they are actively cooling your dog. These vests are based on the evaporating effects. Cooling vests that are completely dry in a few minutes are not worth your money or consideration. Go for a cooling vest that is active for 15 minutes at least.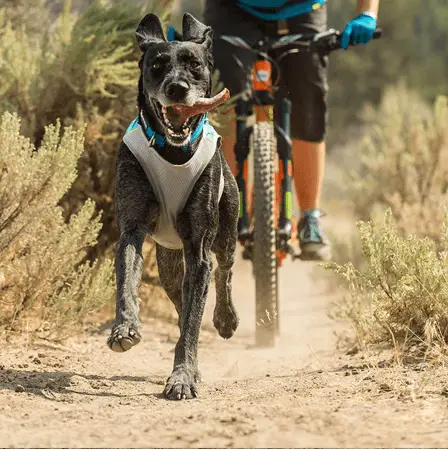 Climate
OK, this is not something you should look for in a dog cooling vest, but it is something you should consider. If you live in a humid place, the cooling vest will naturally last longer. However, if you live in an area with a desert-like climate, the cooling vest will completely evaporate in minutes. Make sure you get an appropriate vest for the climate you and your dog live in.
Fit
The best dog cooling vests should fit snuggly. Most dogs are not huge fans of wearing any clothes, but you can be sure that even dogs that tolerate clothes will hate wearing things that don't fit. Make sure you check the manufacturer's guidelines when picking the ideal cooling vest for your dog. It is best to measure your dog before ordering.
Reflective
The best cooling vests should have reflective properties. These properties should reflect sunlight but also should include reflective stripes. Not only will it increase your dog's visibility, but the reflectiveness will also deflect the direct heat from your dog.
Combines with collars and leashes
Responsible dog owners know you should always keep your dog leashed when in an open area. You should pick a cooling vest that pairs well with the dog's leash, harness, and collar. Some vests even include leash clips, so you can use them instead of a harness.
Making sure your dog doesn't get a heat stroke is crucial. Check out this article for more information - How to keep your dog cool?
These are the most important things to look for in dog cooling vests. Check out these fantastic recommendations;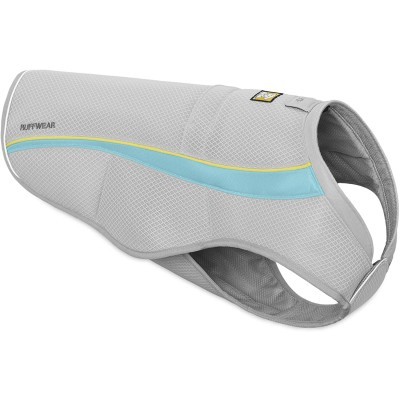 Our top pick for the dog cooling vest is the RUFFWEAR Swamp Cooler Dog Cooling Vest. This is a model that is based on evaporation, and it checks all the boxes we are looking for in these products. It includes three layers, so your dog's coat remains relatively dry. It prevents chafing and hair loss, and it reflects the sunlight. This is the most popular cooling vest choice on Amazon, and it has excellent reviews. It comes in 6 different sizes, so you should make sure the size will fit your dog. This is a great choice and a top recommendation.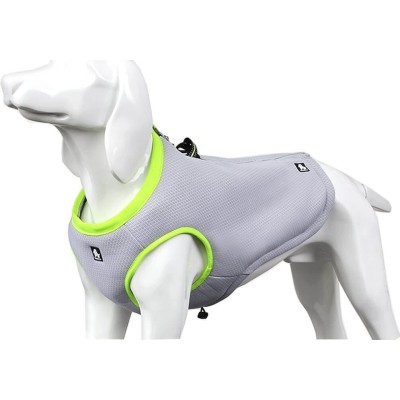 Our second place and a close runner-up for the top pick spot is the SGODA Dog Cooling Vest. It is similar to the top pick, but there are some slight differences. This model has better reviews, and it comes in 7 sizes. It includes a leash clip, so you can easily use it for routine walks during hot days. If you have to take your dog out in the middle of the day, make sure you checked the sidewalk. If it is too hot for your hand, it is too hot for your dog's pads. This dog cooling vest has a light color, so it deflects direct sunlight.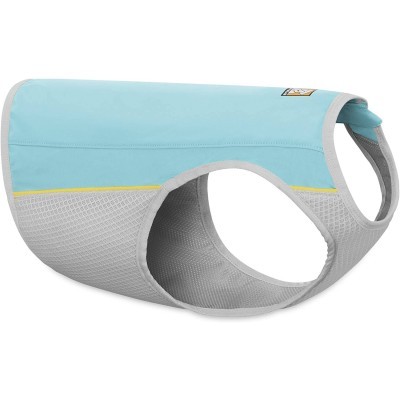 Our third pick is another cooling vest from Ruffwear. The RUFFWEAR Jet Stream Vest is made of spandex, so there is no question about achieving a tight fit. This vest will fit your dog like a glove, and the three layers all have different jobs. The outer layer reflects the sunlight and provides 50+ UPF coverage. The middle layer absorbs and evaporates water, and the inner layer keeps the water away from the dog's fur and skin. It will give your dog a nice cooling effect without making their coat wet. Wet coats can lead to hot spots and skin issues, so this is an excellent pick for a reasonable price.
World Dog Finder team