3 Best Flea Collars for Dogs
09.05.2021.
Every product and service on World Dog Finder is independently selected by our editors, contributors, and experts. If you purchase something through our links, we may earn a referral fee. Learn more
---
Fleas are the most common topical parasites bugging our dogs. They are irritating, and honestly, we can't imagine anyone wanting tiny parasitic insects feeding on their blood and skin. Luckily, there are different ways you can keep these nasty things off of your dog and away from your home. The first line of defense is keeping your dog safe. There is an easy way to do that - dog flea collars. Here is what you should know about dog flea collars.
What are the benefits of flea collars for dogs?
Flea collars are an elegant and effective way of keeping fleas off your dog for an extended period. Some collars can be active for 7 months, and you will only need two for the year. The long-lasting protection is what makes dog flea collars so popular among dog owners. Plus, flea collars are really easy to use - place one over your dog's head, and let the chemicals do the rest.
Are there any downsides?
Unfortunately, there are some downsides to using dog flea collars. Some are not waterproof, which means you can't let your dog swim with their flea collars. Water will dissolve the effective chemicals, and the collar will stop providing the protection it should be providing. The second potential downside is that some dogs might react to the chemicals in the flea collar. If that happens, your dog might start losing hair where the collar is touching their skin. Their skin will get red and itchy, which means you should opt for a different type of flea prevention.
What to look for in dog flea collars?
Like with any other product you are buying for your dog, there are things to consider. You shouldn't buy the first flea collar you come across. Here are some of the most important things to look for in dog flea collars;
Ingredients
Dog flea collars come with different ingredients, and you should carefully choose which collar you get for your dog. If your dog has any allergies to flea-repelling ingredients, you should avoid picking collars containing them.
Water resistance
Some dog flea collars are not resistant to water. If you have a dog that loves swimming and spends a lot of time on the beach and swimming, make sure you get a waterproof flea collar.
Longevity
Not all collars remain active for the same periods. Keep in mind that those that are cheaper usually last shorter. Keep in mind the active period for the collar you choose for your dog.
Other parasites
The best flea collars for dogs will offer protection against other topical parasites. Mosquitoes and ticks can transfer all sorts of nasty diseases like leptospirosis, anaplasmosis, Lyme disease, or Rocky Mountain spotted fever. Make sure you pick a collar that offers protection against other insects.
Now that you know what to look for, check out the best dog flea collars for dogs out there.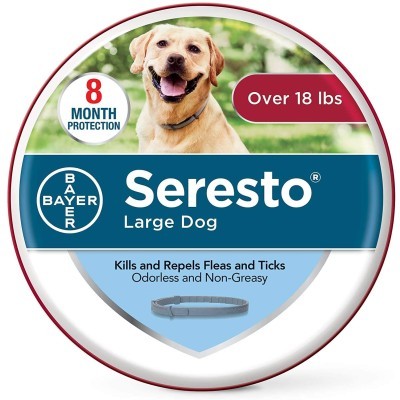 Our top pick (and the flea collar we use on our dogs) is the Seresto Flea and Tick Collar for Dogs. There is a great reason why this dog flea collar has more than 46.000 positive reviews on Amazon - it is really good. This collar has a lifespan of 8 months, and it kills fleas upon contact. Its effects can be noticed in less than 24 hours after administration. Active ingredients are imidacloprid and flumethrin, which kill and repel ticks, fleas, and even help prevent sarcoptic mange. Seresto is a fantastic choice and a top recommendation.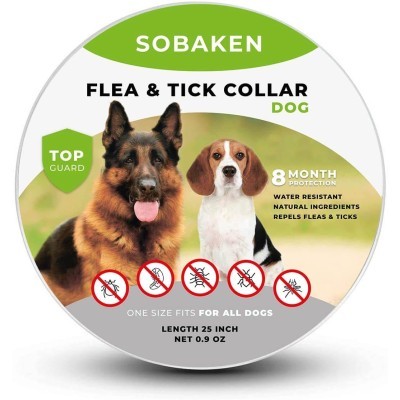 If you have an active dog that loves water, you should go for the SOBAKEN Flea and Tick dog collar. The thing that sounds most interesting about this flea and tick collar is that it uses natural oils for protection against common parasites. Unfortunately, some owners reported poor results, and others were extremely satisfied with the protection their dogs received. However, this is an excellent choice for dogs with sensitive skin since it doesn't include chemicals. This flea collar is waterproof and has a lifespan of 8 months.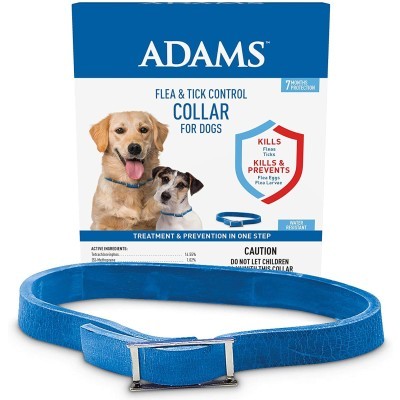 Not all long-lasting dog flea collars need to be expensive. Adams Flea and Tick Collar For Dogs is a great and affordable option designed to keep your dog safe from tiny parasites for 7 months. Keep in mind that all flea collars should not be used on puppies, and Adams's flea collar should not be used on puppies under 12 weeks. Some of the best things about Adams flea collars are - they are waterproof and kill fleas in all life stages (larvae, eggs, and adults). Some owners say there is an unpleasant smell to this collar, but it is a small price to pay for flea protection.
World Dog Finder team