5 Best Dog Diapers for Females in Heat
29.11.2021.
Every product and service on World Dog Finder is independently selected by our editors, contributors, and experts. If you purchase something through our links, we may earn a referral fee. Learn more
---
Being a dog owner means dealing with things you never thought you would have to deal with. One of those things is dealing with your dog being in heat. Unfortunately, dogs can't deal with that on their own, and if you want to keep your home blood-free, you will have to do something. Isolating your dog is out of the question; she's a part of the family, and you can't have her living alone for the next 2 weeks. This is where diapers for dogs in heat come into play.
What to look for in diapers for dogs in heat?
There are different diapers options for dogs in heat, but you shouldn't buy the first one you come across. Some products are simply better than others. That's why we decided to test them and talk to dog owners and vets about them. One of the things we hate is when there isn't enough information about products we need for our dog. We have to try them on our dog to find out whether they're really worth our money.
Luckily, we have decided to help you avoid that issue. We prepared a helpful list of the best diapers for dogs in heat, and you can be sure each product on this list will be worth your money. Before we share them with you, here are a few most important things;
Reusable or disposable
The first decision you will have to make is between using reusable and disposable diapers for dogs in heat. Reusable might be a better option if you're not planning on spaying your dog. Disposable might be better if you are planning to do that or you're planning to breed your dog.
Attachment option
Dogs aren't usually that happy they have to wear something. Most of them will do all they can to remove the diapers from their body. That's precisely why you should look for the attachment option diapers of your choice come with. Our favorites have velcro attachment, and we try to stay away from adhesive.
Size
Dogs come in all sizes, and you want to make sure the diaper you choose fits your dog. Luckily, most diapers for dogs in heat have a manufacturer's size chart. It makes knowing which size you should order slightly easier.
Adjustability
Securely attaching diapers for dogs in heat to your dog's rear end can be tricky. They can easily fall off, especially if your girl is not that comfortable wearing them. Make sure you order diapers that can be adjusted and securely attached to your girl's rear end.
The best diapers for dogs in heat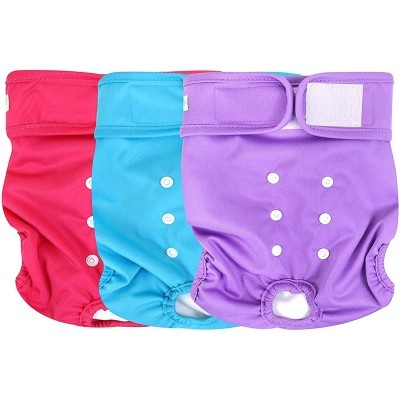 Our top pick is the reusable wegreeco Washable Female Dog Diapers. These diapers for dogs in heat come in sizes from XS to XXL, which means there is probably a size that fits your dog. This product is the best you can get for your furry friend in heat. Unlike many other models, these ones don't have any crinkly material that might draw your dog's attention and make them want to get them off. These diapers are highly absorbent, and they come in a variety of fun designs. Plus, the maintenance is pretty straightforward - simply throw them in the washing machine, and you're done.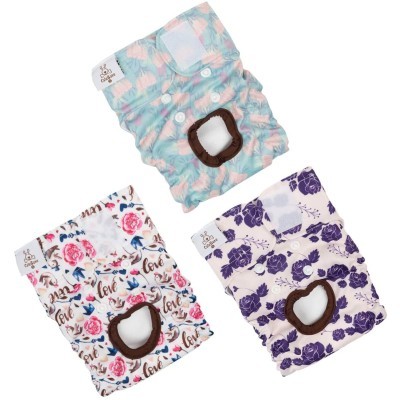 The CuteBone Reusable Dog Diapers for dogs in heat are a close second. The only difference between our top pick and this model is that more dog owners recommended the top pick. As far as we are concerned, these are just as absorbent, waterproof, and practical as the model in the number 1 spot. They will keep the moisture within the diaper, and the pad inside will keep your girl clean and dry. Another thing that slightly bothered us with these female diapers is that there are no sizes above L. All other features like an elastic tail hole and adjustable velcro work perfectly.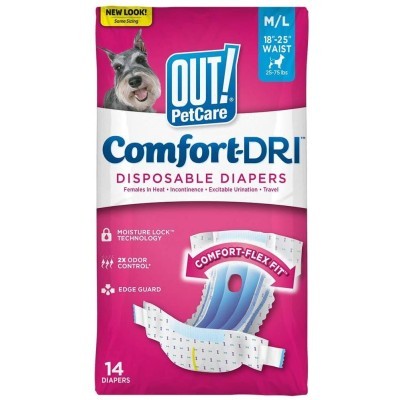 OUT! Pet Care Disposable Female Dog Diapers are our top pick for disposable dog diapers. If you're planning on spaying your dog, disposable diapers are probably a better choice. These ones have a leak-proof lining that will make sure everything that needs to stay in the diaper actually stays there. They are highly absorbent, and the core does its job pretty well. The only possible problem might be that these diapers come in two sizes - XS/S and M/L.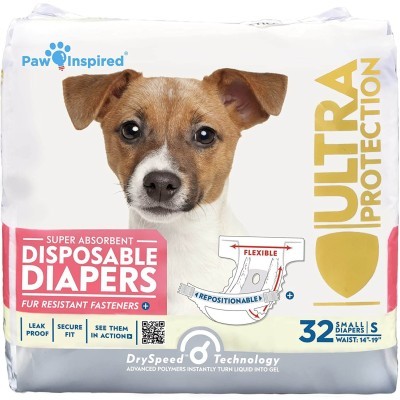 The second choice of disposable diaper option is the Paw Inspired Disposable Dog Diapers. If you want more size options, this is definitely the right choice. The manufacturer claims their product is ideal for dogs in heat, excitable urination, and incontinence. They have a super-absorbent core and breathable materials that allow enough air to come into the doggy diaper. These diapers have adhesive fasteners, but the manufacturer claims the dog's fur won't stick to the adhesive. We tried it on our dogs, and we can confirm that is true.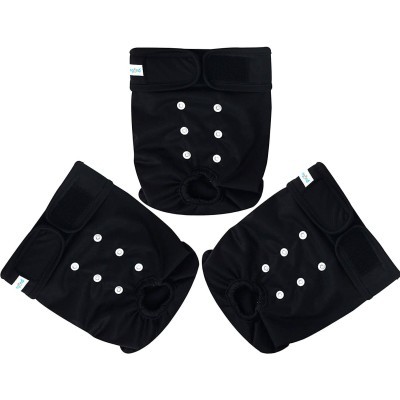 If you want diapers for female dogs in heat that doesn't have a flashy design, the Paw Legend Reusable Female Dog Diapers are the right choice for you and your dog. These diapers come in 5 different sizes and a waterproof outer layer that will keep your dog's business private. Maintenance is easy because they are machine-washable and dryable. These diapers are very easy to put on your dog, but the best thing is that they'll stay in place. This is another excellent reusable pick for your dog.
World Dog Finder team