5 Best Orthopedic Dog Beds [Owners Choice]
04.11.2021.
Every product and service on World Dog Finder is independently selected by our editors, contributors, and experts. If you purchase something through our links, we may earn a referral fee. Learn more
---
Sometimes, our senior dogs need a bit of support in their sleep. That doesn't mean you have to do it; simply get them a bed that has orthopedic properties. The best orthopedic beds can ease the dog's arthritis symptoms and allow them to have a good night's sleep. You don't want to see your dog struggling at night, so this might be a great solution.
What to look for in orthopedic dog beds?
Not all orthopedic dog beds are the same. Some are simply better than others. If you decide to get one for your dog, there are a few things you should look for. Don't buy the first one you come across. Here are the most important things to look for in the best orthopedic dog bed for your dog;
Material
The first thing you need to pick is material. You should think about it as if you're buying a mattress for yourself. Dog beds are a long-term investment in your dog's health, and choosing the right one is necessary. Memory foam is an excellent material to choose because it supports the dog's whole skeletal structure, especially their joints. Some manufacturers claim they have "better" material, but memory foam is the best thing available on the market so far.
Size
Another crucial thing is the actual size of the bed. While memory foam does provide support, it won't do much if half of your dog's body doesn't fit inside the bed. You have to make sure you get an orthopedic dog bed your dog can fit in comfortably. Check the exact measurements because not all manufacturers use the same scale.
Underside
This is often an aspect dog owners forget. However, the underside will provide stability if it's made from suitable materials. The best orthopedic dog beds come with a non-slip bottom because they will allow your dog to exit and enter the bed securely.
Style
Style might not be the most critical thing in the world, but you should be happy with your choice. In the end, your dog will sleep in the orthopedic dog bed, but you will have to look at it. Dogs don't usually have a style preference, but style can be important for their owners.
Maintenance
This might not be the first thing you look for, but your life will be much easier if you get an orthopedic dog bed that is easy to maintain. Luckily, the best options are machine-washable. That means you only have to take off the cover and throw it in the washing machine. Plus, some beds are waterproof. It's that easy!
The best orthopedic dog beds
If you're not sure if your dog needs an orthopedic dog bed, just ask yourself this; Does my dog have trouble getting up, has arthritis, painful joints, pressure sores, or mobility issues? If the answer is YES to any part of that question, your dog will probably benefit from an orthopedic dog bed. If you want to get it for your dog, here are the best orthopedic dog beds our vets recommend;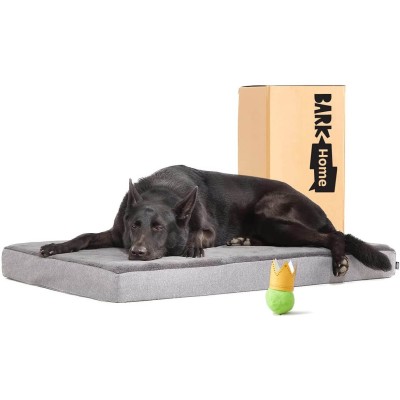 Our top pick in the best orthopedic dog beds category is the Barkbox Memory Foam Platform Dog Bed. It is made of high-quality materials, and dog owners seem to agree with us. This dog bed comes in 5 sizes and 10 different designs. That means there is something for every owner.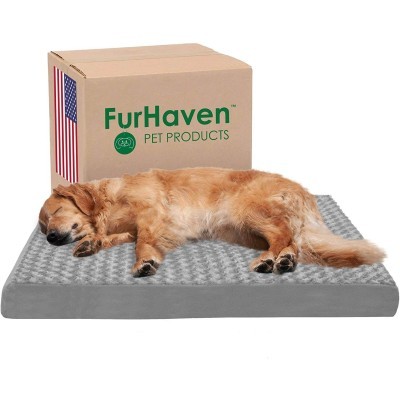 If your dog has a thick coat and could benefit from a dog bed that will provide skeletal support and cools them down a bit, the Furhaven Orthopedic Bed With Cooling Gel is the right choice. This dog bed has a soft plush material dogs sleep on. The memory foam and the cooling gel will provide support and comfort to your dog, no matter how old they are. Plus, it has 40 different design options and 6 sizes you can choose from.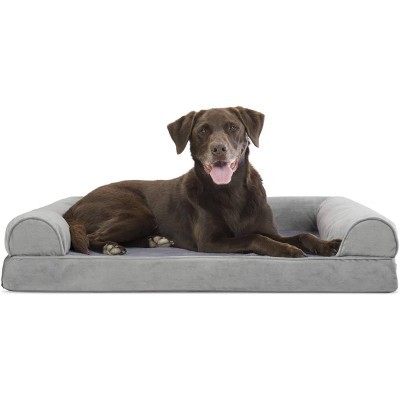 We simply had to include the Furhaven Orthopedic Pet Bed With Bolsters on this list. These guys make fantastic dog beds, and this model even has bolsters that provide a place where your dog can rest their head. However, not all dogs love that option. You can choose between the option with or without bolsters.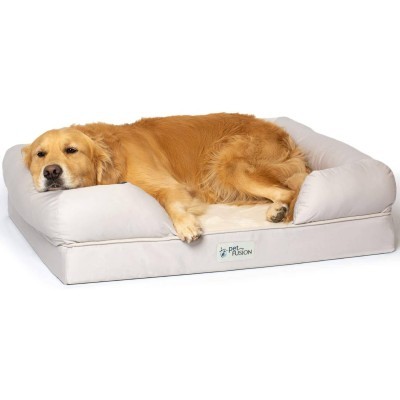 The PetFusion Ultimate Dog Bed is a high-quality, premium option that goes for a higher price. However, if you decide to go for it, you should know your dog gets the best possible sleep support. The only reason this dog isn't our top pick is its price tag. It is water-resistant, tear-resistant, machine-washable, and there are replacement options available. It is truly a great choice. Plus, this model comes with a 3-year warranty.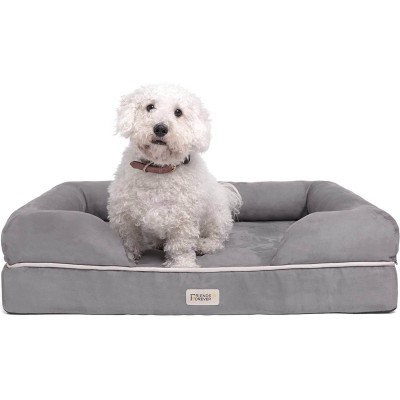 The Friends Forever Orthopedic Dog Bed is another option with bolsters that your dog can rest their head on. This dog bed is a high-quality model that comes with a reasonable price tag. Even if you have a limited budget you can spend on your dog, you can be sure this is a great option. It is easy to maintain, has a water-resistant liner, and comes in several colors and sizes.
World Dog Finder team