The 5 Best Leashes for Dogs That Pull
24.11.2021.
Every product and service on World Dog Finder is independently selected by our editors, contributors, and experts. If you purchase something through our links, we may earn a referral fee. Learn more
---
Getting a new dog at home is certainly one of life's great joys. However, teaching that dog how to behave correctly can be challenging. One of the things many dog owners have problems with is leash training and behavior. They might have the cutest dog ever, but that cute dog can become hard to deal with when on a leash. Dogs pull and want to go their own way. That's when great equipment, like dog leashes for dogs that pull, can help.
What to look for in the best leash for dogs that pull?
The first part of leash training equipment you and your dog could use is a no-pull harness. The second is a leash for dogs that pull. You can check out the harnesses here - Best dog harnesses. The first part of the equipment is very well described, and many professional resources write about them. However, leashes for dogs that pull are somewhat underestimated. If you want to get all the help you can for teaching your dog how to behave on a leash, here are the most important things to look for in the best leash for dogs that pull;
Material
One of the first things you should look for in a leash for dogs that pull is material. The best leashes would be those that are made from a bungee cord. That means the leash will absorb impacts from unexpected pulls and lower the risk of owners getting injured.
Reflective properties
The best leashes for dogs that pull come in reflective material. Even if your dog runs away from you during your night walks, the reflective material will make them visible to oncoming cars and people.
Durability
One of the most essential things for all dog owners buying equipment for their dogs is durability. We hate buying something that breaks within a couple of days. Make sure you pick a high-quality leash that will last for some time. If you do that, you can use that leash for years.
WORLD DOG FINDER TIP: Having the best possible equipment for your leash pulling dog is helpful. However, that alone will not make a huge difference in your dog's leash manners if you fail to provide proper training. Check out these 5 tips to stop a dog from pulling on a leash.
Best leashes for dogs that pull
Knowing which leashes to pick can be challenging. There are different options on the market, and manufacturers claim all sorts of things about them. It is not uncommon that marketing is not always too truthful. You'd have to test them and do your research. Luckily, we have done the research for you, and we prepared the best leashes you can choose from. Check out these leashes;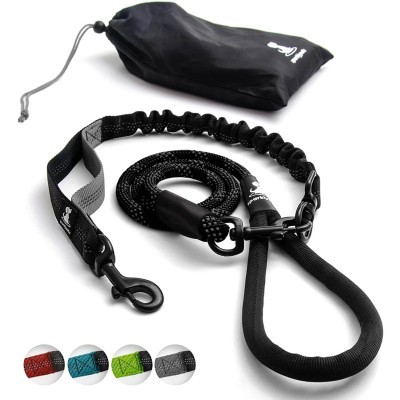 The best possible leash you can get for your dog that loves pulling on a leash is the SparklyPets Heavy Duty Bungee Leash. This leash checks all the boxes; it is made with bungee cord, which is crucial for powerful pullers. This leash is durable, thick, and has leather joints that ensure durability. The material is highly visible, and it even has a loop for your hand, which will provide a good grip when walking your dog. Plus, this leash is pretty stylish, which means it is functional and good-looking. You can pick from 4 different colors.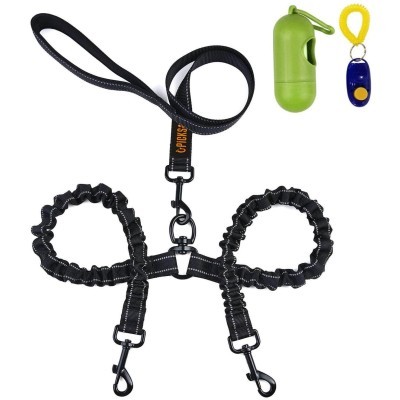 Many dog owners have two dogs, and often, one of them likes to pull a bit more. If that is the case with you and your dogs, the best possible choice is the U-pick Dual Dog Leash. This model is developed explicitly for walking two dogs. It comes in 8 color options and is suitable for medium-sized and large dogs. It has a no-tangle metallic swivel, so your dogs can freely move around without getting their leashes tangled. One of the best things about this dual leash is that it comes with reflective stitching, making it highly visible.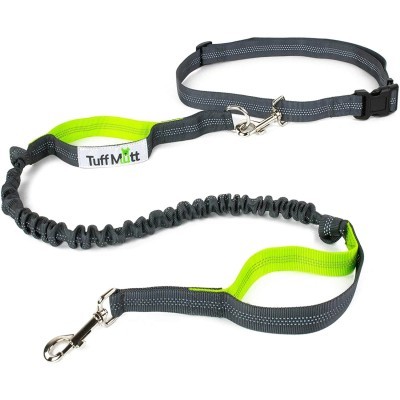 The Tuff Mutt Hands-Free Dog Leash is not meant for dogs that pull on a leash, but it can be used for that. In fact, it is very effective and easy to use. Unlike other dog leashes, this one attaches around the owner's waist. Its primary function is running and canicross. However, if you don't want to attach the leash to yourself, you can easily remove the part that goes around your waist and use it as a traditional leash. It is 4 feet long and can extend to 5 feet. It also comes with reflective stitching.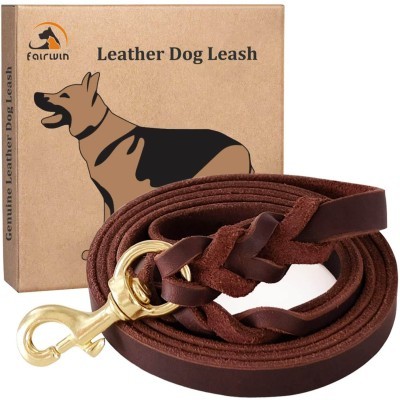 If you want to train your dog and prevent them entirely from pulling, you will need a leash that will withstand quite a bit of pulling. The FAIRWIN Leather Dog Leash is made of genuine leather, which provides incredible durability. It comes in four different lengths, so no matter what dog you have, at least one model will fit. This leash can withstand more than 500 pounds of pull force, which is more than enough for nearly all dogs. Plus, this leash looks absolutely fantastic.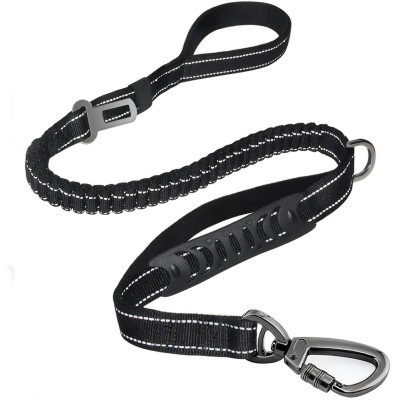 If you're looking for a leash that can be used for different things, the Heavy Duty Dog Leash is the right choice for you. It is an excellent choice for all dogs who pull on a leash, but it doubles as a seat belt. This leash is made of bungee cord, which makes it shock-absorbant. Even if your dog suddenly pulls, the leash will absorb the initial force. This model is ideal for dogs up to 150 pounds, which makes it suitable for most of our family pets. It even has a handle close to the dog's buckle, so you can quickly pull your dog close to you if you have to.
World Dog Finder team