Top 5 Harness for Small Dogs - Owner Choice
14.11.2021.
Every product and service on World Dog Finder is independently selected by our editors, contributors, and experts. If you purchase something through our links, we may earn a referral fee. Learn more
---
If you have a new dog at home, you will need a lot of new gear. For dogs that love pulling on their leash, we recommend using dog harnesses. If you have a small dog at home, you should use one of these best harnesses for small dogs. You can safely walk your dog without thinking about their necks each time they pull. We personally use it for our dogs, and we can honestly say harnesses are very useful.
What to look for in the best harness for small dogs?
When picking new gear for your dog, picking the first thing you come across is usually not the best idea. There are a few things to look for, and you need to make sure you get something high-quality. Nobody wants to end up with a harness that isn't safe or durable. Here are the most important things to look for in the best harness for small dogs;
Material
The first thing you should look for is the material that the harness is made of. Small dogs are not as powerful as their larger counterparts, but that doesn't mean the harness should be made of flimsy material. Look for durable nylon, soft mesh, and plush fabrics.
Size
One of the most important things you need to choose when picking the best harness for a small dog is the correct size. A too-large harness will slip, and the whole point of it is lost. Luckily, most manufacturers will include guides that will help with picking the correct size.
Reflective
One of the things you can look for is reflective material. This might not be necessary for a harness to be good, but it is an additional safety feature at night. You could make your dog become more visible and prevent them from getting hit by a car.
Here are the best harnesses for small dogs;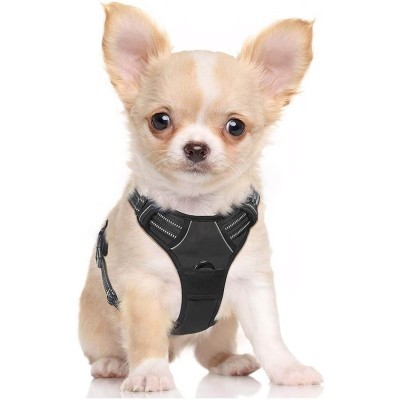 The best possible pick for small dogs is the rabbitgoo Dog Harness. There is a good reason this product has more than 80.000 5-star reviews on Amazon - it's really good. If you have a small dog that needs a harness, this is the best possible choice you can make. It comes in 4 different sizes and 6 different colors. This small dog harness is fully adjustable, safe, durable, and will prevent your dog from pulling the leash. It has strategically placed two clips that will make your dog behave.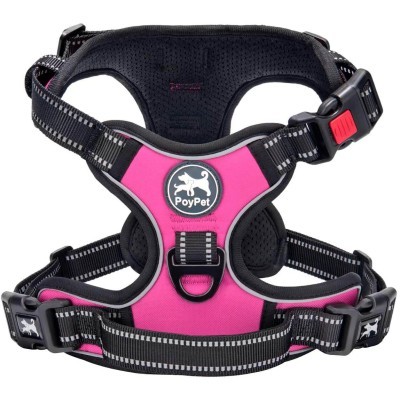 If you don't like our top pick, the second-best choice that comes highly recommended by many dog owners is the PoyPet No Pull Dog Harness. This small dog harness is best for dogs that need to be taught some leash manners. If they try pulling on this harness, they will just end up turning around towards their owner. This harness is water-resistant, reflective, and durable. You can be sure you will make a good decision if you go for this harness. Just make sure you follow the manufacturer's size guidelines.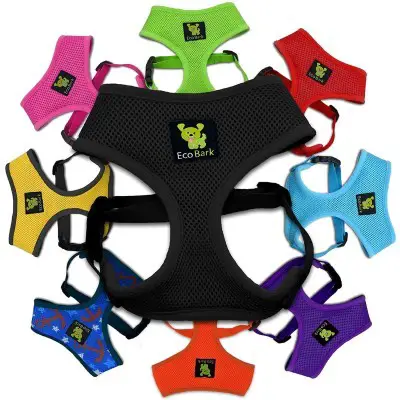 Some dog harnesses can be pretty expensive. Manufacturers claim they use "special" materials, which they charge a lot of money for. If you're looking for a high-quality small dog harness that doesn't cost so much money, the EcoBark Dog Harness is an excellent choice for you and your dog. A great thing about this harness is that it comes in XS and S sizes. That makes it great for dogs as small as 4 pounds. Plus, the harness' fun design sets this product apart from similar products on the market.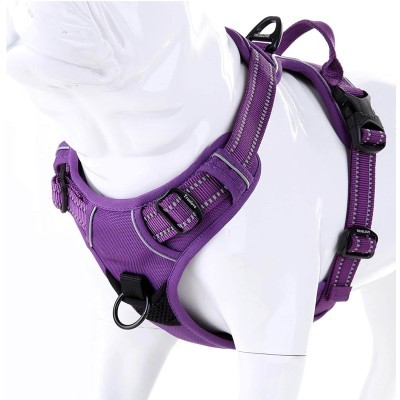 Another excellent choice for small dog harnesses is the juxzh Truelove Soft Front Dog Harness. This model comes in very small sizes, which is an excellent advantage over other similar products. This model provides durability, stability and is an overall great tool for leash training dogs that have bad leash manners. It has a practical handle that makes it very easy to control a small dog's movement. You can even pick the dog up by the harness in case of an emergency. It comes in high-quality materials and fun designs, and color options.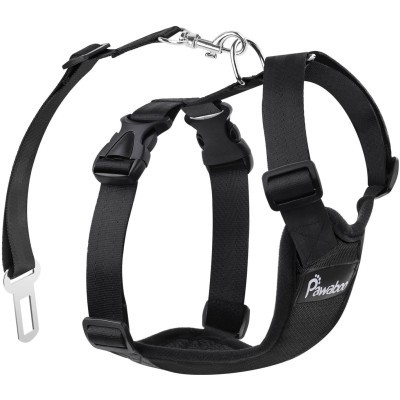 Another fantastic harness for small dogs is the Pawaboo Dog Safety Vest Harness. Not only is this an excellent choice for all owners that want their dogs to use a harness, but it also doubles as a seat belt. You can use it for walking your dog or leash training, but you can also use it for securing your dog during car rides. This harness is made of oxford fabric, 100% polyester, and has a broad sponge across the chest. Dogs like it and wear it without any issues.
World Dog Finder team