Best Puppy Harness for Your Furry Buddy
11.05.2021.
Every product and service on World Dog Finder is independently selected by our editors, contributors, and experts. If you purchase something through our links, we may earn a referral fee. Learn more
---
Puppies need to learn many things pretty fast. From crate and potty training to social rules and leash manners, there is a lot puppies have to get right to develop into well-behaved, friendly dogs. Getting them a good puppy harness can help you control your puppy's movement, behavior, and keep them out of harm's way.
Here are some of the best puppy harnesses you can get for puppy training and walking;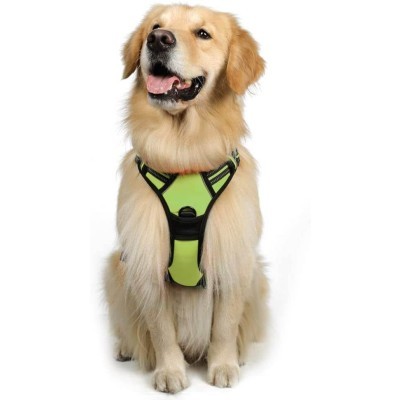 The best possible pick you can make for your puppy is the rabbitgoo Dog Harness. Not only is it made of breathable material, but it has heavy padding that will ensure your puppy is comfortable even if they are wearing this puppy harness on long walks. The best puppy harnesses include helpful features, and this one has two leash attachments and reflective stitching. This is a top pick, and you can be sure your puppy will be very happy with their light but durable puppy harness.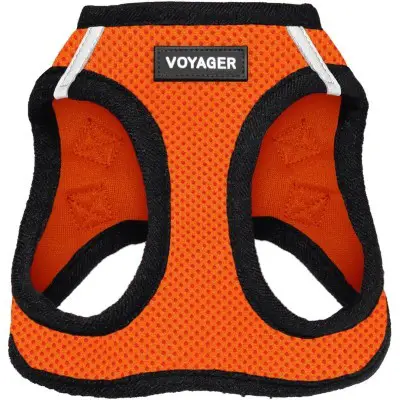 If you are looking for a practical and affordable puppy harness, the Voyager Step-in Air Dog Harness is the right choice. This is a "step-in" puppy harness, which means it is extremely easy to put on even on the most excitable puppies. It has Velcro fastenings, which means that you can still adjust it and make it work for your developing puppy even if you order the wrong size. The mesh material will ensure your dog's skin gets enough air, and this puppy harness will not cause chafing and hot spots. Plus, it comes in 29 colors.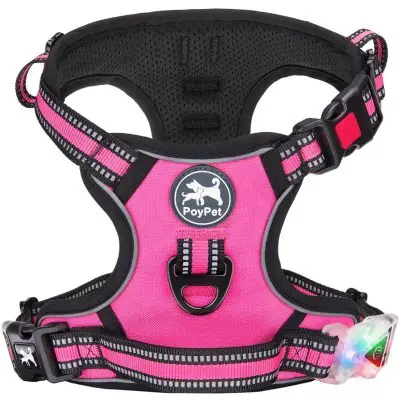 Do you have a puppy with bad leash manners? Does your puppy pull on the leash while you walk? If the answer is yes, you might want to consider getting your puppy the PoyPet No Pull Dog Harness. This puppy harness has two leash attachments, one in the back and one in front, that will prevent your puppy from pulling. Plus, the puppy harness will distribute the force equally, so your leash-pulling puppy won't choke themselves out. Another great thing about this puppy harness is - it looks pretty cool.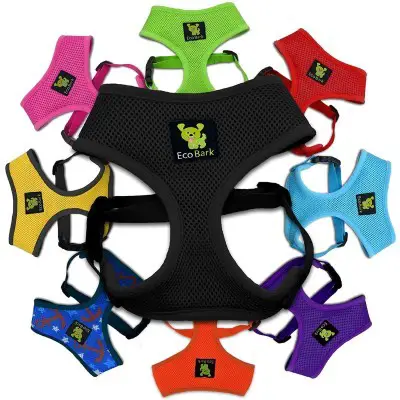 If comfort is on the top of the list of your priorities when picking a puppy harness, then EcoBark Puppy Mesh Harness is the right choice for you. This harness has mesh material that is more than comfortable. The padding will make sure your dog feels comfortable and the harness is not causing any hair loss or hot spots. The coolest thing about this puppy harness is that it is made of recycled water bottles. Not only are you getting a comfortable, practical puppy harness, but you are also doing something for the environment. Some puppy harnesses are not that durable and will get damaged after a few adventures. Luckily, this is not the case with the EcoBark Puppy Mesh Harness.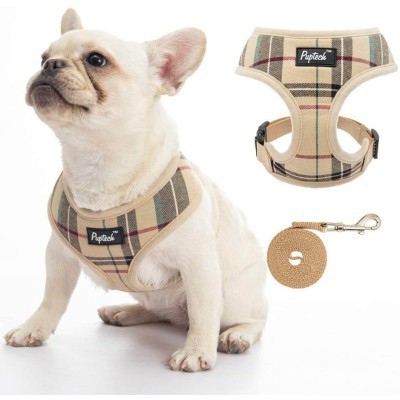 If you are looking for a well-designed, comfortable harness specifically developed for puppies, then Pupteck Soft Mesh Dog Harness is the right choice for you. The air-mesh material is exceptionally soft, and this no-pull harness is ideal for puppies in training. Not only is it comfortable, but it also has the best design. It is very easy to put in place; it goes over the dog's head, and the adjustable straps will make sure it doesn't move. This puppy harness will make sure your little buddy sticks out with the unique style you are rocking in the dog park.
World Dog Finder team