Best Food To Pick For Your French Bulldog
09.01.2022.
Every product and service on World Dog Finder is independently selected by our editors, contributors, and experts. If you purchase something through our links, we may earn a referral fee. Learn more
---
French Bulldogs are one of the most popular dog breeds in the world. These small charmers make ideal companions; they aren't too active, but they will give them all to amuse themselves and their owners when it's playing time. They are lovable, affectionate, and endearing, and all Frenchie owners will know exactly what we're talking about.
While Frenchies might be pretty cool, they are also sensitive and prone to specific health issues. That means you need to provide them with high-quality nutrition. If you're picking the best food for French Bulldogs, you should know what to look for and which brands might be the best to choose. Luckily, World Dog Finder is here to help you with your decision.
The best food for French Bulldogs
When looking for the best food for your French Bulldog, check the label for what we mentioned below. Look for things that will benefit your dog, and make sure the food is age-appropriate. For example, a Frenchie puppy will need more protein than an adult dog, and seniors will need glucosamine, vitamins, and antioxidants. Here are the best foods for French Bulldogs;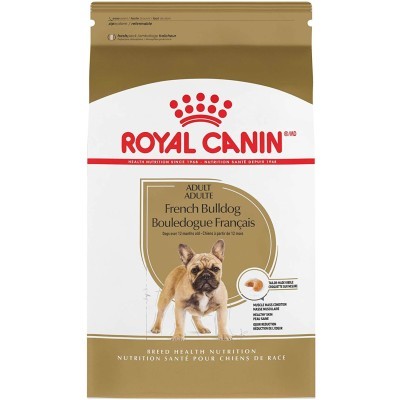 We might not be the biggest Royal Canin fans, but we give credit where credit is due. The Royal Canin French Bulldog is breed-specific dog food with a unique recipe that carefully includes things specifically designed for French Bulldogs. It has a specific protein content and a specific overall recipe that includes L-carnitine and fiber. This is a dog food tailor-made for this breed, and you can be pretty sure your Frenchie will love it. It is a great choice you won't regret.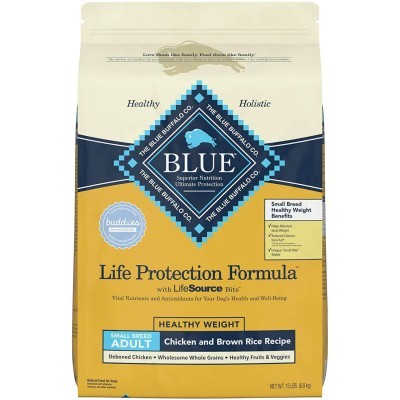 We love Blue Buffalo, so we simply had to include the Blue Buffalo Life Protection Formula for adult dogs. You can be sure you will get a high-quality recipe that includes fantastic protein sources. Life Protection Formula is available with 6 different recipes, which all use various protein sources. That means that even if your dog has dietary restrictions, you can simply choose a different recipe. This is a top pick, and the many reviews can confirm it.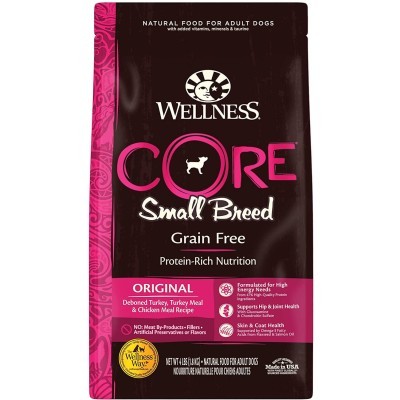 After talking to different vets, most agreed that Wellness CORE Grain-Free Dry Dog Food, Small Breed is an excellent choice for dogs. It has a fantastic protein source that will give your dog all it needs. The primary protein sources are chicken and turkey, so your little puppy should be pretty happy with the taste. However, this might be better for dogs that have a more active life.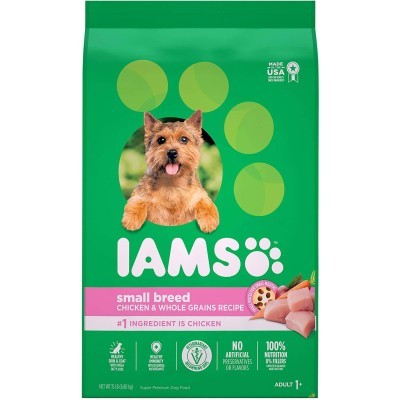 We are aware that money plays a part when taking care of a dog. Luckily, there are budget-friendly options like Iams Small Breed Adult dry dog food. This is not breed-specific, like the Royal Canin, but it offers pretty great value for money. The main ingredient is chicken, which is one of the most popular animal protein sources among different dog food manufacturers. This is a grain-inclusive food, which is not necessarily bad for dogs that don't have allergies.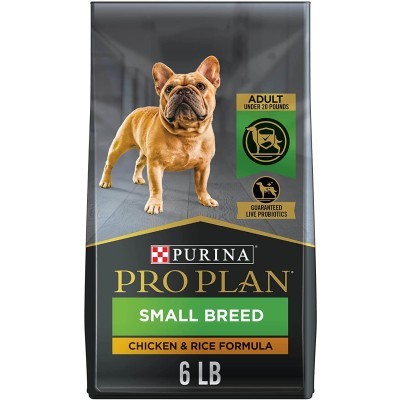 Purina is one of the most popular dog food brands in the world, and there is a good reason for it - it is good. The Purina Pro Plan Small Breed has three available recipes - chicken, lamb with shreds, and grain-free chicken and egg. That means there is something for dogs with dietary restrictions as well. It contains antioxidants, omega fatty acids, and glucosamine, so the dog reaches its senior years comfortably. It is a great choice that comes at an affordable price.
How to pick the best food for French Bulldogs?
No matter what breed you have at home, picking the right food is a process that needs to be approached carefully. This is even more true for Frenchies. These dogs are prone to food allergies, which is why many of them can't have chicken. Here are the most important things to look for in the best foods for French Bulldogs;
1. Protein
Proteins are the most crucial nutrient in any dog's food, and a breed that might have dietary restrictions should only include high-quality protein sources. If your Frenchie can't have chicken, look for foods with salmon, turkey, lamb, beef, or other alternative sources. Look for foods with at least 23% crude protein.
2. Carbohydrates
While carbs have a bad rep among humans, they are necessary for our dogs. Carbs are fantastic energy sources and can be great for active dogs. However, Frenchies are not the most active breed, so make sure how much food you give them. Look for foods with lower carb content.
3. Crude fats
Crude fats are an essential part of high-quality dog foods. However, your Frenchie's food should not contain more than 5% of crude fats. These dogs are prone to weight gain and obesity, which means you have to look after their calorie intake and the amount of food they ingest.
4. Fatty acids
Fatty acids are crucial for the dog's skin and coat health. With a breed prone to allergic dermatitis and other skin issues, fatty acids are vital in keeping the dog healthy and happy.
World Dog Finder team