Best Flea Shampoo for Dogs [2023 Review]
03.03.2021.
Every product and service on World Dog Finder is independently selected by our editors, contributors, and experts. If you purchase something through our links, we may earn a referral fee. Learn more
---
Fleas and other parasites are a part of every dog's life. Every dog will have at least one encounter with pesky fleas, and hopefully, your dog could avoid getting infected. If they do avoid getting infected, you can consider yourself a lucky dog owner. As a dog owner, you should familiarize yourself with the best flea shampoos for dogs.
Contrary to popular belief, fleas are not a sign of poor hygiene or dirty home. Most dogs get infected by other dogs that have fleas, and that can happen anywhere. Dog parks are full of owners taking their dogs for some playtime. Doggy schools and daycares are another possible infection site, so you should take precautions when it comes to fleas. 
What to look for in a flea shampoo
Deciding on a flea shampoo is not as easy as it may seem. There are more than a few things to consider when picking the right brand for your dog. If your dog has sensitive skin or the flea infestation got out of hand, some weaker flea shampoos might not work. These are the most important things to look for in flea shampoo for dogs;
Active ingredients
The effectiveness of a fleas shampoo will depend on the active ingredient it contains. Most natural flea shampoos use essential oil and plant extracts, but that doesn't mean they are not aggressive or completely safe. Just because a flea shampoo says, "natural" doesn't mean it can't cause a skin reaction.
Some flea shampoos for dogs will use pyrethrins or (S)-Methoprene. These are known as insect growth regulators and are often used in different flea treatments. The best thing you can do is talk to your vet and ask for advice on how to get rid of fleas.
Fleas are pretty irritating to your dog and to you. Here is what you need to know about them - Dog fleas and what to do about them.
Residual action
Some of the best flea shampoos for dogs have a long-lasting residual action. That means that not only do they kill fleas on contact, but they also protect your dog after the bath. The shampoo residue that will stay on your dog's coat will continue to terminate fleas and even the eggs that are buried in your dog's skin. The best flea shampoos for dogs have residual action that can last up to a month.
For dogs, cats, and puppies
This part is mostly important for households with multiple pets. Fleas are incredibly infectious, and if you noticed one of your dogs has fleas, other pets would likely get the infestation as well. Getting the best flea shampoo might mean you get one that is safe to use on dogs, cats, puppies, and kittens. You can check the ingredient list on a flea shampoo and see if it contains pyrethrins. Pyrethrins are not safe for cats.
Now that you know what to look for in the best flea shampoo for dogs, we prepared a list of effective and the best flea shampoos for dogs.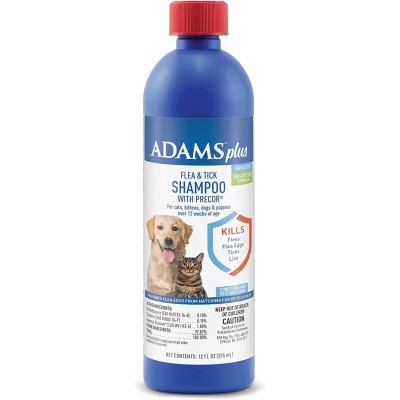 The absolute best flea shampoo for dogs is the Adams Plus Flea & Tick Shampoo. Dog owners worldwide seem to agree on this, and there is an excellent reason this flea shampoo has more than 8.000 5-star reviews. The Adams formula will kill adult fleas on contact. Still, it includes coconut oil that will soothe your dog's skin and ease the itching and inflammation. One of the reasons why we selected Adams Plus as the best flea shampoo for dogs is because it has a 28-day residual action. It will prevent fleas from developing and infecting your dog for the next 28 days.
Pros
Effective
Long-lasting residual action
Pleasant smell
Cons
Some dogs will require medicine to get rid of fleas completely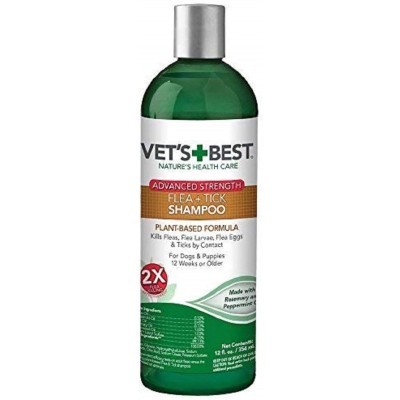 Our runner-up is the Vet's Best Flea and Tick Advanced Strength flea shampoo for dogs. This flea shampoo uses natural ingredients and effectively kills fleas upon contact. It has a unique formula that contains rosemary and peppermint oil that proved to be effective against fleas and ticks. It is an American product manufactured right here in the US. The instructions say to leave the shampoo on your dog's coat for 5 - 10 minutes before rinsing it off. This shampoo is not for puppies.
Pros
Kills fleas quickly
Effective against ticks
Good for the dog's coat
Cons
Not for puppies under 12 weeks
Some owners reported the smell might be too intense for them
Sometimes, flea dog shampoo is not enough. Check out this article for more info - Best flea treatment for dogs.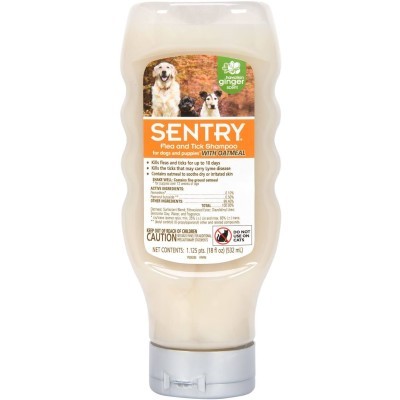 SENTRY Oatmeal Flea and Tick Shampoo for Dogs is proof that flea shampoo for dogs doesn't have to be expensive to work. This is our pick for the best budget-friendly flea shampoo. This flea shampoo for dogs uses permethrin as an active ingredient that will kill fleas upon contact. It provides a 10-day residual action where it repels all skin and coat parasites. This product contains oatmeal to soothe the irritated skin.
Pros
Budget-friendly
10-day residual action
Pleasant smell
Cons
Watery
Larger quantities needed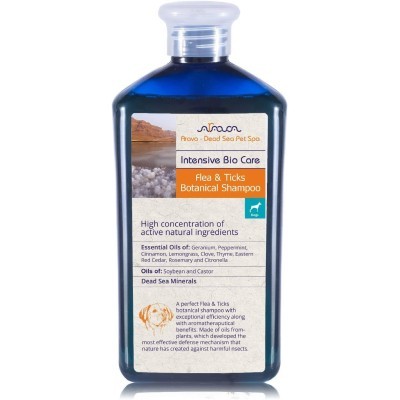 Not all flea shampoos are safe for puppies, so if you are looking for a safe option for your puppy to use, the Arava Flea & Tick Control Dog & Puppy Shampoo is the best option. This flea shampoo for dogs proved its effectiveness. It contains 26 different minerals from the Dead Sea, and its formula kills fleas on contact. Not only is it effective against fleas and ticks, but it will also freshen your dog's coat and skin. The shampoo smells great, and for every purchase, the manufacturer donates a percentage to an organization of their choice.
Pros
Smells great
Safe for puppies
Natural
Cons
Some owners reported it not being too effective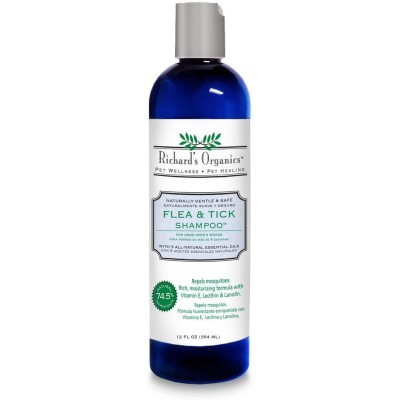 Richard's Organics Flea Shampoo for Dogs is another proof that there are great budget-friendly options available. You will be pleased to hear that this flea shampoo for dogs is all-natural and effective. It combines peppermint oil, cinnamon oil, cedarwood, and clove oil, so it is an effective parasite repellant. Not only is it effective against fleas, but also against ticks and mosquitoes. It is safe to use with flea skin treatments, and it will not compromise the medicine's effects. For puppies over 12 weeks.
Pros
Natural
Effective against fleas, ticks, and mosquitoes
Soothes the inflamed skin
Cons
Some owners reported it not being too effective
World Dog Finder team