The 7 Best Dog Foods For Small Dogs (Expert Advice)
14.04.2022.
Every product and service on World Dog Finder is independently selected by our editors, contributors, and experts. If you purchase something through our links, we may earn a referral fee. Learn more
---
A large number of dog owners are concerned about their canine friends' health and happiness, so they buy the best food they can afford for them. The problem is that there are various dog food brands on the market, and you are well aware that you should not put your faith in the glowing marketing slogans and billboards. Choosing the right food for your favorite small dog might be a difficult task.
That was the situation which we faced. However, instead of settling on just one dog food, we decided to test and compare a variety of them. We chose to write up the following reviews after putting them to the test with our dogs and seeing what we could discover about some of the most popular dog foods. You won't have to go through the hassle of trying them all out on your own.
Here is a list of the 7 best dog foods for small dogs.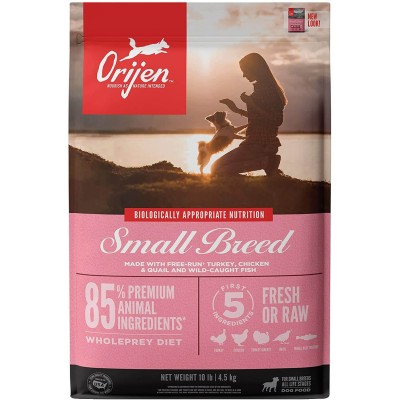 Our top pick in the category of best dog foods for small dogs is Orijen Small Breed Recipe. We picked this food for one simple reason - the ingredients in it are amazing! Orijen includes turkey, chicken, wild-caught fish, cage-free eggs, and quail. To be completely honest, we don't eat that well.
This dog food includes all nutrients your small dog needs for healthy development. The protein sources in this food will keep your dog's muscles healthy and lean. The controlled amounts of carbs and fats will ensure your dog has energy for all their adventures. The superior palatability will ensure they enjoy their meals every day.
There is one thing that slightly bothers us - the price. We know you can't expect super-premium dog foods with ingredients Orijen includes to be cheap. Still, the price is a crucial aspect dog owners must consider. Make sure your budget can handle this food.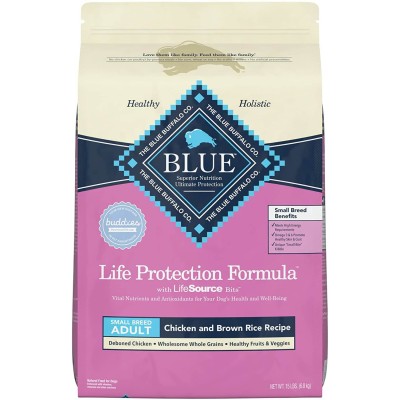 Blue Buffalo is a well-known commercial dog food manufacturer. As with all of their products, the Life Protection Small Breed Recipe is made with superior, whole-food components. You'll notice that deboned chicken is mentioned first on the food's ingredients list, indicating that this recipe is packed with high-quality protein rather than cheap animal byproducts. It contains 26 percent crude protein, which helps keep your dog healthy, muscular, and slim.
However, even though this recipe is constructed with healthy ingredients, we aren't fans of the fact that grains are included. The rise of grain-free dog food is because grains are difficult for our pets to digest. But they're pricey and sometimes contain low-quality proteins to keep the cost down. Consequently, it's hard to beat Blue Buffalo's nutrient-dense combination.
Of course, this recipe contains much more than just protein. Glucosamine is another ingredient you'll find to aid with the health of your dog's joints. In addition, omega fatty acids were added to boost the health of the skin and coat. This dog food developed specifically for small dogs is near the top in this category because we believe it offers the best balance between quality and price.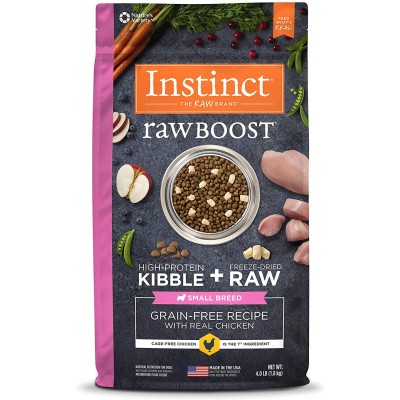 More and more dog owners are discovering the benefits of feeding their pets a raw food diet. We included Instinct Raw Boost Small Breed Recipe as a high-quality choice, especially if you're interested in giving your dog a taste of raw food. Grain-free, high in protein, and gluten-free are just some of the benefits of this formula. Using only natural ingredients, the Instinct Raw dog food is supposed to mimic the natural diet of a wild dog. Natural probiotics, omega fatty acids, and antioxidants are also in this recipe, and they will keep your dog protected and healthy!
As a reminder, this recipe has more calories and fat than the typical diet. If your dog is prone to gaining weight or isn't particularly active, this isn't the greatest choice for them.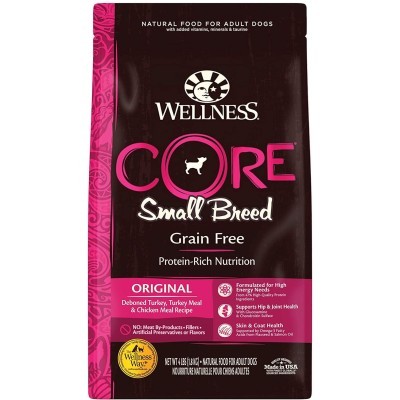 Wellness CORE is specifically designed to meet the higher energy requirements of small breeds like the Chihuahua. This recipe is packed with proteins and provides support for the increasingly popular raw diet philosophy. It contains premium turkey and chicken. This means it's free of grains, low-quality by-products, artificial colorings, flavors, and industrial preservatives.
The nutrient-packed dog kibble is designed with small teeth in mind. It contains the ideal balance between minerals, essential vitamins, and fatty acids for your dog's coat and skin. Natural fiber, pre, and probiotics improve and maintain digestive health. At the same time, complex carbohydrates and high-quality proteins provide optimal energy levels.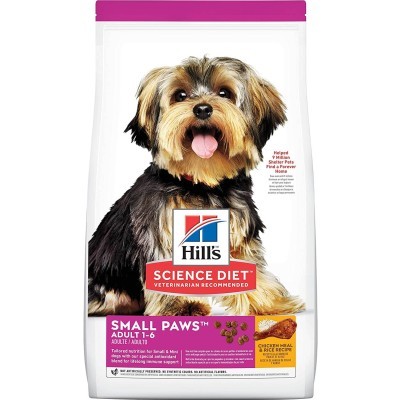 Just by knowing the manufacturer, we had high hopes. Hill's Science Diet Small Paws Recipe is a small-breed-specific recipe with a lot of good qualities. For example, it contains calcium, which helps maintain the strength of your dog's bones. Antioxidants and vitamins, like vitamin E and C, are added to the recipe to help boost the immune system and other body functions.
However, there are a few elements that you should know. This recipe is significantly lower in protein than other options on the market, despite the fact that it is more expensive. The second most common ingredient is brewer's rice, and in our opinion, they could have included something slightly better. Nevertheless, not all dogs require that much protein in their diets. That means Hill's is a good choice, but you should talk to your vet about your dog's specific needs. If they need less protein, this is definitely the right nutrition choice.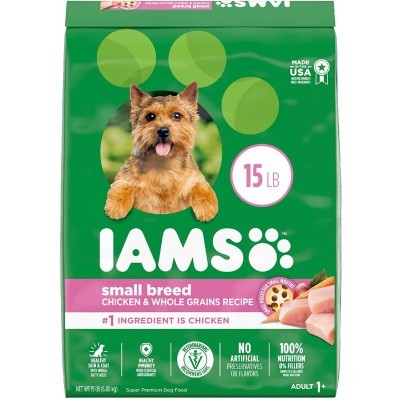 The cost of high-quality dog food has skyrocketed, but it doesn't have to be that way. We believe the Iams Small Breed is a fantastic dog food specifically developed for small dogs in terms of value. Despite its affordable price tag, this is a high-quality commercial dog food that doesn't skimp on ingredients or quality control.
When chicken is listed as the main ingredient in this recipe and the crude protein content is at least 27%, you know you're giving your dog a high-quality protein source that will benefit their health. However, protein is only one component of this food. Antioxidants and vitamins are also added to maintain your pooch in peak condition. Your dog's skin and coat can benefit from the added omega fatty acids.
However, we discovered a minor flaw at the very end of the list of ingredients. Cheap filler ingredients like corn aren't the ideal choice for dogs but allow producers to keep the price down. Unfortunately, this formula contains corn. However, we believe the price justifies it. Besides, this food hasn't caused any problems for our dogs, so we're not too concerned.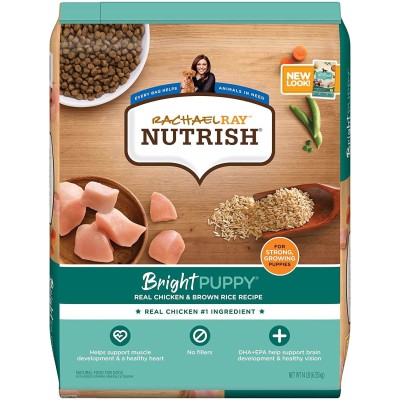 Puppies require a different kind of diet than an adult dog does in order to grow and develop properly. Their developing brains and bodies necessitate an abundance of nutrients. One of our favorite dog food specifically formulated for various small breed puppies is the Rachael Ray Nutrish Bright Puppy Dry Food. It's chock-full of ingredients that will provide your developing puppy with all the nutrition it needs.
If you look at the ingredients, you can see right away that this is a high-quality product. The first listed ingredient is chicken, which has a minimum crude protein content of 28%. This food contains only whole-food ingredients, which ensures your dog grows up to be healthy and strong. It also includes loads of beneficial omega fatty acids that benefit the puppy's skin and coat. The added DHA is fantastic for the pup's cognitive development. There are no animal byproducts, so you can be sure it is created with high-quality ingredients.
We also appreciate the fact this food is reasonably priced. However, this list of ingredients contains corn. It's not the deciding factor, but it's there. However, our dogs didn't appear to notice, and as long as they're happy, we're happy, too!
World Dog Finder team