Best Dog Food With Grain for 2023
19.11.2021.
Every product and service on World Dog Finder is independently selected by our editors, contributors, and experts. If you purchase something through our links, we may earn a referral fee. Learn more
---
In recent years, grain-free dog food has become a fairly popular option. That mostly happened because humans started eating grain-free diets, like keto. However, placing our dogs on grain-free dog food is not always the best option there is. Grain can be very good for dogs! In fact, humans have been feeding dogs grain-inclusive foods since early domestication. Here's what you should know about the best dog foods with grain.
Is grain good for dogs?
Despite having a bad rep in recent years, grain can actually be very good for your dog. However, you need to pick a great brand that uses high-quality ingredients and not starchy fillers. Whole grain is fantastic for balanced diets, and they are naturally rich in fiber which is crucial for healthy digestion. Some researchers even confirmed that grain lowers a dog's chance of diabetes, heart disease, cancers, and other health issues.
VET TIP: Grain-free options are not always the best choice for your dog. There are even studies looking into the connection between grain-free foods that include legumes and heart disease in dogs. More precisely, there are indications that dogs that consume grain-free food are at a higher risk of developing DCM.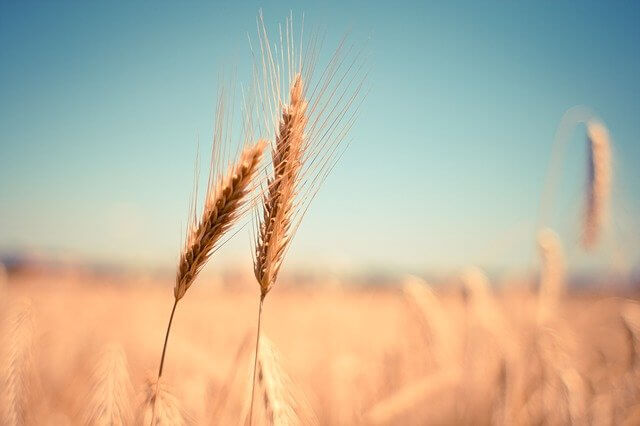 Why should dogs avoid grain?
There are cases where dogs should avoid eating grain-inclusive foods. Some dogs can be allergic to grain, and obviously, dog food with grain is off-limits to them. However, most dogs aren't allergic to grain; they are allergic to proteins. If you think your dog might be allergic to their food, you should talk to your vet and see what the best option for your dog is.
What to look for in dog food with grain?
Like with any other dog food you want to give your dog, there are a few things you should look for. Just because dog food includes grain doesn't mean other ingredients shouldn't be the best possible quality. Whenever you're picking food brands, you should read the ingredient list. Here are some of the most important things to look for;
Protein
Protein is the most essential thing in your dog's diet. Look for high-quality options like chicken, lamb, duck, turkey, beef, salmon, fish, bison, or venison. Avoid meat by-products or unspecified meat sources.
Grain
There are different types of grain a dog food manufacturer could include in their dog food with grain. However, some are low-quality fillers, and some are very beneficial for dogs. If you decide to feed grain-inclusive food to your dog, look for grain sources like brown rice, oats, barley, rye, quinoa, millet, or whole wheat.
Artificial ingredients
You must look for artificial ingredients in dog food simply because you will know to avoid it. Things like artificial colors, taste inhibitors, or preservatives are not something you'd want to see in your dog's diet.
Origin
This is one of the most important things you should look for in a dog food brand. We like to take dog food brands that come from countries with strict manufacturing laws and regulations. Look for dog foods from the USA, Canada, Western Europe, Scandinavia, Australia, New Zealand, and Japan. However, the origin of the food doesn't automatically mean the food is good. Remember to read the ingredient list.
The best dog food with grain
As we established, grains can be very good for dogs. They will support healthy digestion, make them feel full and prevent them from overeating, and provide health benefits in the form of preventing health issues. If you decide to go for dog foods that include grain, you should pick one of these best available choices;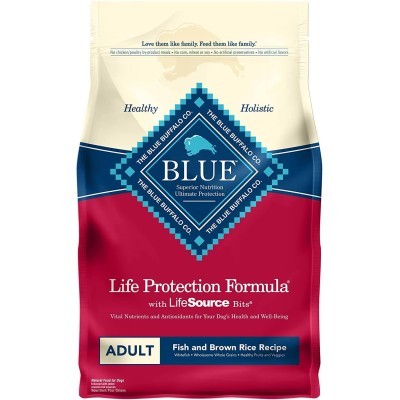 Our top pick in the category of dog foods with grain is the Blue Buffalo Life Protection Formula. We love this manufacturer and believe it is producing fantastic products for dogs. There are 5 different options of this dog food line, and they all include brown rice in their recipe. You can choose fish, chicken, lamb, small bite chicken, or healthy weight options.
Pros
Great protein source
Affordable price
High-quality grain
Cons
Relatively low protein content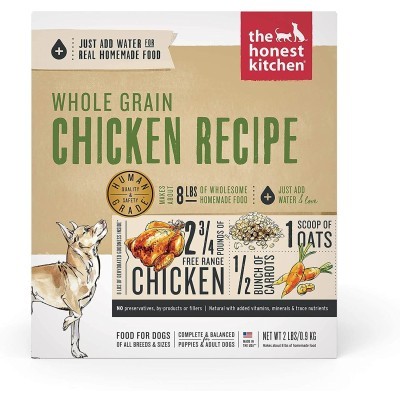 If you want to feed your dog one of the best possible dog foods and you have a budget that allows it, The Honest Kitchen's Chicken Recipe might be the right choice for you and your dog. This dog food includes barley, which has proven health benefits for dogs. This product can be used as a whole meal and as a dog food topper. Even mixing it with your dog's usual food is a great idea. It is very easy to prepare, and you can be sure your dog will love it.
Pros
Human-grade ingredients
Palatable
Easy to prepare
Cons
High price
Needs preparing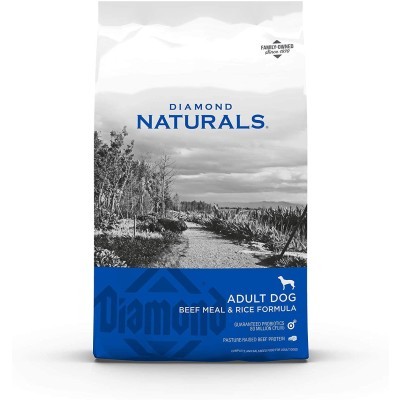 If you're looking for high-quality options that won't break your bank, Diamond Naturals Beef and Rice is a fantastic product. Dogs love the taste of Diamond Naturals, and this dog food includes white rice. Unlike many other lower-quality dog foods, this one contains high-quality beef as its primary protein source. Plus, this brand includes fruits and veggies for vitamins, minerals, and antioxidant boosts for your dog. This is one of the best possible choices for your dog.
Pros
Affordable
High-quality ingredients
Award-winning food
Cons
Some dogs might have issues with eggs and rice
World Dog Finder team