Best Salmon Dog Food [2023 review]
13.06.2021.
Every product and service on World Dog Finder is independently selected by our editors, contributors, and experts. If you purchase something through our links, we may earn a referral fee. Learn more
---
Making the right dog food choice can be tricky, especially if your dog has dietary restrictions or allergies. Some dogs are allergic to beef, chicken, or lamb, and if that is the case, they will need an alternative protein source. Salmon dog food can be a great choice. It is packed with healthy nutrients, and salmon is considered one of the best choices you can make. If you want to read more about this superfood, check out this article - Can dogs eat salmon?
Why choose salmon-based dog food?
Salmon-based dog food can offer many advantages to your dog, regardless of food allergies. Even if your dog doesn't have problems with chicken or beef, choosing salmon dog food can be a good idea. Here are some of the reasons why you should choose salmon dog food;
Protein
Salmon is a fantastic protein source. You shouldn't choose salmon only for your dog; you should include it in your own diet. It offers a tremendous protein-to-calorie ratio, and it is no wonder grizzly bears love it so much.
Vitamins and minerals
Salmon is packed with vitamins and minerals. It is rich in zinc, magnesium, potassium, selenium, vitamin B12, vitamin D, and many more healthy nutrients your dog (and you) can benefit from.
Omega fatty acids
Perhaps the main reason you should consider putting your dog on a salmon-based diet is omega fatty acids. These healthy acids are fantastic for the dog's skin, coat, and joints. This is highly beneficial for senior dogs at risk of developing arthritis or who are already suffering arthritic pains and stiff joints.
Amino acids
All fish, including salmon, have high levels of amino acids. They are great for restoring cartilage and building and repairing body tissue. This might be a great thing for developing puppies and senior dogs.
Palatability
Salmon dog food is very tasty to dogs, and most owners reported their dogs love the taste of their salmon-based dog food. This type of dog food is very palatable for dogs, and you shouldn't have any problems getting your dog to eat salmon dog food.
Here are our favorite salmon dog foods you can choose from;
Our top pick is the Diamond Naturals Skin & Coat Real Salmon and Potato. This salmon-based dog food is an excellent choice for dog owners that want to put their dogs on an alternative protein source. The company claims it includes wild salmon, vitamins, minerals, and a completely balanced recipe that will provide your dog with everything they need. One of the best things about this dog food is that it includes probiotics which will help the dog's digestion. This is an American company, and the food is produced right here in the US. This is a fantastic recipe, and you can be sure your dog will enjoy it.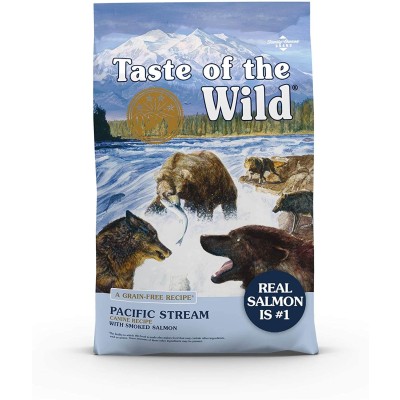 Dog food with high-quality ingredients like salmon can be pretty pricey. The good news is that the Taste of the Wild Dry Dog Food With Smoked Salmon offers excellent value for money. Besides being one of the most affordable, this dog food will also provide your dog with a balanced salmon dog food recipe your dog will love. This food has a high protein content, and it includes supplements like vitamin E, vitamin A, and probiotics. This is a US-based company, and its dog food is produced right here in the US.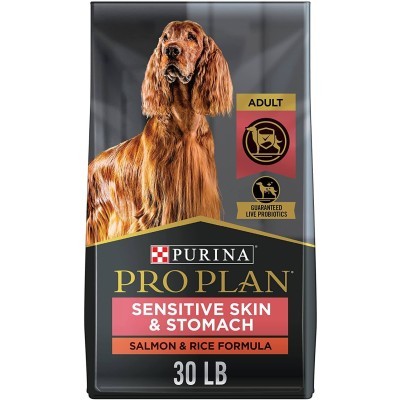 Our third pick is the Purina Pro Plan Sensitive Skin and Stomach. This dog food is one of the world's best-sellers, and Purina is a company with a tradition longer than 80 years. This dog food recipe includes oatmeal, so it is highly beneficial and easy on the dog's digestion. This dog food doesn't contain soy, corn, or wheat, and Purina famously avoids artificial colors and taste inhibitors. This is an excellent choice for all dog owners, and it comes with a reasonable price tag.
World Dog Finder team