5 Dog Food To Choose If You Own a Pomeranian
23.01.2022.
Every product and service on World Dog Finder is independently selected by our editors, contributors, and experts. If you purchase something through our links, we may earn a referral fee. Learn more
---
One of our favorite dog breeds is the adorable Pomeranian. These tiny dogs have huge personalities, making them amazingly popular among dog breeds around the globe. These dogs fit in most purses, and their owners love pampering them and taking care of them. However, if you want to take proper care of your Pomeranian, you first need to provide them with proper nutrition. That means you have to pick the best dog food for Pomeranians.
Your Pom's overall health will start with proper nutrition. If the dog gets healthy nutrients from high-quality dog food ingredients, it is less likely they will develop all sorts of health issues. The fewer health problems your dog has, the longer they'll live, and you get to spend more time with your little fuzzball. However, picking the best dog food for Pomeranians can be tricky. The good news is that World Dog Finder did the research for you. Here are the best dog foods for Pomeranians.
The best dog food for Pomeranians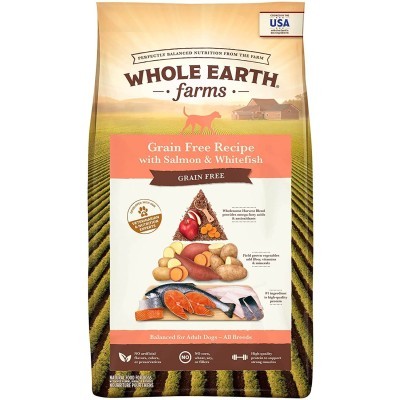 The most recognizable characteristic of Pomeranians across the world is their coat. That means you have to provide dog food that will contain ingredients that will benefit your dog's skin and coat. The Whole Earth Farms Grain-Free Dry Dog Food is exactly that. This recipe gets its protein from salmon and whitefish, which means this food is packed with omega fatty acids. These essential fatty acids do wonders for your dog's skin and coat health. It comes with a reasonable price tag, and our experts checked it, tested it, and were pretty happy with the results. Make sure you select the salmon & whitefish recipe.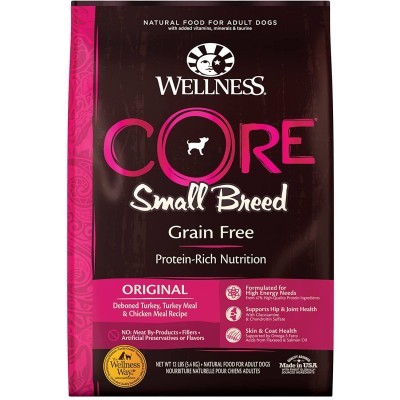 If you follow us and read our recommendations, you can notice that we recommend Wellness CORE Grain-Free Dry Dog Food for almost all small or toy dog breeds. That's for a very good reason - it is really good. We are not the only ones that are really happy with this turkey, turkey meal, and chicken meal recipe; dog owners seem to agree with our experts. If you have a Pomeranian that doesn't have chicken allergies, you can be sure you will make a fantastic choice if you decide to go for this dog food. It will provide your dog with everything they need, and you will notice how soft and shiny their coats are.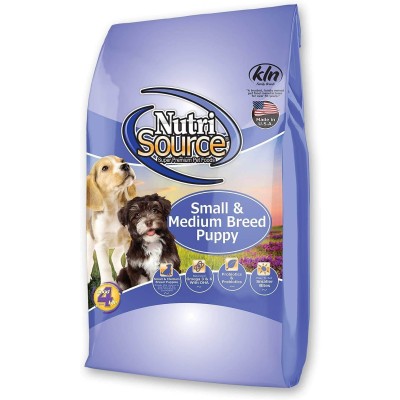 Another excellent choice for Pomeranian puppies is the Nutrisource Sm/Med Breed Dry Puppy Food. This dog food contains chicken, fish, chicken meal, and fish meal. That means it contains chicken fat and essential fatty acids required for proper development and enough energy for all the exploring a puppy has to do. This dog food contains higher amounts of protein, which means your puppy will eat food that will allow them to develop and grow. Plus, it has monthly plans where you can save some money on dog food.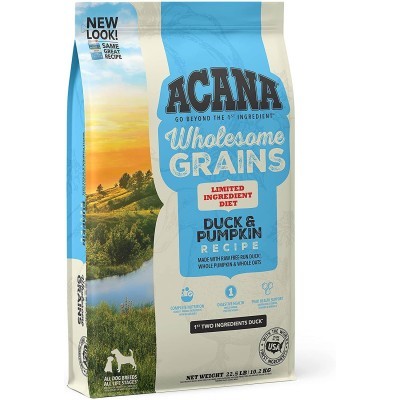 Many Poms can't eat chicken because many have allergies to the protein that comes from chickens. Luckily, there are excellent choices like Acana Singles Limited Ingredient Diet. This food has a recipe that includes duck and pumpkin. Duck is a fantastic protein source, and pumpkin is a fantastic fiber source. However, if you have already heard about Acana, you probably heard it is one of the more expensive dog foods. This is one of the best choices you can make for your dog, but it comes with a hefty price tag. Luckily, Poms don't eat that much, so this food can last you for some time.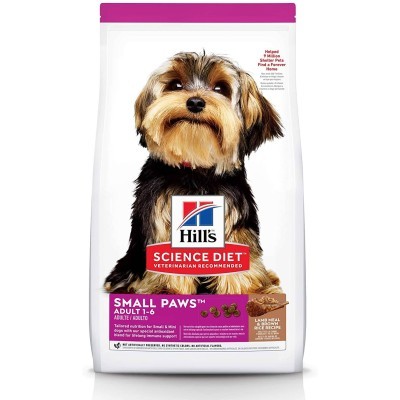 Another fantastic choice for adult Pomeranians is the Hill's Science Diet Dry Dog Food. This recipe includes lamb and brown rice, which guarantees your little Pomeranian will love this food's palatability. Lamb is a high-quality protein source, and brown rice is a healthy carb and a fantastic fiber source. This food includes added omega fatty acids and vitamin E, which will boost the dog's skin and coat health. That is crucial because your dog needs all the help to keep that wonderful double coat healthy and looking its best. Plus, this dog food comes with a reasonable price tag.
World Dog Finder team