How to Choose the Best Dog Food for Greyhounds?
26.12.2021.
Every product and service on World Dog Finder is independently selected by our editors, contributors, and experts. If you purchase something through our links, we may earn a referral fee. Learn more
---
One of the most elegant dog breeds in the world is the fabulous Greyhound. These are the fastest dogs in the whole canine kingdom. They have a lean, muscular structure that allows them to run at speeds rarely seen in the animal kingdom. These dogs might be fast, but they are usually pretty lazy.
The most crucial thing Greyhound owners need to provide their dogs with is proper nutrition. That means choosing the best dog food for Greyhounds. These dogs will need loads of healthy protein in their diet, and that is just one of the nutrients the best dog food for Greyhounds should contain. Luckily, World Dog Finder did the research for you, and here's our list of the best dog foods for Greyhounds.
The best dog food for Greyhounds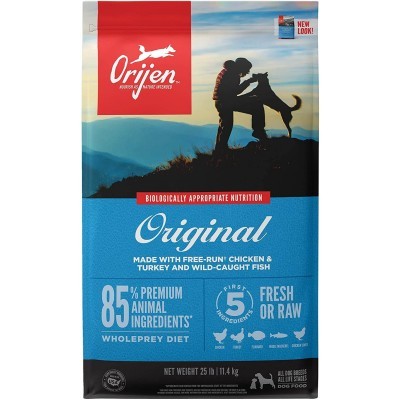 Our top pick for the best dog food for Greyhounds is the ORIJEN Dry Dog Food. This isn't the only dog breed that can really benefit from Orijen. However, if you decide to go with this brand, you should know they have puppy, adult, and senior dog foods, which means you can stay with a single brand throughout the dog's life. This dog food includes absolutely fantastic ingredients. The original recipe includes deboned chicken, deboned turkey, Atlantic flounder, whole eggs, and whole Atlantic mackerel as primary protein sources. It also contains organs, bones, eggs, veggies, and fruits. It is a fantastic choice that is, unfortunately, a bit expensive.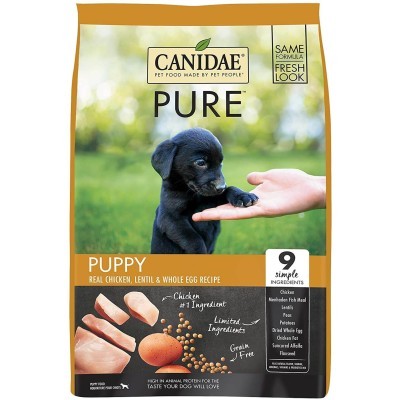 Another fantastic choice you can make for your Greyhound puppy is Canidae PURE Limited Ingredient Puppy Dry Dog Food. This food is also on the more expensive side, but only because its ingredients are superb. This is a grain-free recipe that gets its protein from chicken. It contains only 9 natural ingredients, and puppies seem to react to it superbly. Grain-free options might not necessarily be ideal for dogs, and grain can be very beneficial. However, developing puppies can benefit from such a high-quality recipe. If your budget can handle this food, you can be sure you will make a fantastic choice for your Greyhound.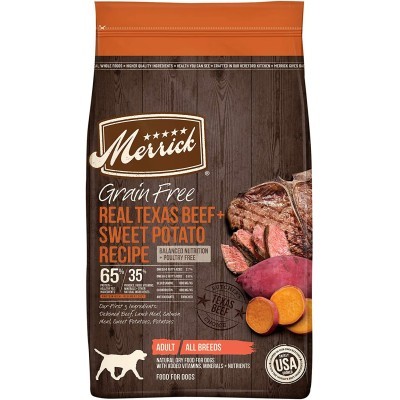 Another fantastic grain-free recipe for Greyhounds is the Merrick Grain-Free Dry Dog Food. Their grain-free product line includes 7 different recipes like salmon, duck, Texas beef, or lamb. We decided to include here the Texas beef recipe because dogs seem to enjoy the taste. This dog food has superior palatability, which means dogs won't have any problems switching to it. Beef is a fantastic protein source, and this recipe seems to include everything an adult Greyhound might need. Plus, unlike the first two spots on this list, this dog food for Greyhounds comes at a much more reasonable price.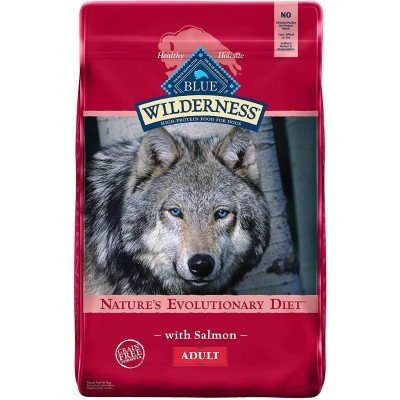 Here at World Dog Finder, we are fans of Blue Buffalo dog food. Their Wilderness product line is fantastic. It includes several different recipes that use various primary protein sources. We will include the salmon recipe here because some Greyhounds can be allergic to the most commonly used protein source in dog foods - chicken. This dog food has a guaranteed 34% protein, which is more than enough to keep your Greyhound muscular and healthy. The overall recipe includes everything your dog needs to thrive. Plus, it comes with a reasonable price for dog food with so much protein.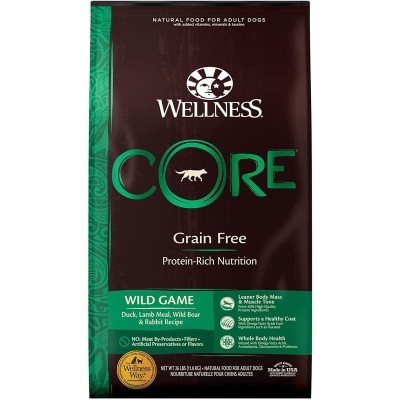 Wellness CORE Grain-Free Dry Dog Food is a fantastic choice for all Greyhounds and their owners. You will end up with a dog that has a healthy diet, and you can be sure the high-protein formula will keep your dog strong and fast. This recipe gets its protein from duck and lamb, and the guaranteed analysis says it contains at least 34% protein. This food will also provide glucosamine and omega fatty acids, which means your dog's joints, bones, coat, and skin will remain in perfect condition. Even if your dog has problems with these things, this dog food can provide different benefits and help the dog heal faster.
How to pick the best dog food for Greyhounds?
Whenever you pick any product you will give your dog, you should take your time and make sure you're getting something your dog will actually benefit from. Focusing simply on one thing like the price, protein amount, or brand simply won't cut it. There are a few things we accounted for when picking these foods. Here are some of the things you should consider when choosing the best dog food for your Greyhound;
Dog's age
No matter which brand you pick, you should know that puppies, adults, and seniors have different nutritional needs. Always choose dog foods that are developed specifically for the period of life your dog's in.
Ingredient list
Before you decide to buy s particular brand, you should read the ingredient list. Make sure there aren't any things on there that might confuse you. Look for clearly defined ingredients and avoid meat by-products, artificial colors, preservatives, and taste inhibitors.
Origin
Look for the country where the dog food you're choosing is produced. Countries with loose production laws allow manufacturers to use questionable ingredients. Always go for the dog foods made in the USA, Canada, New Zealand, Australia, Western Europe, and Scandinavia.
World Dog Finder team