The 5 Best Dog Foods for Blue Heelers
24.01.2022.
Every product and service on World Dog Finder is independently selected by our editors, contributors, and experts. If you purchase something through our links, we may earn a referral fee. Learn more
---
The Blue Heeler, or Australian Cattle Dog, is a working dog breed whose primary purpose is to be the best possible farm dog. These dogs are versatile, fast, and intelligent. Their owners need to provide them with the best dog food for Blue Heelers to keep these dogs' working ability up to the task.
If you're a Blue Heeler owner, you probably know how active and intense these dogs are. They look like they're always for some action, and it can sometimes seem impossible to keep them down. That's why choosing the right dog food for Blue Heelers is so essential. World Dog Finder did the research for you, and after speaking with vets and Blue Heeler owners, we created a list of the best dog foods for Blue Heelers.
The best dog food for Blue Heelers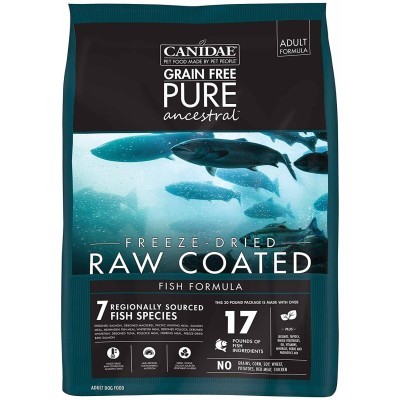 Our top pick for the best dog food for Blue Heelers is the Canidae PURE Ancestral Premium Adult Dry Dog Food. This recipe is based on different protein sources. However, proteins come from fish. This food uses salmon, mackerel, and pacific whiting meal to achieve a 36% guaranteed protein. It is a great pick that will allow your Blue Heeler to run the whole day. Protein alone is not enough, so it is a good thing this food includes 12,5%  crude fats, which are a fantastic energy source. This dog food is a bit expensive, which means you will have to have a budget for it. If you can fit it into your budget, you will make a fantastic choice for your dog.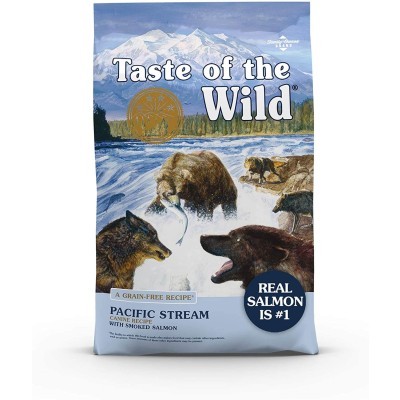 After talking to many Blue Heeler owners, it was pretty clear many of them use Taste of the Wild Smoked Smoked Salmon High Protein dog food. This is a fantastic recipe because it is based on salmon, which is rich in fats and omega fatty acids. However, you can choose any of their recipes, and you can be pretty sure you'll make a good choice. Their food is 32% protein and 15% fat, which means it is fantastic for dogs who need plenty of energy to run around. This food even has a puppy version, which means you can stay with one brand until the end.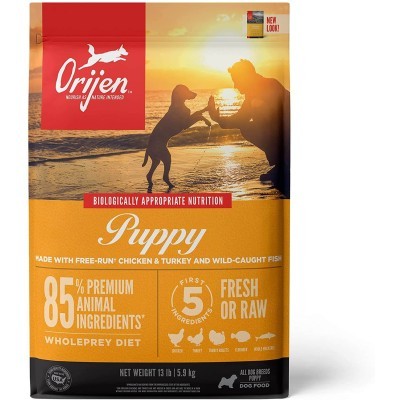 Most vets we spoke to recommend ORIJEN Puppy Dog Food. This recipe is absolutely amazing. It includes various high-quality protein sources and 20% crude fats. That is something an active puppy like an Australian Cattle Dog needs. This food will give them plenty of energy to roam and explore their surroundings. Orijen is also fantastic for the dog's bones, joints, cognitive functions, skin, and coat. It is a well-rounded recipe that will provide your dog with everything it needs. This dog food also has adult and senior recipes, which means you can keep your dog on the same brand throughout different life stages. Give your puppy the best possible start with Orijen dog food.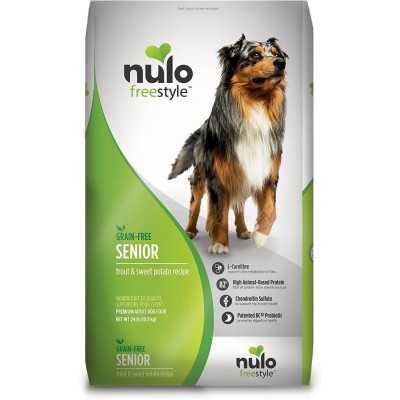 If you have a senior Blue Heeler, you might want to consider Nulo Senior Dry Dog Food. This recipe contains plenty of glucosamine, which means your dog's joints will be protected from arthritis as long as they can. It has at least 30% protein and 14% crude fats, which means this food will support the dog's muscle tonus and not give them too many fats, so the dog gains weight. It is as close to the perfect balance as it can be. The primary protein source is trout, which is somewhat unusual, but dogs seem to love it. This is an excellent recommendation and a fantastic choice for all senior Australian Cattle Dogs.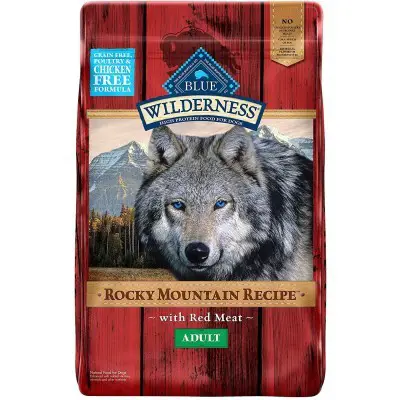 Another fantastic choice of dog foods for adult Blue Heelers is the Blue Buffalo Wilderness Rocky Mountain Recipe. This dog food gets its protein from beef, and as you probably know, dogs love beef. This is a very palatable food, and most dog owners said their dogs jumped right in as soon as they served them this food. It contains 15% crude fats, so your dog will get plenty of energy to work or play for the whole day. If you want to know more about the Blue Buffalo company, check out the Blue Buffalo dog food review.
How to pick the best dog food for Blue Heelers?
When you're choosing the best dog food for Blue Heelers, you should know what to look for. Just focusing on a single thing is not a good idea. Only looking at the food's price or the amount of protein it contains is not good enough. Look at the bigger picture. Here are a few things you should consider;
Dog's age
The first thing you should look at is the dog's age. Blue Heeler puppies, adults, and seniors have different nutritional needs. If you can, always go for dog foods that were developed explicitly for a particular life stage.
Ingredient list
No matter which dog food brand you decide to go for, you should read the ingredient list before buying it. Check for clearly listed ingredients and avoid meat by-products, artificial colors, and taste inhibitors.
Origin of the food
Another important thing you should look for is the origin of the food you're buying. Look for foods from the USA, Canada, Scandinavia, Western Europe, Australia, and New Zealand. These countries have strict food processing laws and inspections. That means manufacturers can't use low-quality ingredients and need to stick to strict guidelines.
World Dog Finder team