Best Low Protein Dog Food in 2023
27.05.2021.
Every product and service on World Dog Finder is independently selected by our editors, contributors, and experts. If you purchase something through our links, we may earn a referral fee. Learn more
---
One of the first things you should pick for your dog is high-quality dog food. There are many brands and manufacturers out there, so getting the right one for your dog can be challenging. Usual dog food brands and recipes include a high protein value since protein should be the main ingredient in every dog food. However, some dogs cannot digest regular dog food due to health issues. That is when low-protein dog foods come into play.
What dogs will benefit from low-protein dog food?
The first thing we should make clear - Healthy, adult dogs should not be fed low-protein dog food. They should pick one of these dog foods - Best dry dog food. However, dogs that have kidney or liver problems need to be placed on a low-protein diet. There is even a difference between dog food prescribed to dogs with kidney disease and dogs with liver disease.
Dogs with kidney disease will need 14 - 20% protein in their food, and dogs with hepatic encephalopathy will need food that contains 10 - 15% of protein. Hepatic encephalopathy means the dog's liver cannot break down and process protein, which can lead to neurologic toxicity.
Some kidney stones will require dogs to eat low-protein dog food. Lower protein content will help dogs dissolve kidney stones and get well. However, not all kidney stones are the same, so before you decide to make the switch to low-protein dog food, make sure you talked to your vet. Be absolutely certain your dog will benefit from low-protein dog food because you can cause more damage to your dog if they don't need this type of food.
What to look for in low-protein dog food?
Not all dog foods are the same, and the same goes for low-protein dog foods. You need to pick the best possible food for your dog because there is a good reason they need it. High-quality food will help your dog recover and get better. These are the most important things to look for in low-protein dog food;
Protein source
Just because the food has a low-protein count doesn't mean the protein can be poorly sourced. Look for high-quality protein sources because, in this type of food, that is even more important.
Balanced food
Your dog might have to eat low-protein dog food, but that doesn't mean the food should be poorly balanced. Make sure you check the ingredient list before you decide which low-protein dog food you will choose. Your dog must receive all the necessary nutrients from their food.
Here are some of the best low-protein dog foods;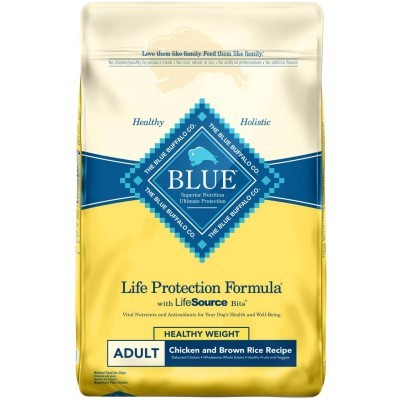 Our top pick for low-protein dog food is the Blue Buffalo Life Protection Formula. Blue Buffalo is a trusted dog food manufacturer, and they have a range of great dog products. Their Life Protection Formula can be described as low-protein, low-fat, low-calorie dog food with great ingredients. This product contains probiotics and nutraceuticals for joint support, so you can be sure you made the right choice regarding this food. It has impressive Amazon reviews and many owners are pretty happy with it.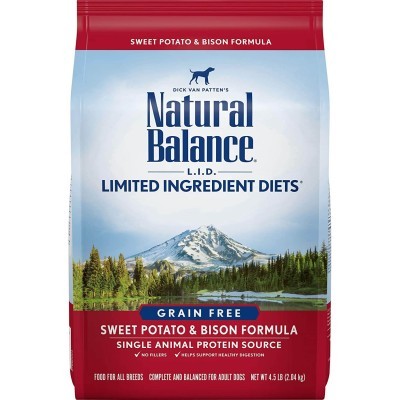 The second best choice on this list is the Natural Balance Limited Ingredient Diets. This dog food uses bison as its primary protein source. It gets most of its carbs from sweet potatoes, which might be a bit controversial since the study linking sweet potatoes with DCM in dogs. However, dogs that need a low-protein diet can't be too picky when it comes to dog food. Luckily, Natural Balance uses high-quality ingredients. It even added additional omega fatty acids to support the brain, coat health, and the dog's nervous system. This is a great pick and a top recommendation.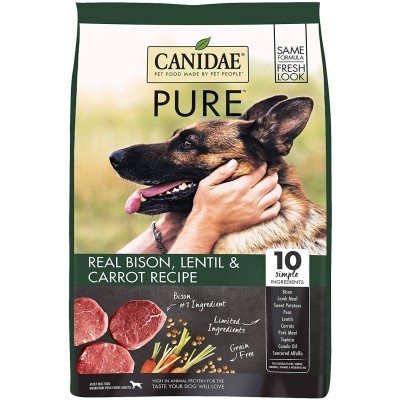 We are huge Canidae fans, so it isn't surprising we put them on this list. When it comes to dog food, these guys really know what they're doing. Their PURE Grain Free limited ingredient low-protein dry dog food is the best you can get for your dog. However, there is one problem when it comes to Canidae's dog food - it is expensive. However, if your budget can handle the high price tag, there is nothing better you can get for your dog. They are in third place here simply because their price tag is so high. However, a higher price brings you the best ingredients. This food includes prebiotics and probiotics that will aid in your dog's digestion. It has a slightly higher calorie and protein count, so make sure your vet green-lighted switching to this dog food.
World Dog Finder team