How to Choose the Best Diabetic Dog Food?
03.06.2021.
Every product and service on World Dog Finder is independently selected by our editors, contributors, and experts. If you purchase something through our links, we may earn a referral fee. Learn more
---
Like humans, dogs can get diabetes. Unfortunately, this is a serious health concern that can become deadly if you don't take care of your dog. You have to work carefully with your vet to make sure your dog is as healthy as they can be. One of the first things you will have to adjust is your dog's diet. Luckily, many high-quality diabetic dog foods are available, and we have prepared a list of the best foods.
What to look for in diabetic dog food?
Before you decide to get the first thing you come across, you need to make sure you are getting the best possible diabetic dog food. The price will be a factor, but you need to find a balance between the price and quality as a responsible dog owner. The cost of diabetic dog food is not the only thing you should consider. There are other things you should look for, and they are;
Carbohydrates
Carbs, especially simple carbs, can cause all sorts of problems for dogs with diabetes. You should pick a dog food that has a low carbohydrate value. Look at the ingredient list and make sure the value of carbohydrates is as low as your vet recommended. Before you pick a specific diabetic dog food, it would be best to talk to your vet.
Protein
Protein is the most crucial thing in your dog's diet. That is the first thing you should look for in diabetic dog food. The protein sources should be of the highest quality, and again, you can talk to your vet and ask for their opinion. Just because one dog food works for one diabetic dog doesn't mean it will work for another.
Food origin
There are dog food manufacturers in all countries in the world, but we prefer dog foods made in countries with strict production laws. Look for dog foods made in Canada, UK, the USA, Australia, Scandinavia, Western Europe, and New Zealand. These countries have regulatory agencies that will ensure diabetic dog food is up to a preset quality standard.
Artificial ingredients
Most of us try to avoid things that are artificial in our diet. Things like taste inhibitors and artificial colorings are not the best option for you, so you should avoid them in your dog's diet as well.
Here are the best diabetic dog foods;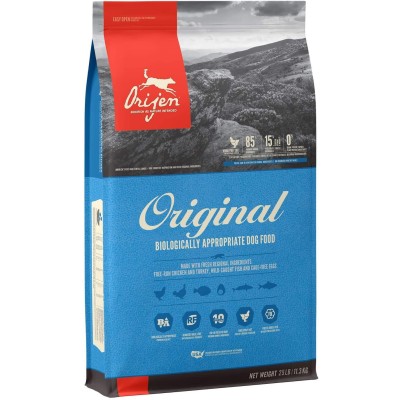 We are huge Orijen fans, so we are pretty happy that we can include the ORIJEN Dry Dog Food as our top pick. This is ideal diabetic dog food because it has a relatively high percentage of protein (about 38%) and is low on carbs (about 20%). These are the kind of things you want to look for in diabetic dog food. Of course, before you decide to pick it up, you should talk to your vet about the ingredients and frequency of meals your dog should have. In general, diabetic dogs should eat smaller meals during the day, but more often. If you decide to go for Orijen, you can be sure you will be getting fantastic dog food for your diabetic dog.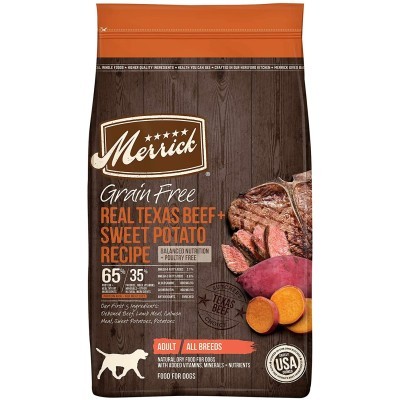 Another great product in the diabetic dog food category is the Merrick Grain Free with Texas Beef. It includes a fantastic protein source, fruits, veggies, and other helpful ingredients to help you with your dog's health. The key thing is to talk to your vet and see how often and how large your dog's meals should be. While this dog food might not be the healthiest option, we included it because dogs simply adore the taste. Diabetic dogs can be picky, and if you have such a dog, this might be your best option.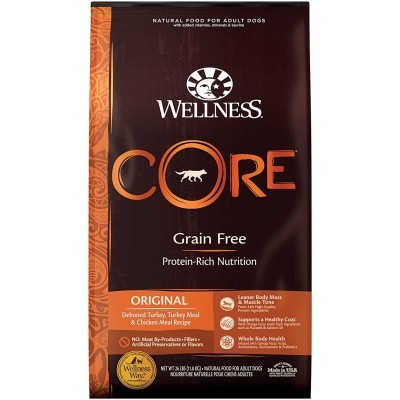 We have the privilege of talking to many dog owners each day, and diabetic dog food is often the conversation topic. One dog food many dog owners recommend is the Wellness CORE High Protein Grain Free. This dog food has an unusually high protein content. It also has medium carbs and low fat, which makes it somewhat suitable for diabetic dogs. The protein comes from turkey and chicken, and most carbs come from fruits and veggies with high nutritional value.
World Dog Finder team