Boykin Spaniel rescue
---
Adopting is undoubtedly one of the nicest and selfless things you can do. Not only are you saving a life and getting a dog in your home, but you are also freeing one place in a shelter or a rescue. That means you are indirectly saving another dog's life. It is a noble thing and a great way of getting a new family pet.
If you are interested in a specific breed like the Boykin Spaniel, your best bet of adopting one of these dogs is getting in touch with breed-specific rescues. The good and the bad news with Boykin Spaniel rescue is that these dogs are not that popular. That means there simply aren't that many Boykins in need of rescue, nor are there many Boykin Spaniel rescue organizations. Nevertheless, there are organizations and rescues you can contact.
Why rescue a Boykin Spaniel?
If you're already looking specifically for a Boykin Spaniel rescue, you probably have a few good reasons you are interested in this breed. However, we would like to tell you some things you might not have considered yet. Here are a few good reasons you might want to adopt a Boykin Spaniel.
Great with kids
Boykin Spaniels are great with children. However, since they come from rescues or shelters, some dogs might be reactive. Make sure you test them slowly, and they will be good with your kids. Usually, these dogs make fantastic playing partners to kids.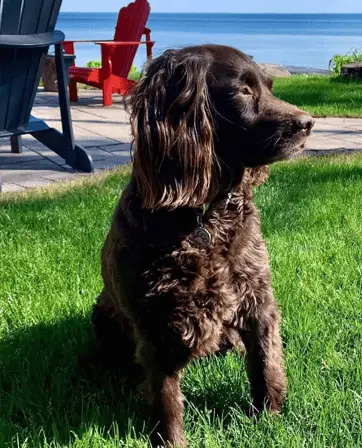 Image Source
Friendly
Boykin Spaniels were originally bred as hunting dogs. That meant they had to work with hunters and their owners. They were selectively bred, and dogs that responded well to humans were chosen for breeding. That makes modern-day Boykins fairly friendly, which is something all dog owners want.
Great with other animals
Boykin Spaniels get along fantastically with other dogs. They can even get along with cats and other small animals. They had to work alongside other dogs, so their friendliness towards other animals is in their DNA. They shouldn't be trusted around birds since they were their primary prey.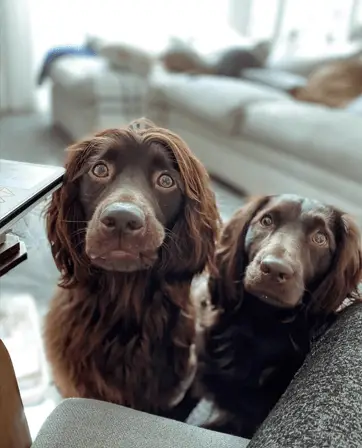 Image Source
Best Boykin Spaniel rescues
As we already said, the good thing is that there aren't many of these dogs in shelters or rescues. That means that most existing Boykins are very well taken care of. Nevertheless, some dogs will need new homes. These are the best Boykin Spaniel rescues in the US that might be your best bet of getting one of these dogs;
1. The Boykin Spaniel Club
The first address you should go to is the Boykin Spaniel Club of America. This is the breed's parent club, and they are in charge of their standard. This is also a Breeder's Association, which means many Boykin Spaniel breeders are their members. They know everything that's going on with the breed, and they will know if there are dogs that need rescuing.
State: All across the US
Contact: [email protected]
Website: http://theboykinspanielclub.com/
2. Petfinder
Petfinder is one of the best online resources for adoption. They have information and dogs of different breeds that need rehoming. However, they are not an organization that is dedicated to saving Boykin Spaniels exclusively. Still, that doesn't mean there won't be Boykins available for adoption. You should check out their page periodically and be sure to apply as soon as there is a Boykin available.
State: All across the US
Contact: https://www.petfinder.com/contact/
Website: https://www.petfinder.com/
3. Operation Little Brown Dog, Inc.
Operation Little Brown Dog, Inc. is a non-profit dedicated to rescuing, rehabilitating, and rehoming Boykin Spaniels. They will gladly accept dogs that need to be surrendered by their owners who cannot take care of them anymore, dogs from shelters, backyard breeders, or any Boykin that might need a bit of help in their life. You can easily apply for adoption, but you should know there is a $325 adoption fee that you'll have to pay. That will cover the cost of food, accommodation, and vet for each dog in their care.
State: Texas
Contact: [email protected]
Website: https://operationlbd.com/
4. Boykin Spaniel Rescue, Inc.
The Boykin Spaniel Rescue, Inc. is another rescue that is dedicated to saving this breed. They take surrenders and will pick up dogs from the street that need rescue. You can contact them and ask if they have a dog for you. This rescue has over 20 years of experience in saving Boykins. They work with shelters, so if any Boykin ends up there, these guys will be notified. The application is easy, and you will have to talk to someone that will assess you.
State: All across the US
Contact: [email protected]
Website: https://www.boykinspanielrescue.org/
World Dog Finder team