Best Dog Grooming Kits in 2023
10.05.2021.
Every product and service on World Dog Finder is independently selected by our editors, contributors, and experts. If you purchase something through our links, we may earn a referral fee. Learn more
---
Dog grooming is an essential part of dog care. If you don't want to visit a professional groomer or have a limited budget, you might have to do it yourself. DIY grooming can be tricky, and if you don't know what you are doing, you should look for a professional groomer's help. Remember that you have to be careful and mind your dog's safety if you are trimming and brushing their coats. One of the most important things you will need is a good dog grooming kit.
What to look for in a dog grooming kit?
If you are new at dog grooming or are not really sure what you should do, the best idea is to get a basic dog grooming kit. You don't have to cut or trim your dog's coat, but you will have to cut your dog's nails and brush them. Luckily, many grooming kits offer nail clippers and brushes, so you got that covered.
However, if you are looking to take your dog grooming skills to a higher level, you will need something more professional. You will want to get great dog clippers, brushes, combs, and detachable clipper combs. Not all grooming kits are the same, so make sure you take your time and choose something that will be helpful and offer high-quality products that will stand the test of time. There is nothing worse than buying something only to have it break down in a couple of months.
Here are the best grooming kits for dog grooming. These kits will work for professional groomers and for amateurs trying DIY grooming.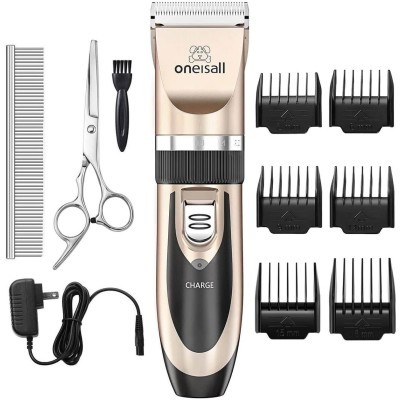 If you are looking for the best dog coat care set, the Oneisall Cordless Quiet Grooming Set is the ideal choice for amateurs and professionals alike. The cordless clippers offer plenty of maneuverability. Detachable combs provide different functions and lengths for different parts of the dog's coat. This is a high-quality set that will make sure your dog is well-groomed even if you don't visit professional groomers regularly. Keep in mind - if you are not sure how to safely groom your dog, it is always better to look for professional help.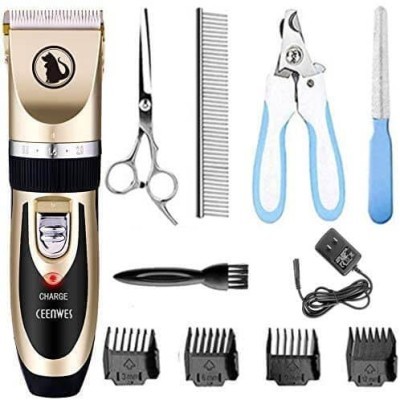 The Ceenwes Dog Grooming Kit is a complete grooming kit that comes with clippers, combs, nail clippers, and nail filers. This dog grooming kit is the perfect choice for professional dog groomers. The high-quality products included in this set will make sure that every treatment is as safe and successful as possible. This dog grooming kit has 17.000 positive Amazon reviews and took their bestseller place. It is an excellent choice for grooming professionals and dog owners who want to groom their dog at home.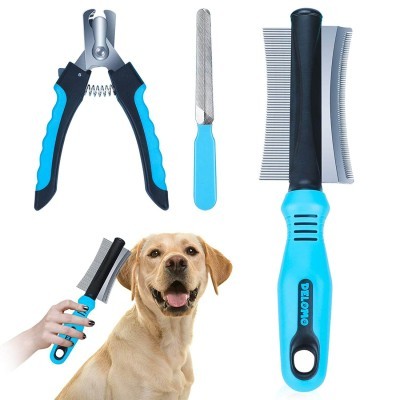 For dog owners that want to take basic care of their dog's coat, here is the DELOMO Pet Grooming & Deshedding Tool Kit. This grooming kit only includes tools for basic coat care, but that is usually more than enough for DIY dog grooming. Most owners don't feel comfortable enough to cut their dog's hair - and that is completely OK. Not all of us are professional groomers, and taking proper care of your dog's coat is a great start. This grooming kit includes a de-shedding brush/comb, nail clippers, and a nail filer.
If you are a professional groomer, you might want to consider getting the Sminiker Professional Grooming Kit. This kit includes all dog grooming tools you will need. The clippers are very quiet, so easily-spooked dogs won't get disturbed by the sound coming out of it. This adaptable grooming kit can be used for dogs and cats, so there is no need to buy different sets. It includes clippers, clipper combs, standard combs, nail clippers, and a nail filer. Plus, it has a budget-friendly price tag.
Some groomers prefer using nail grinders. Check out this article for some suggestions - When to use nail grinders?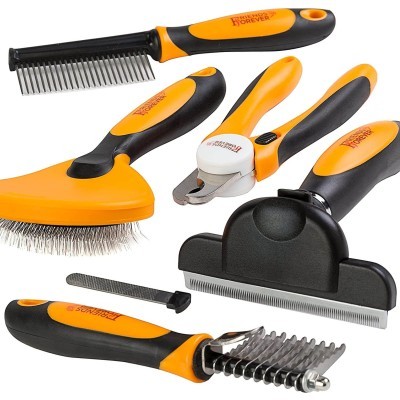 If you are looking for different combs for grooming your dog's rich coat, or you have multiple dogs with different coats at home, the Friends Forever 6 in 1 Professional Pet Grooming Kit is the grooming set for you. It includes 4 different types of combs (for short and long hair and for de-shedding). Plus, you will get nail clippers and a nail filer to help you take proper care of your dog's nails. This kit is ideal for professionals and dog owners who want to take care of their dogs independently.
World Dog Finder team