Best Dog Bathtubs in 2023
23.04.2021.
Every product and service on World Dog Finder is independently selected by our editors, contributors, and experts. If you purchase something through our links, we may earn a referral fee. Learn more
---
Dogs are messy; there is no going around it. If you are a dog owner, you will most likely have to deal with dirty floors and furniture. Having fun with your dog sometimes means getting mud all over yourself and your dog, and you can't have them ruining your home every time you go for a walk.
What to look for in a dog bath?
Cleaning your dog's paws in the tub or the sink can be problematic, not to mention nearly impossible if you have a larger dog. Getting a dedicated dog washing station or a dog bathtub is a good idea. All dog owners that don't mind their dogs getting dirty will love having one at home.
Flooring
You don't want your dog slipping or injuring their paws in a bathtub. Bathing involves shampoo and slippery surfaces, so getting a non-slip floor in the dog washing station is vital. Make sure you get one that has a mat or some other type of non-slip surface included.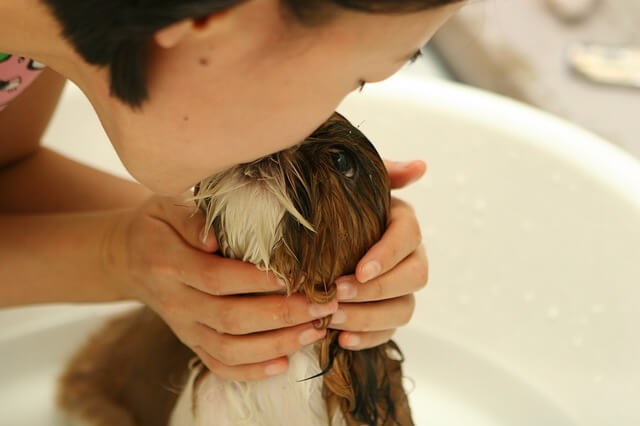 Leashes and hooks
Just like a grooming station, a good dog tub should have a leash hook or a tether that will keep your dog in place. Some dogs don't like bathing, and having something that will keep them still is probably a good idea.
Do you know what to use for cleaning your dog's paws? Check out this article for ideas - Puppy paw cleaners.
Material
Thinking about the material the product you are interested in is made of is one of the critical things to keep in mind. Make sure you pick a material that will suit you and your pet's needs. If you want a stationary dog tub, getting a sturdy, metal one is a good idea. If you want an easily transportable one, plastic is probably a better option.
Adjustability
Height adjustability is vital for owners with multiple dogs and owners with small dog breeds. This is not something you'd want to skip because having an adjustable dog wash station will make a massive difference for your back. You don't want to end up hunched over your dog every couple of days.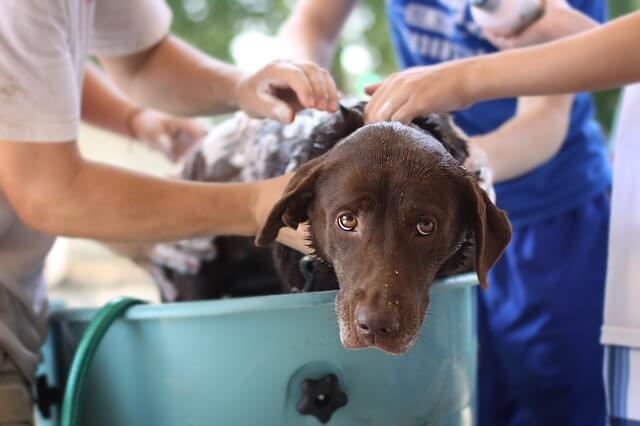 Useful features
Sometimes, it is impossible to know what you need until you see it. There are plenty of useful features you could use that usually slip the owner's mind. Having detachable drains and hoses is very useful. You can switch between indoor and outdoor bathing, and you don't have to tip a dog bath full of water.
To help you take care of your dog's hygiene, we have prepared another useful article - Best dog shampoos.
If you are thinking about getting a dog tub or washing station, here are our top picks that will help you choose something useful and practical.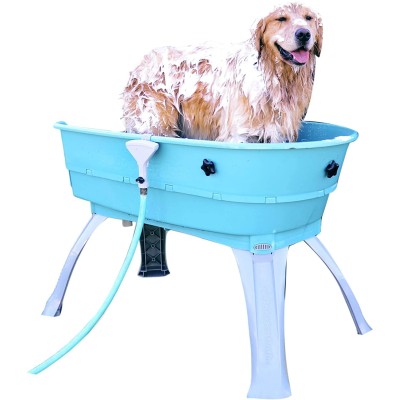 Our top pick for dog bathtubs is the Booster Elevated Dog Bath. It is effortless to assemble, and the elevated height will make your dog less likely to jump out of it. This dog washing station can be used indoors and outdoors, and the height will ease the strain on your back. It has useful features like leashes and a drain pipe with a connected hose, so you can dump the wastewater exactly where you want it. Plus, this is one of the most affordable options out there.
Pros
Useful features
Affordable
Up to 125 pounds
Adjustable
Cons
Difficult to store
The pipe detaches easily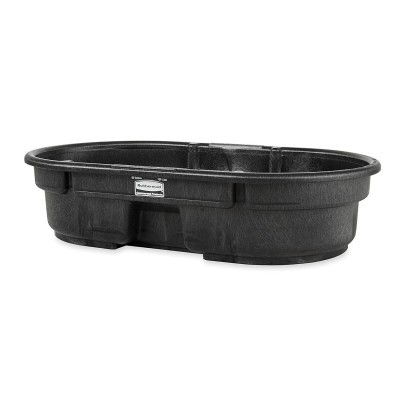 Although the Rubbermaid Commercial Structural Foam Stock Tank is not made for dogs to bathe in, it is something dog owners frequently order to serve that purpose. This is the 50-gallon tank that will do a great job in keeping your dog clean and bathed. Several options are available, and some go up to 300 gallons which is more than enough for even the largest dog breeds. It is made of industrial polyethylene, making it virtually indestructible. This is a multipurpose tank, so when you are not using it to wash your pup, you can store different things in it. It has a drainpipe, but it doesn't have a leash hook, so make sure your dog is not against baths.
Pros
Spacious
Sturdy
Durable
Affordable
Cons
No leash hook
Not elevated - might cause back pain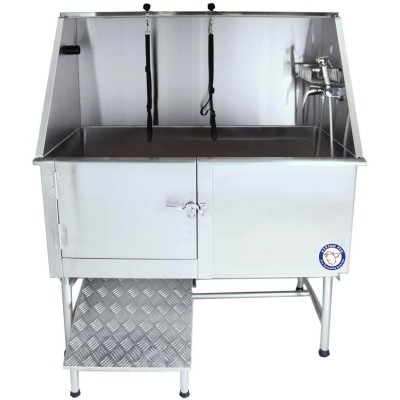 If you are looking to get a professional dog grooming bathtub, then Flying Pig Dog Grooming Bath Tub is a clear choice. Flying Pig is a company dedicated to producing professional grooming gear, and this product is a clear reflection of that. It is made from stainless steel and can hold dogs that weigh up to 220 pounds. This dog bath has a built-in faucet, so adjusting water temperature is a piece of cake. If you have multiple pets and all are different sizes and weights or are looking to get something for your grooming salon, you can be sure you won't make a mistake with this dog washing station.
Pros
Stainless steel
Ramp included for entering and exiting
Faucet
Adjustable leash hooks
Cons
Most problems are related to shipping
Pricey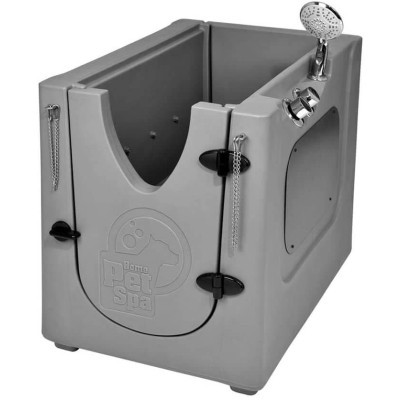 If you are looking for a unique product that will make cleaning your dog comfortable and enjoyable, then look no further than the Pet Wash Enclosure. This product offers some key practical things like shower nozzles and the wand for easy rinsing. The extra side jets will make sure that no spot is left unrinsed. Letting your dog out of the bath too early and without proper rinsing can cause skin reactions and itching. This is a problem that will be avoided entirely if you get this dog bathtub. Plus, it is relatively sturdy, and it includes a practical door that makes loading and unloading your dog easy. You can hook this unit to any faucet in your home, and the dog spa is ready to launch.
Pros
Sturdy
Practical
Side jets
Door
Cons
Some owners reported leakage
Pricey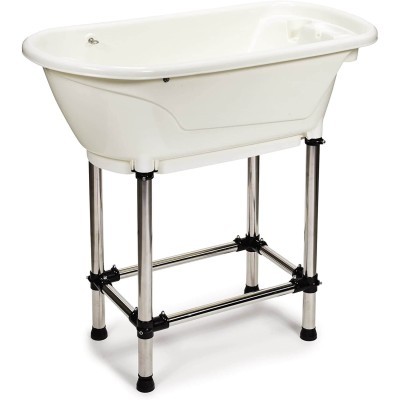 If you are looking for a bathtub to accommodate your smaller or medium-sized dog, this is the product for you. The Master Equipment Bathe & Go Dog Groomer's Tub is practical and offers excellent value for money. Its elevated position will spare you a lot of back pain, and the stand has a decent design. This dog tub has metal rings for attaching a leash, and since it is 11 inches deep, smaller dogs are very unlikely to jump out of it. The stand is adjustable, and the tub is lightweight, so there is no fear of it becoming a burden. Make sure you know your dog's measurements, and you have enough space to store it.
Pros
Lightweight
Affordable
Durable
Leash hooks
Drainpipe
World Dog Finder team