DIY Pumpkin Dog Treats to Spice-Up Your Dog's Life
---
The benefits of pumpkin for dogs are widely known. Pumpkin is packed with healthy nutrients, and the best part of it is fiber. Pumpkin treats for dogs can be a great way to get some additional dietary fiber in your dog. If you don't trust industrial dog treats or you would like to make some for your dog yourself, we have prepared three interesting pumpkin dog treats recipes that will brighten your dog's day.
What type of pumpkin should I use?
As we said, pumpkin is packed with healthy nutrients, and it can be very beneficial for your dog's health. It can help with constipation and diarrhea. However, some types of pumpkin should not be used in a recipe for pumpkin dog treats. Plain, canned or fresh pumpkins are the only safe options.
There are different types of pumpkin products you could buy in the store, but not all of them are safe for dogs to eat. Some types of pumpkin, especially pumpkin pie mixes, can contain sugars and spices that your dog cannot digest. Make sure you use plain canned pumpkin for your pumpkin dog treats.
Why is fiber important?
Dietary fiber is a lot more important than many of us realize. In fact, it is vital for healthy digestion. There are two types of dietary fibers - soluble and insoluble. Soluble fiber will increase fermentation and speed-up the digestion process. Insoluble fiber won't increase fermentation, but it will speed-up digestion and soak up additional fluids if the dog has diarrhea.
If you want to know more about the importance of fiber, check out this article - Best fiber sources for dogs.
Healthy nutrients in pumpkin
Fiber might be the most important nutrient that makes pumpkin such great food for dogs, but fiber is not the only healthy nutrient dogs can get from it. Pumpkin has many beneficial nutrients, and some of them are vitamin A, C, and E, phosphorus, iron, potassium, and magnesium. These nutrients make pumpkin dog treats one of the healthiest treat options out there. However, you must use pumpkin dogs can actually eat and not use premade mixes or spiced pumpkins.
Pumpkin dog treats recipes
Some of us love cooking, and if you are one of those people, you will love these simple pumpkin dog treat recipes. They require 4 or fewer ingredients to make, and not only are they healthy and low on calories, but they are also delicious. Your dog will love the taste of these dog treats.
1. Pumpkin dog treats - frozen
Frozen pumpkin dog treats will make ideal dog treats that will make a perfect addition to your dog's diet on those hot summer days. These pumpkin dog treats are easy to make, and this is just the basic recipe. You can add other fruits safe for dogs to eat, honey, or peanut butter. Make sure that pumpkin stays the main ingredient, and add other things just for a different taste.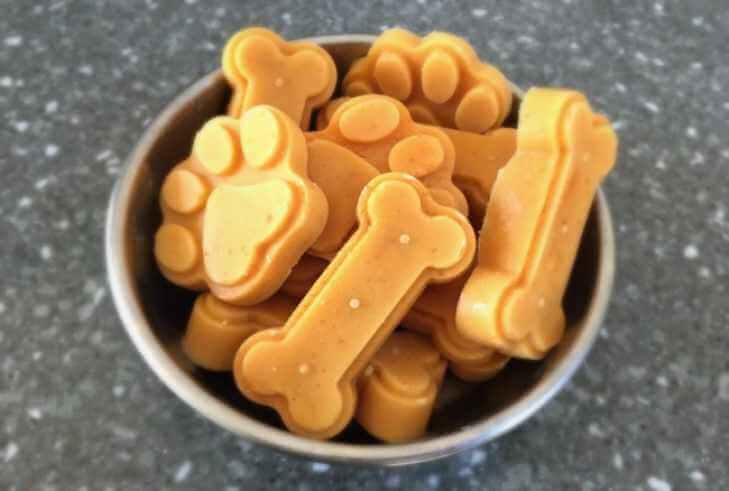 What you'll need
1 cup of plain low-fat Greek yogurt
1 cup of pureed canned or fresh pumpkin
How to make them?
Blend or mix the two ingredients
Pour the blended mixture into a mold for dog treats
Freeze for at least 12 hours before serving
For easy storage, you can place the frozen treats in a bag and back into the freezer.
Here is a great baking and freezing mold you can order for your pumpkin dog treats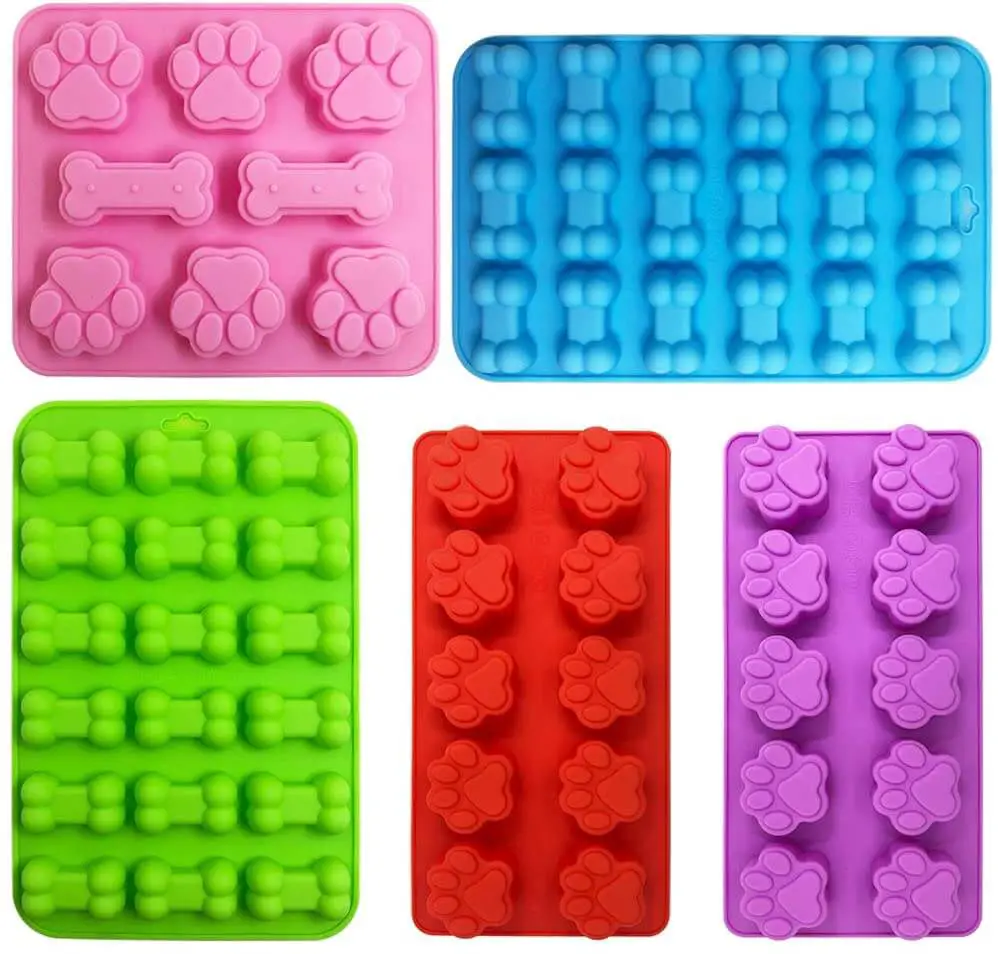 2. Peanut butter pumpkin dog treats
Another delicious ingredient your dog will absolutely love in their pumpkin dog treats is peanut butter. Their love for peanut butter is legendary, and your dog will certainly appreciate it if you include them in your homemade peanut butter pumpkin dog treats. If you want to make these peanut butter pumpkin dog treats yourself, here is what you'll need;
What you'll need
1 cup canned or fresh pumpkin
1 cup of flour
½ cup of peanut butter
How to make them?
Blend or mix peanut butter and pumpkin
Include the flour and mix until the mixture has a dough-like texture
Roll the dough on a floured surface
Use a cookie cutter to cut the dough into the desired shape
Place the cut treats onto a cookie sheet
Preheat the oven to 375°F
Bake for 12 minutes
Here is a great cookie cutting set you can use for making these delicious peanut butter pumpkin dog treats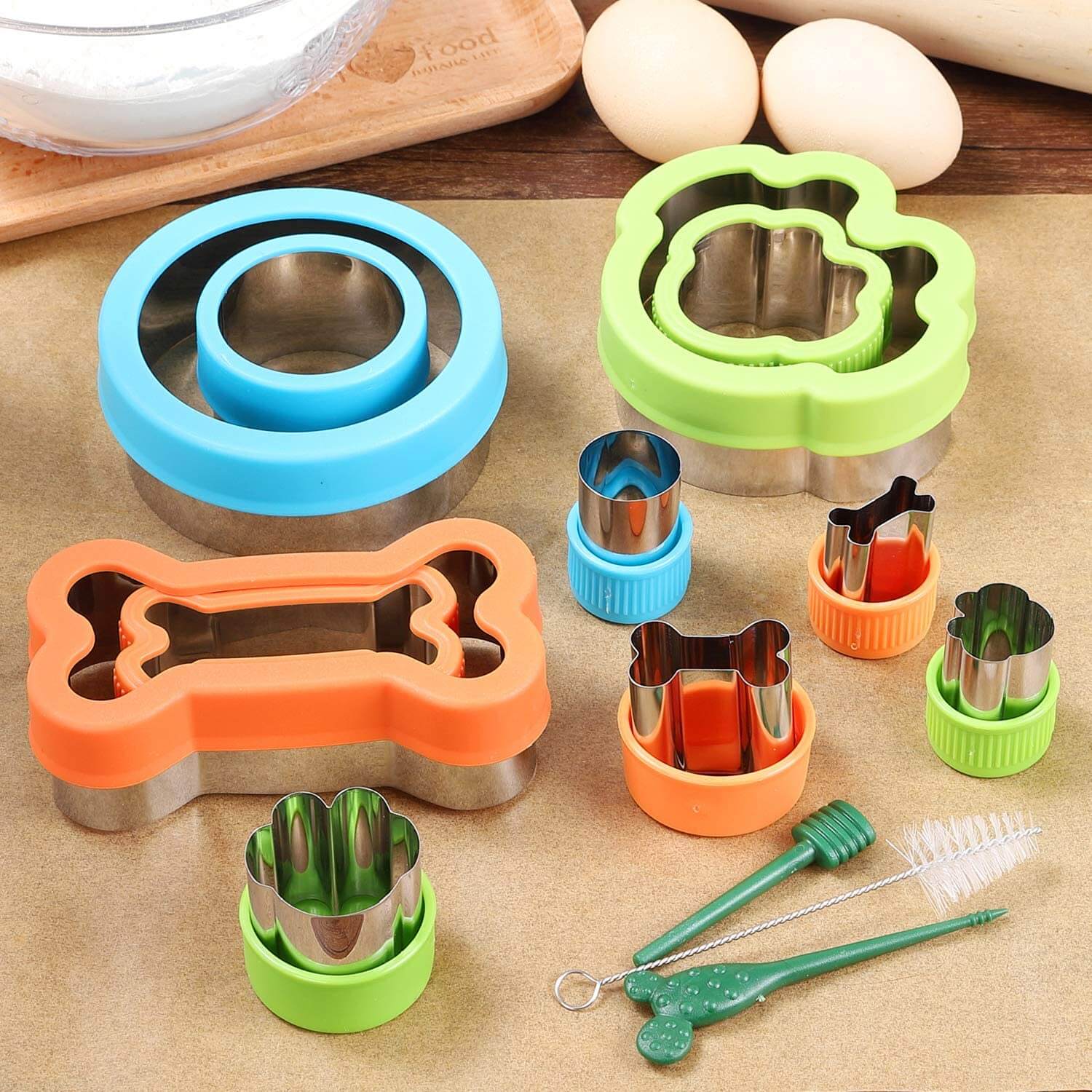 3. Apple pumpkin dog treats
Apples are delicious, healthy, and safe for dogs to eat. They will make a fantastic addition to your homemade pumpkin dog treats, and the best thing is - these treats are easy to make. Here is how to easily make these delicious apple pumpkin dog treats;
What you'll need
1 apple, mashed
1 cup of pureed canned pumpkin
2 eggs
3 cups of whole wheat flour
How to make them?
Mix or blend apple, pumpkin, and eggs
Add flour until the mixture reaches a dough-like texture
Roll the dough-like mixture on a floured surface
Use cookie cutters to cut shapes
Place on a cooking sheet, about half an inch apart
Preheat the oven to 375°F
Bake for 20 minutes
World Dog Finder team