Should You Microchip Your Dog
---
One of the worst fears dog owners have is losing their pets. Dogs can easily get startled, and they could potentially take off in an unknown direction. According to some statistics, 30% of dogs get lost at some point in their life. It is a good idea to give yourself every possible chance of reuniting with your dog. One of the great tools you can use for that is a dog microchip.
How does microchipping your dog work?
There is a massive difference between a microchip and a GPS tracker. Microchipping your dog doesn't mean you can track their movement. Instead, it means that when someone finds your dog, they can scan the chip and contact you. Most vets, shelters, and rescues have the necessary scanners for reading microchips.
Here at World Dog Finder, we are big fans of microchipping dogs. The most important thing you need to know that lost dogs with microchips have a 20 times more chance of getting reunited with their owners. That should be a reason enough to consider microchipping your dog.
If you want to know more about GPS dog collars, check out this article - GPS dog collars.
Microchipping procedure
The microchipping procedure is fast and relatively painless. Some dogs will yelp or whine, but the whole process is over in seconds. Shortly after, the puppy will forget all about the process. After that, you can be sure that all of your contact information can be found on your puppy's microchip if they get lost.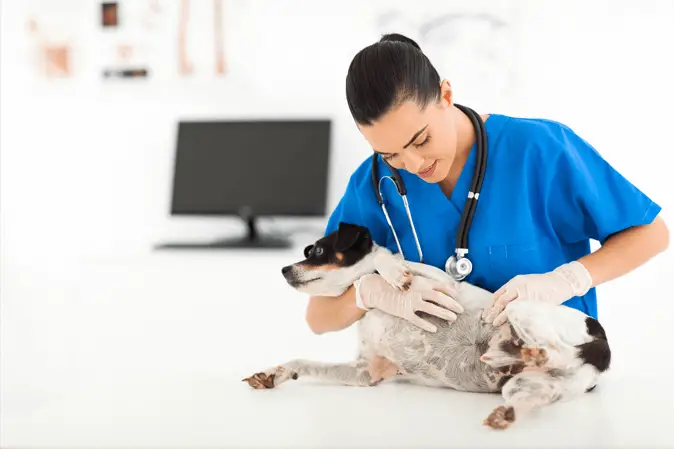 How do I put contact information on the chip?
The process of microchipping your dog will require some additional steps from you. You should register the microchip's unique identifier in some national pet recovery database. You can register in different databases, and a good service you might want to consider is the American Animal Hospital Association. This service works with various companies and microchip "providers," which means they can check the unique microchip identifier against different microchip databases.
After you microchip your dog, make sure to register the relevant information online. Ideally, you want to include several ways of contacting you. There is nothing worse than missing a call that should have told you your pet was found. If you have a partner, make sure you put their contact on the contact sheet as well.
How to pick a microchip service provider?
Different companies offer different types of services, and if you don't know what to look for, you might miss up on some pretty good offers. There are basic offers that will allow you to place your contact information in the recovery database, and that is it. That is a better option than just using collars or no microchip at all.
However, there are premium offers out there that will do provide you with different offers and services. 24petwatch offers microchipping and all sorts of insurance plans. In case anything like a runaway dog happens, you will have access to their recovery specialists 24/7. Some services will automatically notify shelters, vet clinics, and even volunteers in the area where the dog ran away. Make sure you take a close look into what you can get for your money.
Where can I microchip my dog?
Since microchipping is not a huge procedure, most shelters and vet clinics can perform this service. It shouldn't be hard to find a place that can microchip your dog. There are even local councils that can help with microchipping. They have "microchipping days" where they help pet owners microchip their pets.
When should I microchip my dog?
The ideal situation is - microchip should be implanted before you get your pet. There is no age restriction when it comes to microchipping your dog. You can microchip them any time. Our personal advice is that you do it as soon as possible. You never know what might happen, and it is better to be safe than sorry.
World Dog Finder team