How To Choose Dog Ramp?
13.02.2021.
Every product and service on World Dog Finder is independently selected by our editors, contributors, and experts. If you purchase something through our links, we may earn a referral fee. Learn more
---
Sometimes our dogs need some help. Whether it's because of their injuries or just old age, dog ramps will help your dog reach places that might otherwise be unreachable for them. Puppies really shouldn't jump too much, and older dogs can suffer from different forms of arthritis, which can cause quite a bit of pain in their joints. In those cases, getting a dog ramp for bad or sofa might be a good idea.
Which dogs need dog ramps?
You might wonder which dogs need dog ramps, and the answer is - many of them. We don't want to make our dogs miss out on cuddles and snuggling just because they can't jump like they used to. Puppies could quickly get hurt or injured by trying to jump on a bed they are still too small for. Here are some dogs that will benefit from a dog ramp:
Puppies
Senior dogs
Dogs suffering from arthritis
Sick dogs
Dogs recovering from surgery
Dogs with joint problems
What to look for in a dog ramp?
There are clear benefits from getting a dog ramp, and there are two types you'd want to look into. Both have some advantages, and if you consider the following, we are sure you will make the right choice.
Dog stairs
The first option pet parents have, are the doggie stairs. They will make climbing different places easier. Some are pretty well-designed and can easily fit as a decorative piece. If your dog isn't using it, you can always rest your feet on them. Dog climbing stairs are usually a cheaper option.
Dog ramp
The second option is a flat dog ramp. Some dog owners prefer this option because it causes less joint pressure and the dog's back remains flat while they are climbing. It is a more expensive option but safer for dogs with long, fragile backs and dogs with arthritic pains.
Key features
There are several key features you should look for in each product you pick. You should know what those are, so you don't end up with something that is not at all practical for your dog. If you are looking to get dog stairs, you should focus on:
Height of each stair
Depth of each stair
Non-slip surface
Sturdiness
Make sure it fits your dog's size
If you are looking to get a ramp, you should focus on:
Ramp being the same height as furniture
Weight
Width
Non-slip surface
Foldability
Adjustability
There are many things to consider when getting a dog ramp, so that's why we decided to help you chose the best possible option for your dog. These are our three picks for dog ramps and stairs.
Best Dog Ramps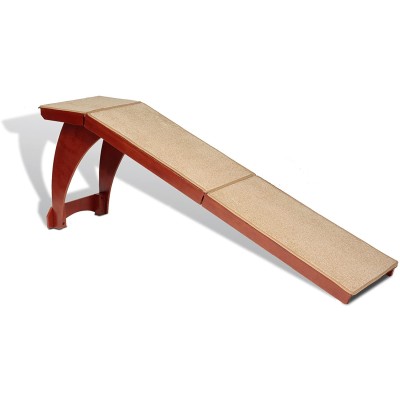 Our top pick for a dog ramp for bed is the PetSafe CozyUp Bed Ramp. This ramp has a non-slip carpet surface that can support dogs up to 120 pounds. So no matter what dog breed you have, the PetSafe can help you. It is 25 inches tall, which means it will fit most of the furniture your dog might want to climb. It is very sturdy, durable, and made from great-looking cherry wood.
Pros
Design
Materials
Capacity
Height
Cons
Might be difficult to maintain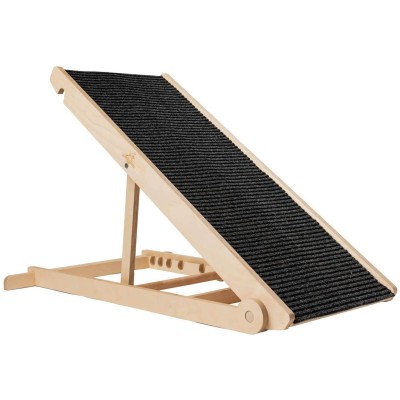 Suppose you are looking for something that will be fully adjustable and can be used for different furniture. In that case, the Adjustable Pet Ramp might be a great choice. This adjustable dog ramp is for both cats and dogs and can be adjusted to different angles and heights. It has a special dog mat surface that will keep your dog from slipping. This dog ramp is foldable, so if your pets stop using it, you can easily fold it and store it. One of the best things about this ramp is that it can withstand dogs of 200 pounds.
Pros
Sturdy
Adjustable
Foldable
Non-slip surface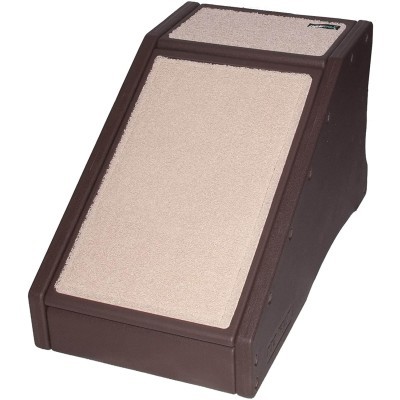 If you are looking for a budget-friendly dog ramp, then this is the product for you. It has more than 4.000 excellent reviews on Amazon, and owners highly recommend this dog ramp. It might be smaller, but it can withstand dogs up to 150 pounds. It is easily movable, and it comes in different colors. If you are looking for a simple solution to your dog's mobility issues, the Pet Gear ramp will be the answer.
Pros
Different options
Affordable
Light
Cons
Slippy
A steeper angle could be a problem for some dogs
Best Dog Stairs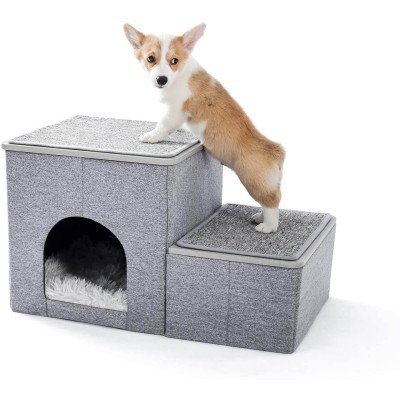 Dog stairs can be more than a mechanism to help your dog climb a bed. The Made4Pets Pet Steps came with a great idea of creating a cozy doggie house. Older dogs will require a cozy space where they could take a nap without anyone bothering them. This is an ideal, affordable solution for smaller dogs. The non-slip covers are detachable and washable, so maintenance will be a piece of cake. These dog stairs are light and easily portable.
Pros
2-in-1 design
Washable covers
Non-slip
Affordable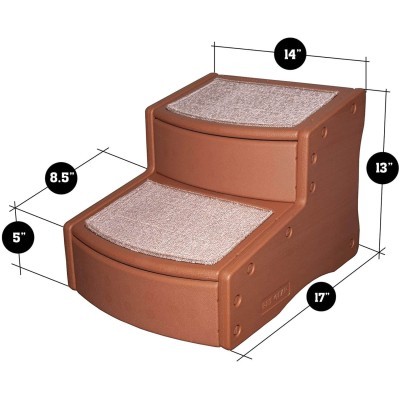 Again, Pet Gear came up with a budget-friendly solution to the dog climbing problem. Their dog stairs are affordable, light, and a traditional solution. Each step is 6 inches tall, so tiny dogs might have some issues, but this is a product for all small and medium-sized dogs. Dogs up to 75 pounds can climb these stairs without a problem. If you are looking for no-hassle, affordable dog stairs, Pet Gear Easy Step II is definitely the way to go.
If you have a taller bed, but your dog can't jump on it like they used to, then Pet Gear Easy Step Dog Stairs has a solution. We love the way these L-shaped stairs allow dogs to comfortably get on the bed without too much effort. This is an ideal solution for all senior dogs that have severe mobility issues. For example, osteoarthritis will cause severe pains, and jumping and climbing is a young dog's game.
Pros
Stable
Non-slip surface
Design
Space saver
World Dog Finder team