American Airlines Pet Policy
---
Flying with a dog can be stressful, especially for those that are first-time travelers. There is a lot of misinformation about traveling with dogs, and the conditions have significantly improved since the old days. However, before you fly with your dog, the best thing you can do is research policies different airliners have for dogs. One of them with strict flying conditions is the American Airlines pet policy. If you are getting ready to take your dog for a trip, here is what you should know about flying with a dog.
Can dogs fly?
Generally, we would not advise taking dogs on airplanes. However, it is possible that sometimes flying is inevitable. If you have to fly with your dog, it should be for a very good reason. If you are permanently relocating or going for a longer trip (minimum of two weeks), you might have to take your dog with you on a plane.
Before you do that, you should be aware of the American Airlines pet policy. There is a big difference between flying service dogs, emotional support dogs, and pets. Some dogs are allowed to come with you in the cabin, but larger dogs and those that aren't service dogs might have to fly entirely differently. The airline company might try to convince you the conditions in which dogs fly are significantly better. Still, many dog owners decide to travel by car or by bus simply because they don't want their dogs crammed in the freight part of the plane.
Are there any restrictions?
American Airlines is one of the biggest carriers in the US, so you should be very well aware of the restrictions on dogs that fly with them. You should be aware that you can end up being denied; your dog might not be allowed in the cabin, or you might be traveling to a destination American Airlines will not allow dogs. Here is what you should know about flying American Airlines with your dog.
Can dogs be taken as carry-ons?
Some owners feel the safest way for their dogs to travel is in the cabin with them. That might be true, and you can be sure your dog is feeling fine throughout your trip. However, not all dogs are allowed to come into the cabin.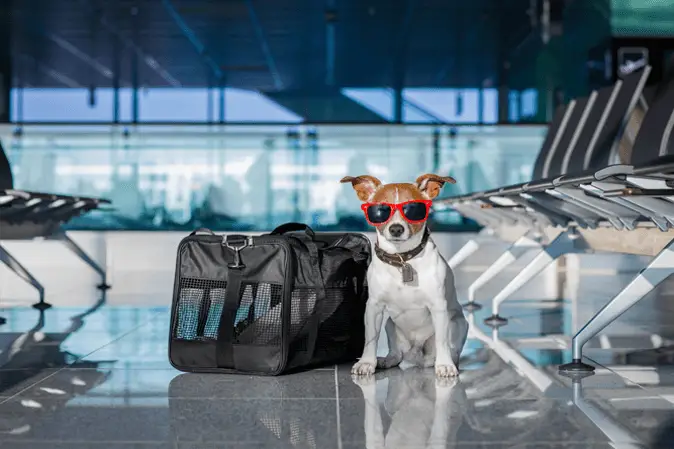 The price for a dog that will be taken on board the plane as a carry-on is $125. That's not all - the dog has to weigh less than 20 pounds and be in a secure travel bag or crate. You can find some AA-approved travel crates and bags here - Travel carriers for dogs. Larger dogs will have to travel in the part of the plane specially designed for carrying animals.
Can all dogs breeds go on a plane?
Not all dog breeds are meant to travel by plane. Some dog breeds might not survive such high pressure, and that is mostly aimed at brachycephalic dog breeds. Luckily, American Airlines is aware of the issue snub-nosed and brachycephalic breeds might encounter on a plane. They have completely banned them on board. This American Airlines pet policy is aimed at pureblooded and mixed dogs whose at least one parent has a short muzzle. If you have a Boxer mix, they will not be allowed to fly. Here is a complete list of all dog breeds that are not allowed on American Airlines planes;
Boston Terrier
Boxer (all breeds)
Brussels Griffon
Bulldog (all breeds)
Cane Corso
Dogue De Bordeaux
English Toy Spaniel ( King Charles Spaniel)
Japanese Chin
Mastiff (all breeds)
Pekingese
Pit Bull
Pug (all breeds)
Staffordshire Bull Terrier
What is the policy regarding service dogs?
Service dogs are allowed onboard free of charge. It is illegal to deny entry to service dogs, but there are some things you have to prepare for certain flights. American Airlines requires specific documentation for flights over 8 hours. You will state your service dog will not relieve themselves in a matter that will cause health or sanitation problems.
How about emotional support dogs?
Emotional support dogs can help people with emotional issues get through stressful times. If you are a nervous flyer, you know how stressful flying can be. Luckily, emotional support dogs are allowed to come onboard free of charge. However, for flights longer than 8 hours, emotional support dogs should have completed a 3-form packet before the flight.
The issue is with other support animals. Dogs are fairly safe, but people have tried to pass all sorts of animals as emotional support animals. Some of our favorite things people wanted to board on planes are a peacock, tarantula, and kangaroos. Of course, some of them were denied. The rule everyone must abide by is that the emotional support animal will not cause harm or distress to other passengers.
Want to know more about emotional support dogs? Check out this article - Emotional support dogs - all you need to know.
Are there any places dogs are not allowed to travel to?
There are some countries American Airlines will not allow pets to travel to or from. Those countries are;
Chile
Bolivia
Uruguay
Venezuela
Argentina
State of Hawai
There are other restrictions when it comes to traveling with dogs. An important thing to check before you book a flight is the weather forecast. American Airlines will not allow you to travel with your dog that has to be checked as cargo if the weather will be below 45 or above 85 degrees Fahrenheit. AA will also not allow pets to travel on flights to, from, or going through Phoenix, Tucson, Palm Springs, or Las Vegas from May 1 until September 30. They feel it would be too risky for dogs to travel in extreme heat, and the safest thing they can do is refuse to acomodate your dog.
Before you go on a trip with your dog, make sure you check the latest changes American Airlines pet policy went through. These policies are prone to changes, and especially during uncertain times like the recent pandemic when flights are constantly changing. If you can, organize a different way to travel with your dog, but if you can't, make sure you have taken all the necessary precautions to make the flight as comfortable as it can be for your dog.
World Dog Finder team