Top 6 Service Dog Vest To Fully Protect Your Dog
22.01.2021.
Every product and service on World Dog Finder is independently selected by our editors, contributors, and experts. If you purchase something through our links, we may earn a referral fee. Learn more
---
If you ever see a dog wearing a service vest, the wisest thing to do would be to leave them and their handler alone. It may or may not be a service dog, but you don't want to distract them from their duty or training. The truth is, service dogs don't require a vest to be a service dog, and anyone can buy a harness that says service dog on it.
Even though a vest doesn't mean anything officially, you can still help your dog get recognized as a service animal by buying a service dog vest. Even if you have an emotional support dog and not a service dog, getting them a vest will set them apart from other dogs.
Strangers might be reluctant to approach a dog wearing a service dog vest, and that is completely fine if the dog doesn't like to be touched by strangers or the dog is performing some sort of task.
RELATED: How Do I Get a Service Dog?
Here is a list of our favorite service dog vests available for online orders.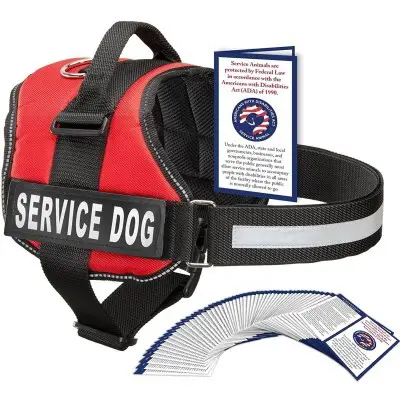 The Industrial Puppy Service Dog Vest has a reflective red surface that will make your dog stand out. It comes in eight different sizes, so no matter what size your dog is, the vest will fit them. It has a great top handle that will make it very easy to handle the dog, and the smart placement of the belly buckle will ease the placing of the vest.
This vest is made of the strongest materials and has a detachable patch with SERVICE DOG written on it. Plus, this vest allows other things like backpacks or saddlebags, to be attached.
Pros
durable
strong
accessories
buckle
handle
Cons
dogs might get skin irritations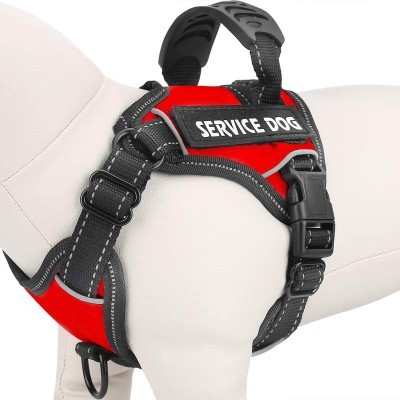 The best thing about the Vovodog Service Dog Harness is the light, breathable material this vest is made of. It has only the highest quality materials that are incredibly durable and waterproof. It has a reflective thread and four different adjustable straps, so you can be sure it will fit your dog perfectly.
Vovodog has fantastic reviews, and nearly all users are delighted with it. It also has removable patches, so even if your dog is not a service dog, you can still get something for the harness. This is also a dog vest that will not choke your dog even if they pull on the leash.
Pros
durable
reflective
light
breathable
highly adjustable
Cons
some breeds might not fit completely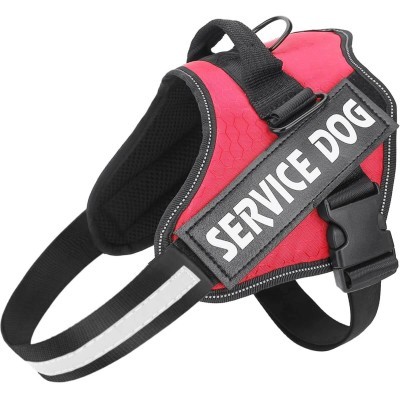 The MUMUPET Service Dog vest is a no-choke and no-pull dog vest that will make a great addition to any pet or service dog. The best thing about this vest is its anti-chafing design. All the straps are inlined with sponges, so your dog will be as comfortable as possible.  
The MUMUPET harness has a 4.4 rating with over 1.300 ratings from satisfied customers. It comes in six different sizes and thirteen different colors and markings. It is a safe and comfortable harness for any dog.
Pros
comfortable
anti-chafing
different options
Cons
some owners said the harness breaks loose
If you are interested in learning more about service dogs, check out this article - Service Dog Training.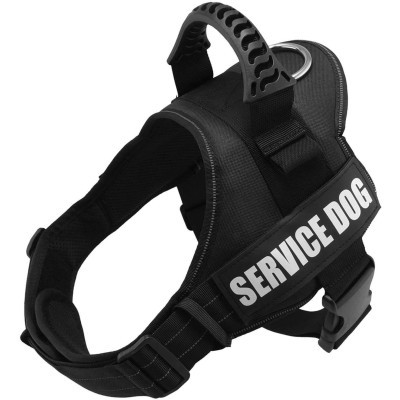 If you are looking for the highest quality, get the Fairwin Service Vest Dog Harness. This no-choke harness is made from the highest quality nylon, and you can be sure that it will endure whatever your dog has to throw at it.
The surface on this harness is reflective, and the patches are held in place by velcro. It has an ergonomic top handle, which will fit your hand perfectly and enables you to handle even the strongest dogs safely. The lining is breathable, so you can be sure your dog won't get skin irritations or allergy reactions.
Pros
breathable
durable
affordable
reflective
ergonomic handle
Cons
some owners did not receive the service dog patch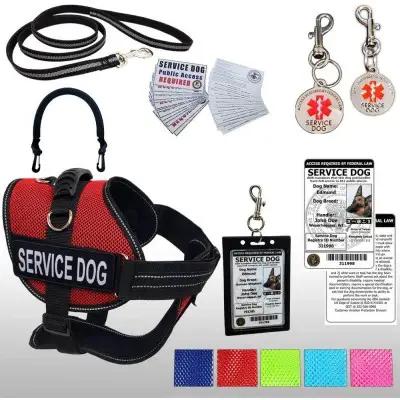 If you are looking to get an all-in-one kit, the Activedogs Service Dog Kit with a service dog vest included is the best way to go. This kit contains ADA/Federal law cards, service dog ID, travel tag, and metal D rings. There are several colors available.
The coolest thing about this service dog vest is its rubber handle, which can help you handle your dog with ease. The Activedogs Service Dog Kit has a 4.6 overall rating, with around 80% delighted customers. This kit is made in the US.
Pros
full kit
IDs
cards
rubber handle
reflective
ergonomic design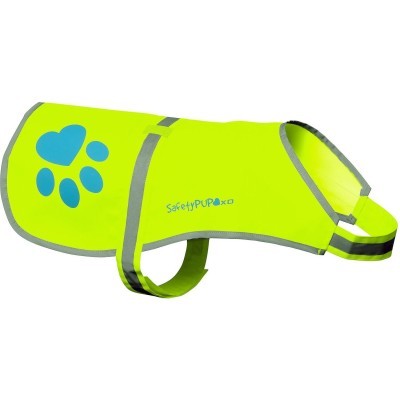 If you are looking for a full reflective option, then Chewy offers the SafetyPUP XD Reflective Dog Vest. It comes in five different sizes and a traditional, yellow reflective color that will be impossible to miss.
This might not be the most traditional service dog vest, but it is an excellent tool for preventing accidents at night. The reflective material is impossible not to notice, and it will keep your pup safe from traffic or getting lost. It is a great and affordable tool for your pup's safety.
Pros
reflective
affordable
easy to use
Remember that getting a service dog vest doesn't make your dog a service dog. A service dog has a specific purpose and has been trained to aid with a particular disability. Only service dogs can be allowed entrance to supermarkets, restaurants, or airplanes.
There is a vast difference between service dogs and emotional support dogs, so if you are considering getting such a vest, make sure you know what you are doing. Your dog might look cool with this vest, but keep in mind to be respectful and familiar with the rights pets and service dogs have.
If you want to know more about emotional support dogs, check out this article - Everything You Need to Know About Emotional Support Dogs.
World Dog Finder team