Top 3 Serta Dog Beds [2023 Review]
02.06.2021.
Every product and service on World Dog Finder is independently selected by our editors, contributors, and experts. If you purchase something through our links, we may earn a referral fee. Learn more
---
Picking the right dog bed can be challenging. Luckily, Serta dog beds have a unique line of dog beds that will provide plenty of comfort for your dog. However, before you choose a specific model, there are things to consider. All dog owners want something that will provide their dogs with comfort and allow them to have a good night's sleep. You might want to get a durable, high-quality dog bed that won't cost too much.
What to look for in Serta dog beds?
Like any other product in the world, there are a few things you want to look for. Getting a dog bed that won't last more than a few months makes no sense. However, some owners have issues with buying expensive dog beds because they believe their dog will destroy them. However, if you think about the difference between a cheap and an expensive human mattress, you will know how to appreciate the difference in dog beds. Here are some things to look for in Serta dog beds;
Maintenance
Dog beds need to be cleaned the same as your bed. In fact, washing them more often is probably a good idea. Your dog can't change their clothes or wear clean pajamas to their bed every night. Make sure you get a Serta dog bed that is easily washable and won't take much effort to maintain.
Durability
Serta dog beds are durable, and that is one of the key things you should look for. Dogs jump, claw, and sometimes chew on their beds. It would be a shame the bed gets destroyed in a matter of days. Luckily, Serta dog beds can withstand some wear and tear.
Size
Before you get a specific Serta dog bed, you should make sure the size fits your dog. Some owners buy one model for their dog while they are still puppies, and other owners decide to immediately get a bed that will fit their adult dog. Whatever you choose, just make sure the size will fit your dog for a specific time.
Filling
Another great thing about Serta dog beds is they are made with Ortho foam. This type of filling will provide excellent skeletal support, so if you have a senior or arthritic dog that needs that extra bit of support, Serta is a great option.
Here are the best Serta dog beds you can find online;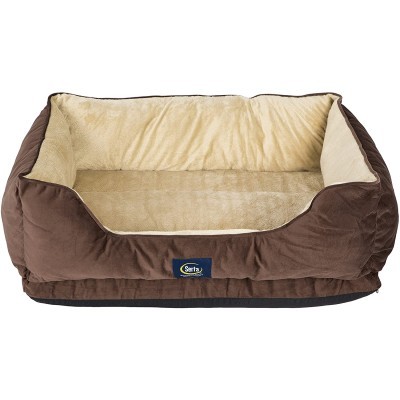 The Serta Ortho Cuddler comes in two sizes - Large and extra-large. It is ideal for senior dogs that will love having bolsters for head and neck support. However, puppies and adult dogs might prefer it too. This dog bed has bolsters on three sides, and even the "entry" is not entirely without bolsters. This is an ideal choice for dogs that love sleeping curled up. Like all other models, this dog bed comes with Ortho foam filling, so comfort is never in question. An excellent choice for dogs with unique needs.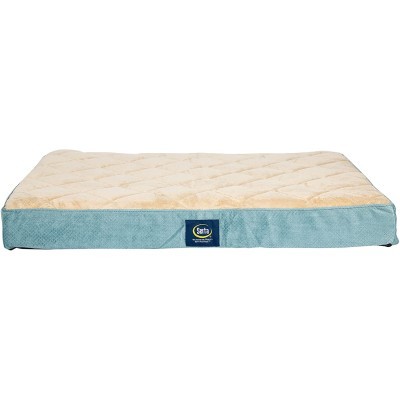 If you have a dog that doesn't seem to mind sleeping completely flat, with the head at the same level as the rest of their bodies, the Serta Ortho Quilted Pillowtop Pet Bed. This is a great option that can be fitted to dog crates, so you can be sure your dog is comfy while they are in their crate. The Ortho foam relieves joint pain, and the high-grade upholstery fabric will make sure your dog is as comfortable as possible. It comes with a non-skid bottom, and the cover can be easily removed and simply thrown in the washing machine.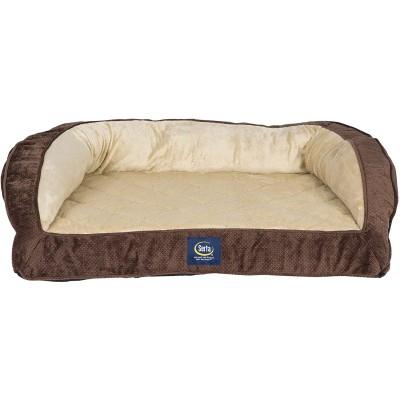 The third option in Serta dog beds is the Serta Ortho Quilted Couch. Not only is it easy to maintain, but it has a great design as well. We love the quilted look that this dog bed has, and another bonus is the removable cover. Just like other Serta dog beds, this one comes with a cover that can be unzipped and washed in a washing machine. This one also comes with Ortho foam, so skeletal support and comfort are guaranteed. This dog bed has bolsters, and if your dog loves sleeping with head and neck support or "pillow," they will love this Serta dog bed.
World Dog Finder team