3 Top Rated Retractable Dog Gates
13.05.2021.
Every product and service on World Dog Finder is independently selected by our editors, contributors, and experts. If you purchase something through our links, we may earn a referral fee. Learn more
---
Dog owners are often faced with an interesting problem - they need to keep their dog contained in a specific room or area. However, having a large, bulky dog gate might not be the most elegant or practical solution. Luckily, there are different types of retractable dog gates you can use to keep your pup out of the way. Before you decide on a particular model, here are some things you should think about;
What to look for in retractable dog gates?
Not all dog gates are the same, and not all models will fit your home ideally. There are a few things you should look for, and here are some characteristics you might find important and practical;
Size
The first thing you should think about is the size. If you contain your dog in your living room and have a large entrance, make sure you get a retractable dog gate that can close off the entire opening. The next thing you should think about is the height. You should make sure your dog cannot jump over the gate easily.
Material
Retractable dog gates come in different shapes, sizes, and are made of different materials. Do you want your dog to see through the gate, or do you think it would be better if the dog cannot see anything going on on the other side? Answering these questions will help you determine the best material for the retractable dog gates for your home.
These are the two main things you'd want to consider when picking a dog gate. Here are some of our favorite models;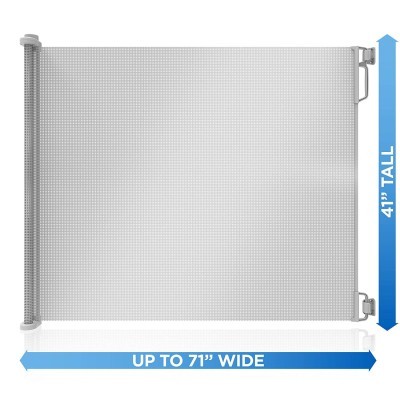 This model is not designed for pets, but it will do the job perfectly. This model has more than 14.000 positive reviews and is sturdy enough to keep even the most enthusiastic puppies confined. These retractable dog gets are 41 inches tall, and they are the tallest option on this list. It is ideal for large and small dogs, and you can be sure these gates are strong enough to withstand some wear and tear. The Perma Retractable Child Safety Gate will extend up to 71 inches, and you can choose from three different shades.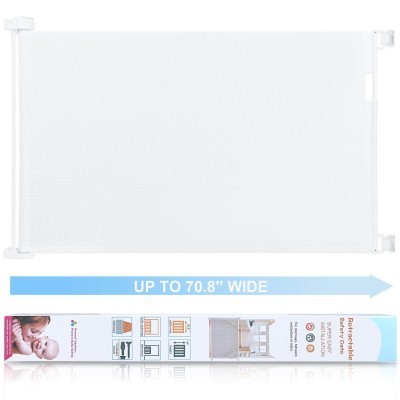 This is another great product that will easily keep your dog, or your children separated and out of potential harm. Unlike other retractable dog gates, the Mesh Retractable Gates for Babies and Pets has a lock mechanism on top. The interesting mechanism will make sure your kids don't accidentally unlock the gate. Even if your dog tries something, the mechanism will keep the gates safely in place. A great thing about these gates is that they come with two sets of installation mounting hardware, so you can easily switch them between outdoor and indoor use. This model can extend 71 inches, so make sure you measure the area you need to be closed off.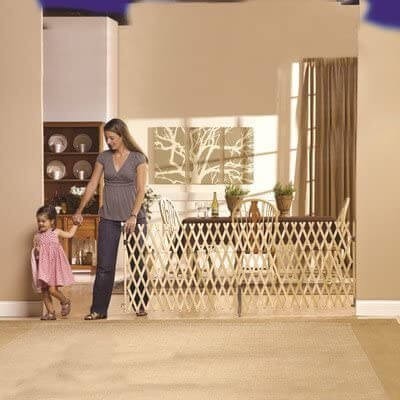 Not all retractable dog gates need to be mesh; some like the GMI Keepsafe 108" Wood Expansion Gate can be a nice wooden feature in your home. This huge model can retract to 25 inches. The smallest model is only 40" wide. This is ideal for large entryways that need to be blocked, and these retractable dog gates are sturdy and durable. Another cool thing about these dog gates is that they are made right here in the US. The height is 32", which is more than enough for most small, medium, and large dogs. This is a stylish piece that will go great in most interiors.
World Dog Finder team