What Are Pill Pockets For Dogs & How To Choose The Best Ones
30.10.2022.
Every product and service on World Dog Finder is independently selected by our editors, contributors, and experts. If you purchase something through our links, we may earn a referral fee. Learn more
---
Some dogs will eat everything you put in front of them, including edible and unedible things. Their owners don't have a problem with giving medicine or pill to their dogs since they will gladly take and swallow them. The problem can appear for the dog owner who has a dog that refuses to take a certain pill. No matter how hard they try, he will not take it. Some owners even reported that they wrapped the pill in salami, and the dog still didn't take the pill – he only ate the salami, as you may assume.
Don't worry; there are clever solutions that can help you get your dog to take a pill. Pill pockets for dogs are specially designed to put a pill in them, and in most cases, your dog will not have other options than to eat treats with a pill. It proved to be effective, and many owners praised them. Here is all you need to know about pill pockets for dogs.
What are pill pockets?
As the name suggests – pill pockets are exactly that – treats made in pocket shape with a place to put a pill. They come in different sizes and flavors and if you want to use one, make sure you find the best for your dog. We suggest choosing low-calorie pill pockets with some nutritional value, of course, if possible.
Are they effective?
Many dog owners that started using pill pockets for dogs reported great effectiveness. They said they don't have any more problems with their dog taking the required meds and pills. They put a pill in the pill pocket, and their dog doesn't realize a thing.
How to use them?
Pill pockets are very easy and simple to use. You need to take one treat, put a pill in it, close the edges (for some treats, you will only have to close one end, and for others, both), and feed your dog.
Is that simple? Now that you know what pill pockets are and how to use them, here are our top 4 recommendations that you can choose for your dog.
Top 4 pill pockets for dogs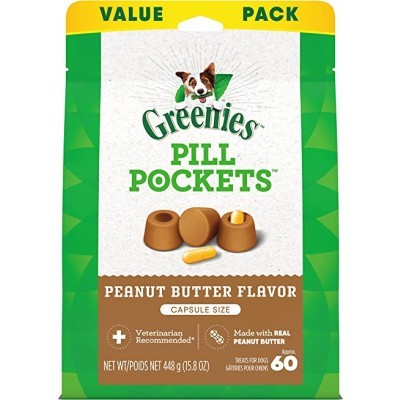 Your dog will surely like these tasty treats with a peanut butter flavor, and he will not even notice the pill inside them. These pill pockets were designed by the vets, which means they come together with the best option for the dog – he will get the tasty treat while still taking the meds. These pill pockets are very easy to use – just put the tablet in it and pinch the top, and that's it. Our dogs didn't even realize they swallowed the meds when we gave them these pill pockets.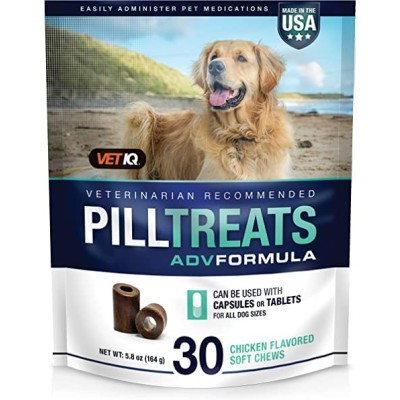 These pill pockets have a vet-recommended formula and are designed and produced in the US. Each treat is made like a tube; after you put in the tablet, you have to pinch both sides of the tube.
These pill pockets come in different flavors, which you can choose for your dog. They are not only a smart way of getting your dog to take medicine, but they will also support your pet's health.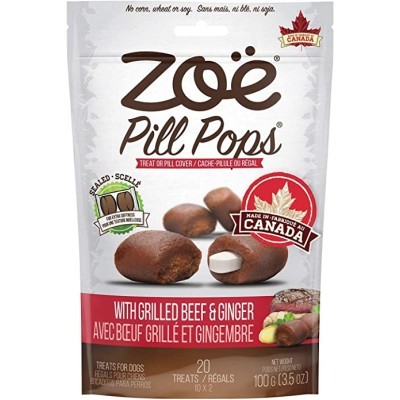 These pill pops come in three different flavors: roasted chicken and rosemary, grilled beef and ginger, and peanut butter with honey making them extra tasty for dogs. You can be sure that your dog will take medicine in no time with these pill pops. You have to put the pill in one half and squeeze together two halves of these pill pops. That's it.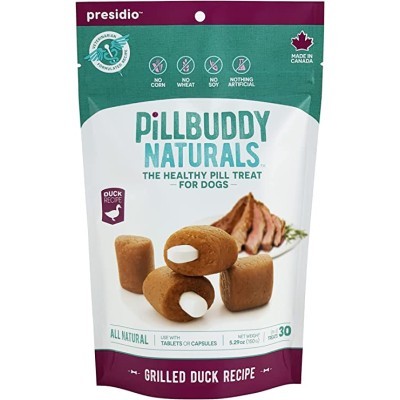 These pill pockets come in many different flavors, and you can be sure that your dog will love all of them. They can be used as regular treats and not only for taking medicine. Every pill pocket is individually wrapped to preserve the treat and to provide a fresh treat for every usage.
World Dog Finder team