The Best Pet Safe Weed Killers for Your Lawn
17.05.2021.
Every product and service on World Dog Finder is independently selected by our editors, contributors, and experts. If you purchase something through our links, we may earn a referral fee. Learn more
---
If you are like us, you love to have a neat and well-maintained lawn. However, one of the biggest issues you have to tackle is getting rid of all the weeds making your lawn look like an overgrown jungle. If you are a dog owner, you have to get a pet-friendly weed killer that will destroy the weeds but leave your dog unharmed. You don't want your dog to become a collateral victim in your war against weeds. Here is what you should know about pet-safe weed killers.
How to safely get rid of weeds?
Not all weed killers are the same, and some are based on active ingredients that are toxic to humans and dogs. If you have a dog, these are the types of weed killers you should widely avoid. Make sure you get a pet-safe weed killer that will clear your lawn, but will also keep your dog safe and healthy. Here are some methods you can use for getting rid of weeds without endangering your dog;
Hot water
This is one of the most popular ways to get rid of weeds. Hot or boiling water will work miracles for your driveway, more precisely, for the weeds growing between the cracks. This is not the best method in getting rid of weeds growing in the middle of your yard because boiling water will kill grass and desirable plants.
Salt
Another natural way to get rid of unwanted weeds is by applying salt to the weed-growing area. It is a natural weed killer that is relatively safe, and your dog should not eat it. However, keep an eye on your dog because too much ingested salt can cause all sorts of health issues.
Vinegar
Believe it or not, vinegar is a very potent weed killer. Plus, it is safe for pets since they don't like the taste. In fact, vinegar is an active ingredient in some pet-safe weed killers. However, you can't use the vinegar you have at home because it is too diluted. Most types of vinegar we use for salads are about 5% vinegar, which is not enough to kill weeds. The ideal vinegar solution should be between 10% and 30%.
Hand pull the weeds
This is the most tiring way to get rid of the weeds, but it is also the safest for dogs and lawns. You can only pull out the weeds and leave your flowers or grass intact. When you spray your yard with herbicides, there is a chance you will kill desirable plants and grass.
Here are some of the best pet-friendly weed killers.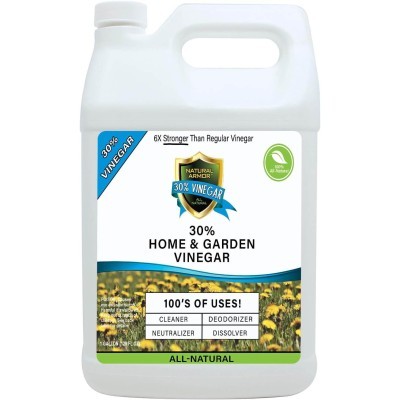 Our top pick for the best pet-friendly weed killer is the 30% Vinegar Pure Natural & Safe by Natural Armor that doesn't contain harmful chemicals. This is a potent vinegar solution, and the best part is that you can use it all over your home. It is safe for pets. This product will help you clean and deodorize shower doors, microwaves, drains, refrigerator doors and shelves, calcium deposits, and many more. This is an all-in-one cleaning product that is ideal for dog owners who live in houses with yards.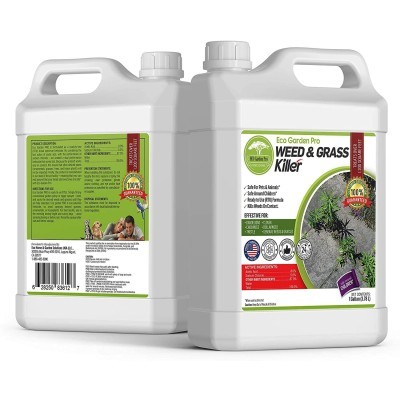 This is another product that uses vinegar as an active ingredient against pesky weeds. The ECO Garden PRO - Organic Vinegar Weed Killer works against moss, poison ivy, dollar weed, thistle, dandelions, and other common weeds found in yards across the US. The formula doesn't include harmful chemicals. The manufacturer stated this product is safe for children, dogs, cats, fish, and livestock. Plus, buyers are delighted with it, and it has excellent reviews. This is another great option for sorting out the weed problem in households with pets and kids.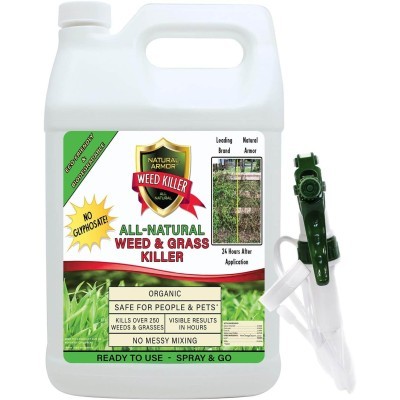 Our third pick is another pet-safe weed killer from the Natural Armor laboratories. This is another effective product that is developed specifically for weeds and grass. Unlike our TOP PICK, this Natural Armor Weed and Grass Killer is supposed to only be used in the yard. However, it is still safe for dogs, cats, other animals, and even children. The formula is really effective, and many buyers reported excellent results in a short time. This is a ready-to-use product, and it comes in several sizes, which is really practical. Plus, it has a pleasant smell.
World Dog Finder team