Best Dog Herding Balls [2023 review]
21.04.2021.
Every product and service on World Dog Finder is independently selected by our editors, contributors, and experts. If you purchase something through our links, we may earn a referral fee. Learn more
---
If you have a herding breed at home, you probably know how smart, active, and sweet they are. Herding dogs were used to herd cattle for hundreds of years, and herding is in their blood. They have a strong herding instinct that will require a lot of patience and training to control.
This might be an excellent characteristic if you need a working dog, but if you have a herding dog that is a pet, that behavior can become problematic. Many dog breeds herd cattle by nipping their legs. It is an effective way of getting the cattle to move in the direction the herding dog wants. However, that type of behavior cannot be tolerated if they are herding kids or other animals.
What breeds are herding breeds?
If you are a dog owner and have a herding breed at home, you will probably be familiar with them. If you are not, but you noticed your dog is displaying herding behavior, here are some of the most famous herding dog breeds;
Collies
Shetland Sheepdog
These are not all of the herding breeds but are certainly some of the more famous ones.
How can a herding ball help my dog?
Controlling the instinct in your dog might seem impossible. They were tasked with controlling and driving cattle for hundreds of years. It can seem impossible to control the dog's natural instincts and behaviors. However, dog herding balls can help you focus that behavior in a constructive and non-problematic way.
Some owners claim that actually allowing your dog to herd inanimate objects will cause worsening of the behavior, but the results seem to be completely opposite. Your herding dog will have a healthy outlet for their instinct, but the best part is that it will teach them a time and place for such behavior. Some of the problematic behavior a herding ball can help your dog with are;
Chasing cars, bikes, or people
Excessive digging
Spend their energy in a productive way
Herding children or other pets
Herding adults
What to look for in a dog herding ball?
There are a few conditions the best herding ball needs to fulfill. The whole idea behind a herding ball is to allow your dog to push the ball with their head and chest. The herding ball needs to be large enough, so your dog cannot bite it. The best herding balls should be made from durable plastic. The best models are made of rigid polyethylene plastic that is practically indestructible to dogs. Before you get one, make sure the size will fit your dog.
Now that you know what to look for, here are our top 3 recommendations for the best dog herding balls.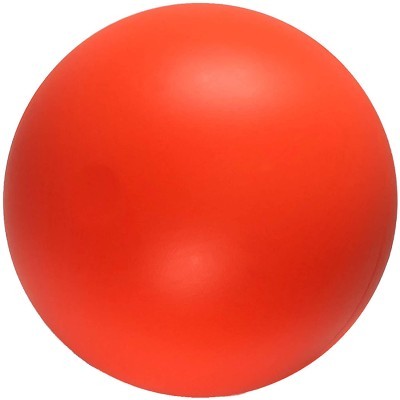 When it comes to dog herding balls, the absolute best pick is the Doggie Dooley Herding Ball. Its full name is Virtually Indestructible Ball, and the name is very descriptive. This herding ball is made in the USA from durable, rigid plastic. Some owners even reported their dogs with powerful jaws that usually destroy toys in minutes. It took nearly two years to destroy this one. Plus, this dog herding ball comes with a reasonable price tag.
Pros
Made in the USA
Durable
Affordable
Different size options
Different color options
You might want to consider getting your dog some toys they can use inside your home. Check out this article for some suggestions - Best dog toys.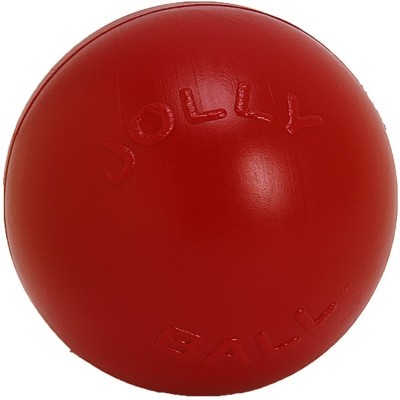 The Jolly Pets Push-n-Play herding ball was one of the best of its kind for decades. It is large enough so your dog cannot bite it. This ball will make your pup push it around with its chest, legs, nose, and every possible way there is. That is precisely the point of the Jolly dog herding ball. Jolly even offers wobbly balls, which might be even more fun for your dog. The plastic is highly durable, and Jolly Push-n-Play is as close to indestructible as it gets.
Pros
Durable
Affordable
Trusted manufacturer
Cons
Dogs might scratch it, which causes the ball to have sharp edges on those spots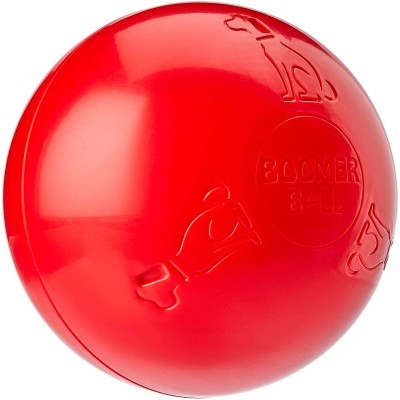 The Boomer Ball is an excellent choice for all enthusiastic herding dogs. It is made from rigid polyethylene, so you can be sure your dog will not destroy it in seconds. Even the breeds with the strongest bite force, like the Kangal, cannot do anything to a ball they cannot bite. You should make sure you get a big enough Boomer Ball and not pick one too small for your dog. You might want to be careful when kicking the Boomer Ball; it might hurt your toes.
Pros
Durable
Dogs love the red color
Affordable
Cons
Dogs might scratch it, and scratches can cause bleeding
World Dog Finder team