How to Choose The Best Dog Wheelchair?
05.02.2021.
Every product and service on World Dog Finder is independently selected by our editors, contributors, and experts. If you purchase something through our links, we may earn a referral fee. Learn more
---
Dog wheelchair is a commendable product created to help canines that can no longer use their hind legs. Paralyzation of the legs can be a consequence of an accident or a medical condition. Sometimes, aging does its thing, and otherwise, a healthy dog ​​remains immobile.
Dog wheelchairs enable disabled dogs to continue their life filled with walks with their humans, play-time in the park, etc. Providing your pet a wheelchair can significantly lengthen the quality of the dogs' life.
The first dog wheelchair was designed in an orthopedic veterinary hospital in the 1960s.
Whether your dog needs a wheelchair will determine a veterinarian. The veterinarian will decide depending on the nature of the dogs' disorder and its severity.
How Dog Wheelchairs Work Exactly?
Wheelchairs can be life-changing for injured, sick, or old(er) dogs, but only if the dogs' front legs are working properly. Wheelchairs help dogs with all sorts of difficulties, such as hip dysplasia, neurological issues that disable dogs to walks properly, arthritis, paralysis, injuries, etc. Wheelchairs are also great in helping dogs get back on their feet while recovering from surgery.
If your dog suffers from arthritis or hip dysplasia, a wheelchair will help relieve the stress on dogs' joints, and your dog will walk easily and painlessly.
Never leave a dog unattended while it is in the wheelchair. The cart could tip over, and your dog won't be able to get up by himself.
Can My Dog Go to The Bathroom While in a Wheelchair?
Absolutely yes! You don't need to worry about that. Dog wheelchairs are made in a way that enables dogs (both males and females) to urinate and defecate comfortably.
Choosing The Best Wheelchairs
Choosing the right wheelchairs is very important. The first thing that needs to be established is whether the dog is even a candidate for a wheelchair. Not all disabilities are the same, and the level of support one dog needs depends on the dogs' condition. Most commonly, a dog will need a rear dog wheelchair or full support wheelchair.
Rear Dog Wheelchair has two wheels, supports the dog from underneath, and provides stability. The wheelchair is a substitute for dogs' back legs. Rear Dog Wheelchair will enable your injured or paralyzed dog to stand, walk, run, etc. Full Support Wheelchair has four wheels and is perfect for dogs that have weakened both back and front limbs. This wheelchair is excellent for dogs with a progressive degenerative illness that will only worsen over time (most commonly, degenerative myelopathy that starts with knuckling of the hind paw, leading to both paws, and then to a wheelchair).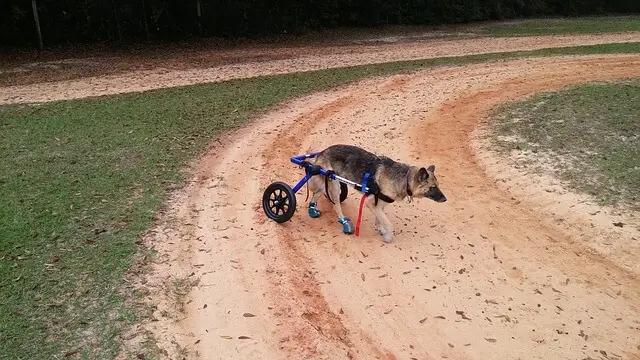 The Type of The Wheels
There are few types of wheels to choose from. The two most popular types are foam wheels and air-filled wheels. Foam wheels are made of foam and very durable on all terrains. These wheels can't be punctured. Air-filled tires are great for very active dogs that like to run on rougher terrains.
It is Important to Choose The Right Size
Make sure the wheelchair is set up correctly and the dog is comfortable! Most dog wheelchairs manufacturers make dog wheelchairs in four frame sizes – Mini, Small, Medium, and Large. Some even make customized wheelchairs for dogs. This is necessary because dogs come in different sizes, so there also needs to be various wheelchair sizes because one size can not fit all dogs' needs.
If you have troubles choosing the right wheelchairs for your buddy, here are some recommendations: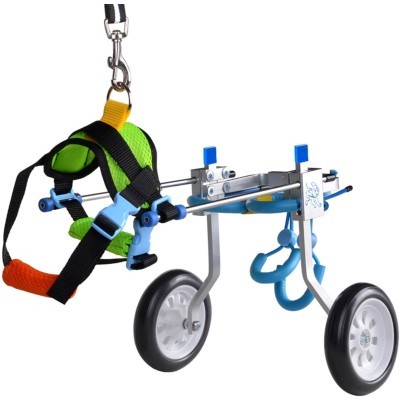 HiHydro 6 Types Cart Pet wheelchair is designed for animals with hind legs. This wheelchair enables an animal to walk and run. The wheelchair is exceptionally light and will not be a burden for animals wearing them. HiHydro 6 Types Cart Pet wheelchair is easy to put together and to take apart. It comes in different sizes.
Pros
comes in different sizes
very light
easy to assemble and to take apart
adjustable strap
adjustable length rod and width frame
great cost for quality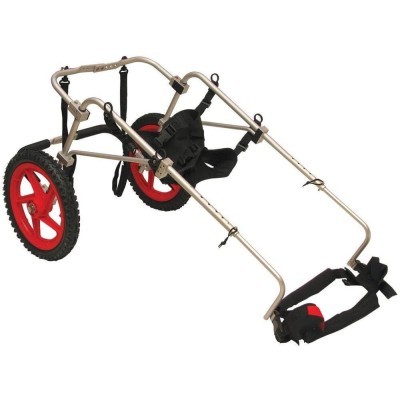 Best Friend Mobility Large Dog Wheelchair is a wheelchair made specifically for dogs 20-26 inches high from the floor to the top of their back. Best Friend Mobility Large Dog Wheelchair is designed by a K9 Orthopaedic surgeon. It has an adjustable shoulder harness and double rear leg neoprene harness. The cart is lightweight, comfortable, and easy to adjust.
Pros
light and comfortable
designed by K9 Orthopaedic surgeon
adjustable harnesses
easy to adjust
Cons
Mobile hind legs will get out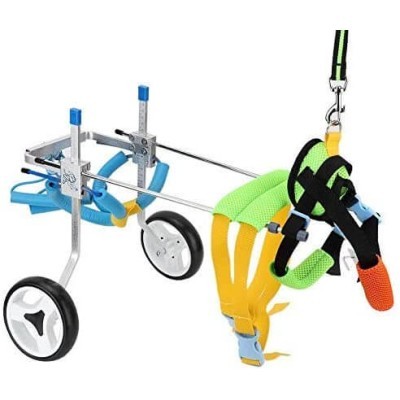 Fdit Adjustable Pet Dog supports a dog's hind legs making it easier for injured or disabled dogs to walk and run. It is also an excellent choice for dogs with limited mobility due to age or disease. Fdit Adjustable Pet Dog helps pets with degenerative myelopathy, hip dysplasia, arthritis, slipped disc, spinal problems, etc.
Pros
adjustable width frame and length rod
adjustable soft and high-quality strap made of high-quality aluminum alloy material
easy to use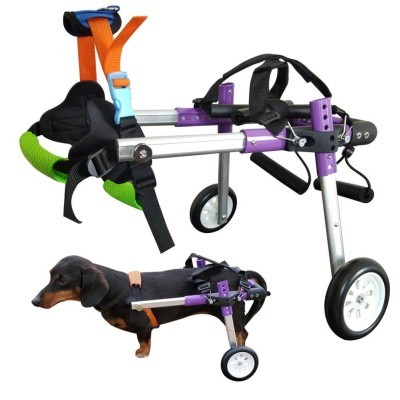 HyHidro 6 Types Cart Pet Wheelchair is made of stainless steel and is designed especially for dogs and cats with hind legs. HyHidro 6 Types Cart Pet Wheelchair is light and allows your pet to walk and run smoothly with it. The wheelchair is easy to put together and to use.
Pros
light and easy to use
made of stainless steel
durable aluminum alloy material
soft and breathable
replaceable height rod
foam wheels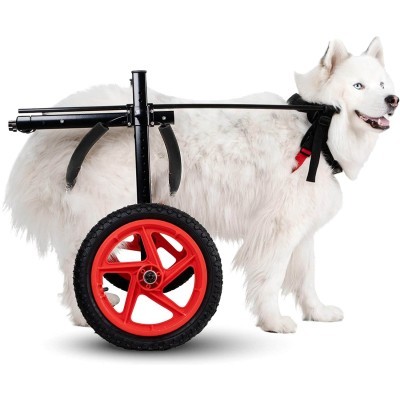 Best Friend Mobility PRO Dog Wheelchair is a result of over ten years of research and development. Best Friend Mobility PRO Dog Wheelchair is light and adjustable to fit dogs of different sizes. This wheelchair is excellent on all terrains and enables your dog to walk smoothly.
Pros
very comfortable
all-terrain wheels
lightweight frame
all parts are washable
World Dog Finder team