Top 5 - Dog Umbrellas
22.05.2021.
Every product and service on World Dog Finder is independently selected by our editors, contributors, and experts. If you purchase something through our links, we may earn a referral fee. Learn more
---
Some dogs simply hate walking in the rain. This might sound unusual if you have a breed that loves water, like the Golden Retriever. However, not all dogs love getting wet, and if you have a dog like that, you might want to get them a dog umbrella. That can be just a part of their raingear. You can also look for dog boots and raincoats.
It might not seem like a big deal if your dog doesn't want to go out when it's raining, but they still need to relieve themselves, and that can become a problem for dogs that hate rain. Luckily, there are great dog umbrellas that will shelter your dog from direct rain and allow them to go for a walk. Plus, if it is cold and raining, and your dog has a thin, single coat, they can get cold pretty fast. A dog umbrella is an excellent choice for single-coated dogs.
Here are some of our favorite dog umbrellas;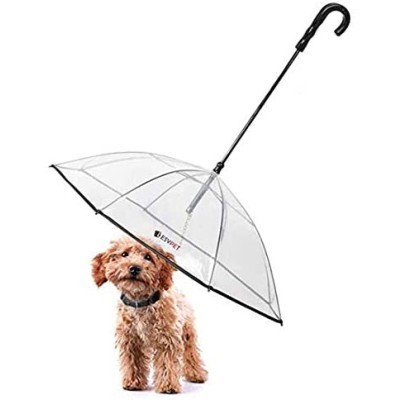 Our top pick is the LESYPET Pet Umbrella. This umbrella is entirely transparent, so you can easily see what is going on underneath the canopy. It offers excellent rain protection for your dog, and the shaft of the umbrella can be stretched. It can accommodate dogs with a back length of 20 inches, so it is for smaller dogs. This dog umbrella has a built-in leash that is 12.2" long, which is great because you have to keep the umbrella close to your dog.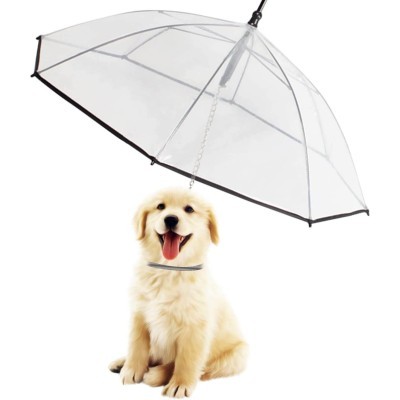 The Morjava Dog Umbrella is another great pick for your dog. This dog umbrella has an 8-rib metal "skeleton" that ensures sturdiness and protection for your dog. It is transparent, so you can clearly see what your dog is doing. The canopy material is high-quality, so you can be sure this is not a product that will deteriorate in a matter of days or even months. It includes a leash, and you can easily detach the handle for easy storage.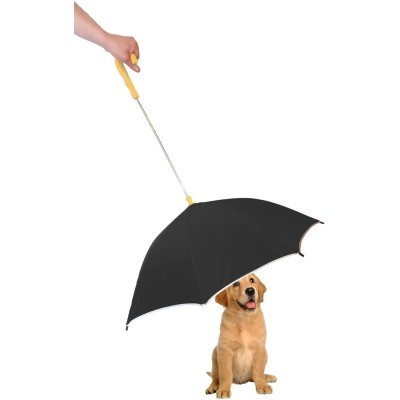 If you are looking for a dog umbrella with a bit of color, the Pour-Protection Umbrella with Reflective Lining might be the right choice for you and your dog. However, this dog umbrella comes with a relatively smaller canopy, so make sure your dog is small enough for this dog umbrella. This product comes in three color options and two sizes. Make sure you measure your dog before you order the umbrella. If the lack of transparency doesn't bother you, this might be a great choice.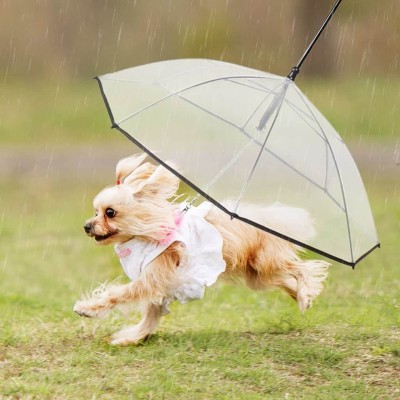 If you are looking for something other dog owners recommend, then the Hyacinth Dog Umbrella is for you. This umbrella has one of the thickest canopies, so you can be sure there will be no leakage. The canopy is transparent, which is a trait all the best dog umbrellas have. It comes with a metal leash that attaches to the dog's collar, and it is the best option for smaller dogs that are close to the ground. Help your dog go for a walk during rainy days with this helpful dog umbrella.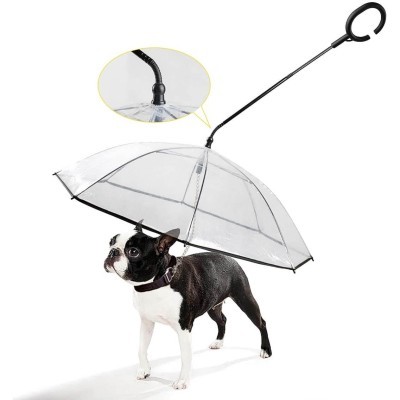 Our last item on this list is the K&L Dog Umbrella with Leash. As many others included in this category, this dog umbrella is transparent. It comes with a stainless steel leash that should be attached to the dog's collar. Unlike other dog umbrellas, this model comes in a C-shape. This unique design will keep your whole dog protected, so even if it is windy, your dog will have decent protection from the rain. The canopy is made of PVE-100C material, and it has a diameter of 28", so you can even use it for slightly larger pups.
World Dog Finder team