Best Dog Treadmills Review
---
Some breeds are more active than others, and breeds like the Belgian Shepherds seem to have an endless supply of energy and could benefit from using a dog treadmill. To avoid energy buildup, they should have a lot of physical activity. If these dogs do not spend their excess energy, they can become destructive and develop serious behavioral problems.
Your dog can benefit from using a dog treadmill, and here are the best products available on the market.
Our top pick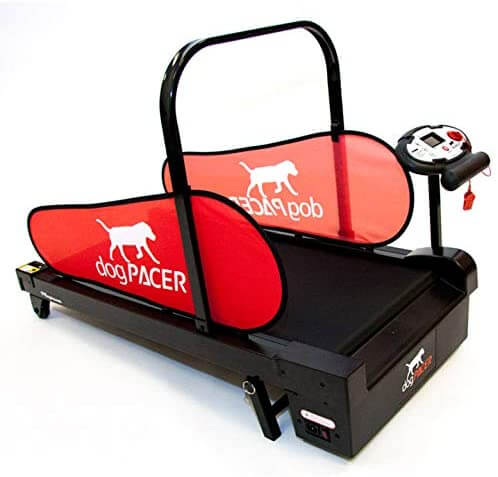 We have a Minipacer for our Huskies, and we have been nothing but delighted with it. Not only does it have a great design, but it is also really easy to use and offers different training programs, just like you would get in a gym.
PROS of Minipacer Treadmill
If you are interested in providing your dog with the best possible training experience, you should go for the Minipacer portable dog treadmill. Some of the biggest pros this treadmill offers are;
Easy to use
Great value for money
Adjustable programs
Different speeds
Weighs only 48 pounds
For dogs up to 180 lbs
CONS of Minipacer Treadmill
All products have at least something that might seem like an inconvenience, and we believe this dog treadmill has one - It is not easily foldable. You could remove the sides but putting it back together every time you use it might also be a problem, so even the biggest CON might not be that bad.
Professional pick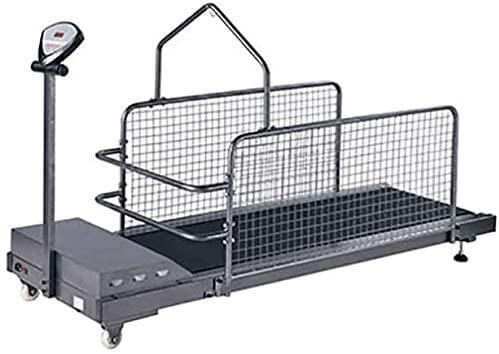 If you are looking for the professional, long-lasting gear you can use with several generations of dogs, then look no further than SRFDD Dog Treadmill. It is extremely durable, and you can use it for different dog sizes. It is entirely customizable, so your dogs can enjoy various training programs.
PROS
If you are a professional dog trainer or just have a couple of dogs that require a lot of training, then this might be the product for you. This dog treadmill offers various benefits such as;
Great for dogs of all sizes
Extremely stable
Metal sides and front for safety
Different programs and speeds
User-friendly
CONS
This is an excellent product for everyone with larger dogs that will require additional training and exercise, but like any product, it has some things that could irritate you. Those things are;
Weighs a lot (220 pounds)
Pricey
Luckily, if you have a place to set up your dog's training station, there will be no need to move it so often, and larger weight provides greater stability. It might be pricey, but it is durable, so you only pay once for a life-long product. Plus, there are different payment options, so it doesn't destroy your monthly budget.
Best for small dogs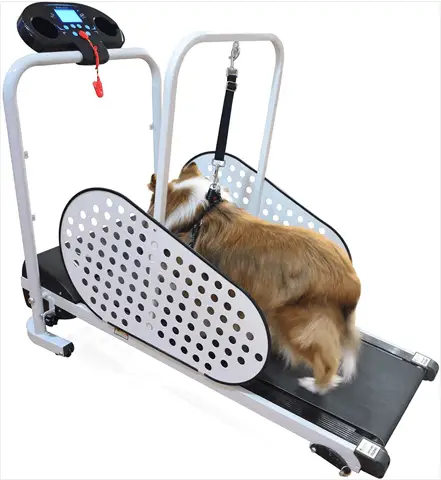 Small dogs also need exercise, and whenever you don't have the time to take them for a run, you can always put them on this dog treadmill. This product has a big enough running area, and you can set incline for even better results.
PROS
BingBing products are affordable products, and we can guarantee you will be satisfied with anything you pick from them. Here are some of the best features;
Safety setting (turns off after 30 mins)
Up to 7.5 mph
Specially made for small and medium dogs
Safety button on a string for accidents
Incline settings
Affordable
CONS
This is a mini treadmill, so you can only use it for small and medium dogs, which isn't a problem if you only have such dogs. Some cons of this product are;
Not for large breeds
Hand adjustment
The only problem is if you ever decide to get a larger dog, this might not be the product they could use. Hand adjustments aren't that big of a deal, and once you adjust it, it can stay that way for some time.
Best Mini Treadmill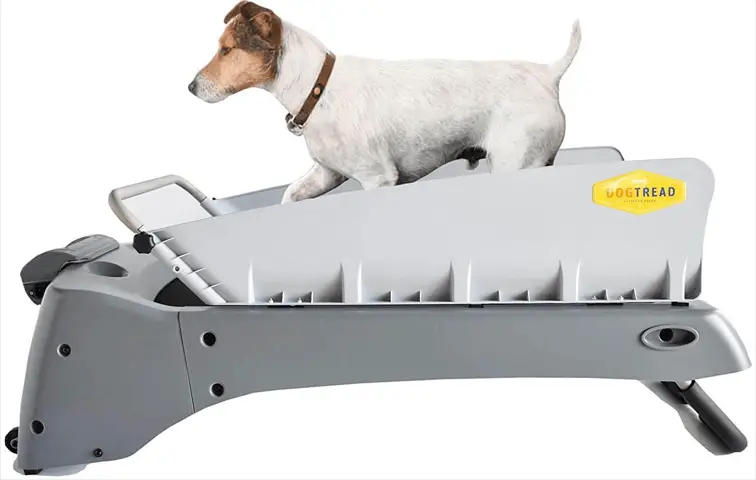 If you live in an apartment and have an energetic dog breed like the Jack Russell Terrier who needs to spend their excess energy, you will need a mini treadmill. The DogTread is an ideal solution for anyone that has a small dog and limited space. This mini treadmill is portable and foldable, making it easy to store and move when your dog is done exercising. It is incredibly light, which you might expect from a mini treadmill.
PROS
There are many advantages a mini treadmill can provide your dog with. Even though they might have limited space for exercise, this adaptable small treadmill will provide them with everything. Here are the best things about them;
Foldable
Light (47 pounds)
Mini (LxWxH = 44x20x21 in)
LCD screen
Treat holder
Incline options
Quiet
Safe
CONS
Every product has a bad side, and the one we can notice here is that it is not the prettiest and not the cheapest. Those are the main cons we can see, but there are no problems if you prefer the design.
Best for big dogs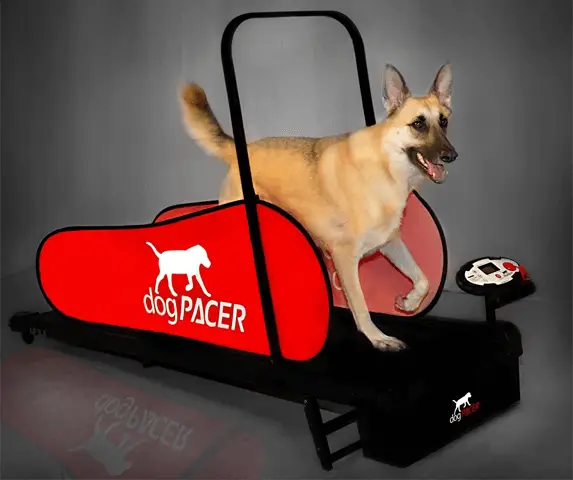 Large dogs tend to be lazier than medium-sized or small dogs, making them prone to weight gain and obesity. The most important thing is to keep them healthy and active, but most portable treadmills are not suited for the largest dog breeds. The DogPACER portable treadmill is suitable for the biggest dog breeds, and just like our top pick, it is fantastic.
PROS
DogPACER is a renowned manufacturer of portable dog treadmills, so there is a certain trust we can easily place in the brand. We are their trusted customers, and we believe they made an excellent treadmill for big breeds as well. Here are treadmills' best characteristics;
For dogs up to 180 pounds
Incline
Adjustable programs
LCD screen
Foldable
76.77x27.6x47 inches (quite large)
CONS
Like the smaller dogPACER, the full-sized also has some cons. Those are;
Not the easiest to fold
Rather heavy
The sad truth is that our busy lives often don't allow us to spend enough time training and exhausting our dogs, so we need to find alternative ways to fulfill their daily exercise requirements.
In uncertain times when a global pandemic is making all our lives miserable, providing your dog with plenty of exercises yet staying safe and social distancing at the same time can be challenging, to say the least. Getting a dog treadmill can be a safe and affordable way to ensure your dog with their much-needed exercise but keeping yourself safe by social distancing.
Benefits of using a dog treadmill
Dog treadmills are generally healthy and provide your dog with plenty of benefits, the same way physical activity is beneficial for humans. Dog treadmills help keep your dog healthy and happy. The only thing you have to keep in mind is the physical capabilities and exercise needs for the dog breed you have. Benefits your dog receives are;
Prevents your dog from getting bored - Most behavioral problems with dogs start when your dog's body and mind aren't engaged enough during the day. If you provide them with an activity such as running on a treadmill, they will surely get exhausted - and a tired dog is a happy dog.
Ends bad behavior - If your dog already developed a bad behavior, a dog treadmill can help you curb that sort of behavior. Tired dogs are easier to control and reeducate or put an end to the learned unacceptable bad behavior.
Weight control - Using a dog treadmill is the most efficient way to control their weight. It can be used for losing weight or just keeping your dog fit and in the best possible health.
Socialization - Dogs that use dog treadmills are more friendly. Dogs that spent their excess energy are more open and friendly. Cooped-up energy often results in aggressive and dangerous behavior.
Better training results - Dogs in training can be prone to stubbornness and might not be focused on learning commands if they have too much energy. Using a dog treadmill can improve training results.
What to look out for when using a dog treadmill
You do not want to over exhaust your dog cause that can have a completely opposite effect and damage your dog's health. It can cause heatstroke and other potentially dangerous problems.
Dog treadmill prevention
Possibly the best reason for your dog to use a dog treadmill is weight control. Obesity in dogs is a serious concern and can cause a lot of problems. Providing your dog with plenty of exercises can help prevent potential health problems such as;
Decreased stamina
Exercise intolerance
Heat intolerance
Breathing difficulty
High blood pressure
Liver disease
Increased risk of developing malignant tumors
A treadmill will bring balance back to your dog's life and will increase energy spending. Exercise will help your dog burn calories so your dog can start losing excessive weight and get their health back.
Start the training process gradually, and as your dog's stamina improves, start to increase speed and time spent on a dog treadmill. Using a treadmill is one of the best ways to help your dog lose weight, and it has shown to be one of the most effective. It is also essential to adjust the dog's diet as they start to exercise and keep track of their calorie intake.
What dog treadmill to choose?
Simply going on any online shop can be overwhelming, and sometimes the description sellers provide is not entirely accurate. When we started choosing different products, we felt the same way and were hoping someone could tell us which products are actually good or not.
The situation with dog treadmills is the same, and that is why we decided to pick the best options for you and your dog. These products are great, and we are sure you won't regret getting any one of these.
World Dog Finder team