Best Dog Proof Litter Box in 2023
25.05.2021.
Every product and service on World Dog Finder is independently selected by our editors, contributors, and experts. If you purchase something through our links, we may earn a referral fee. Learn more
---
It is not uncommon that dog owners have cats as well. There are many multi-pet homes across the US, and many of them often face a similar problem - their dogs get in the cat's litter box. If you have the same issue with your dog, you might want to look into the option of a dog-proof litter box.
There are different methods for keeping your dog away from the cat's litter box. Still, there are some products you can order online if you want a more simple solution. Here are some of the best dog-proof litter boxes you can order online;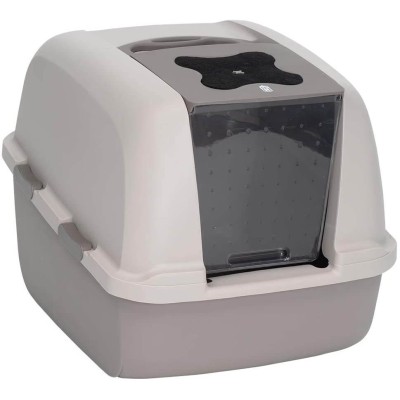 The Catit Jumbo Hooded Cat Litter Pan is our top pick for the best dog-proof litter box. It is extremely practical, and it will make sure your dog keeps away from the cat's bathroom. This model has small doors that ensure your cat plenty of privacy. This dog-proof litter box has a carbon filter, so all smells remain adequately hidden and contained. This litter box is large enough even for the biggest feline family members. While the doors are a practical thing, you might not need them, so it is a good thing you can fold them on top if they are not required. This product has excellent Amazon reviews, and pet owners seem to like it very much.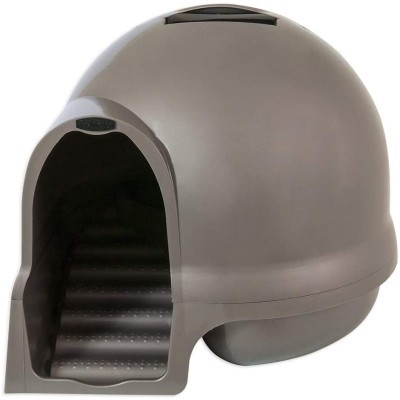 Not only is the Petmate Booda Dome a practical litter box, but it is also a well-designed one. We love the dome shape, which will keep your dog safely away from it. This uniquely shaped dog-proof litter box will also prevent cats from making a mess. Pet owners reported that this litter box keeps odors and mess well hidden, and they are pretty satisfied with it. It might seem small at first, but this dog-proof litter box is relatively large, so your cat has plenty of space in it. Plus, this model includes a charcoal filter, just like our top pick. Another great thing about this product is that it comes in 6 different colors. You can be sure you will find something you like.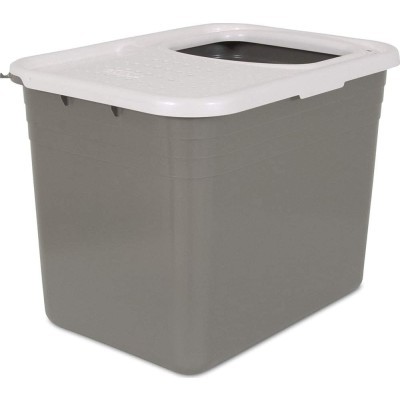 The Petmate Top Entry Litter Box forces your cat to come in from the top, making it impossible for your dog to have access to the mess inside. Dogs seem to have a strange affection towards cat poop, which is not something responsible owners should allow their dogs to do. If you are interested in learning a bit more about why dogs like eating poop, check out this article - Why does my dog eat poop? Luckily, this dog-proof litter box will prevent your dog from eating cat poop. It has a hinged top, so cleaning it is relatively easy.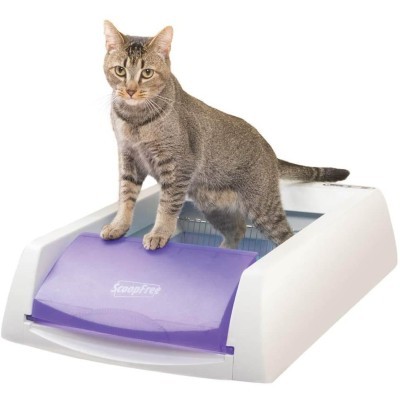 If you are away from home often, you might want to consider getting a PetSafe ScoopFree Automatic Self-Cleaning Cat Litter Box. You can't keep an eye on your cat and your dog 24/7. Luckily, this automated dog-proof litter box will detect when your cat has done its business and scoop it up immediately. The waste will go into a disposable waste bag, where all odors will be rehydrated and blocked. It is very easy to get rid of the used bag, so this is one of the best automated dog-proof litter boxes. Plus, it looks pretty cool.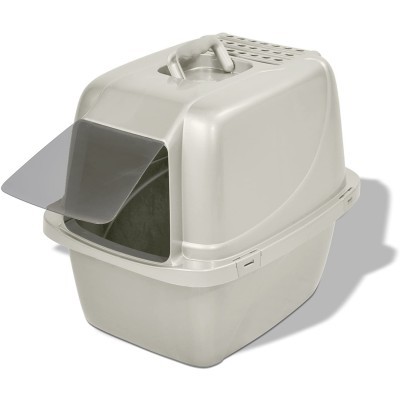 The Van Ness Cat Pan is similar to our top pick, so we simply had to include it on our list. This dog-proof litter box has flappy doors that will keep nosy dogs out of the cat's bathroom and away from the poop. Plus, the doors and the Zeolite air filter keep all the nasty odors safely inside the litter box. The top has a handle, so when you have to clean the litter box, you can simply lift it and scoop everything you need. What we like most about this litter box is its budget-friendly price. While this model does lack some functionalities other litter boxes on this list have, it compensates with an extremely affordable price.
World Dog Finder team