Best Dog Hunting Vests [2023 Review]
06.05.2021.
Every product and service on World Dog Finder is independently selected by our editors, contributors, and experts. If you purchase something through our links, we may earn a referral fee. Learn more
---
One of the most significant roles dogs had in history is that of a hunting companion and partner. Dogs help us hunt different types of game, and some breeds are incredibly successful in it. Dogs have keen senses of smell, and they can easily track and find prey that left a trail even days ago. Sometimes, they might need additional help or safety. One way we can provide them with it is by getting them an excellent dog hunting vest. Here is what you should know about them.
Types of hunting vests
There are different types of dog hunting vests, and each of them has a different function. Some will make your dog more visible, and others will help them fight off freezing conditions. Some of the best hunting breeds have fairly thin coats, and the weather could make their work very difficult and unpleasant. Different types of dog hunting vests are;
Visibility vests
Warming vests
Protection vests
Swimming vests
Waterproof vests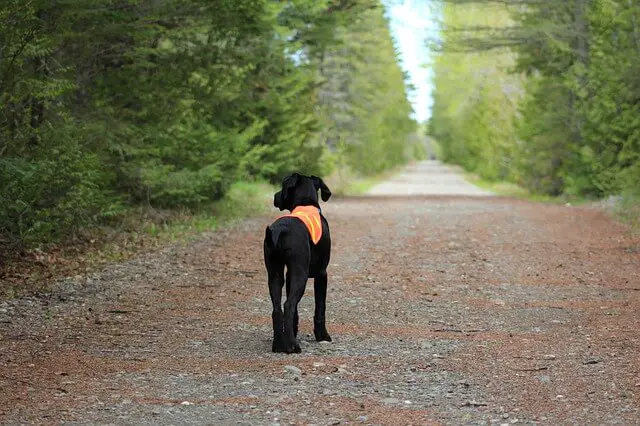 Want to read more about hunting dog breeds?  Check out this article - Best hunting dog breeds.
What to look for in dog hunting vests?
There are different things you might want to think about when buying a hunting vest for your dog. Think about what type of game you are hunting, the terrain, weather conditions, and what kind of hunting your dog does. All of these things might require different types of hunting vests and will help you make the best possible decision for your dog. Here are some of the most important things you should consider;
Adjustability
Hunting vests should be adjustable. Make sure you get a model that will include adjustable straps. Getting a vest that will immediately slip from your dog makes no sense.
Reflectivity
If you don't need a camouflaged hunting vest, you might want to think about getting a high-visibility vest with reflective trim. This is an excellent feature for hunting in low-light conditions and can be very good for suburban walks.
Material
Hunting dogs work in harsh conditions, and you should look for durable materials like neoprene, nylon, or canvas. There is a chance your dog will go through thick bushes, and the hunting vest should withstand a bit of wear and tear.
Leash or collar access
Look for dog hunting vests that have an easy-access solution for leashes or collars. You don't want to remove your dog's vest every time you want to leash them.
Now that you know what to look for in dog hunting vests, check out these fantastic recommendations;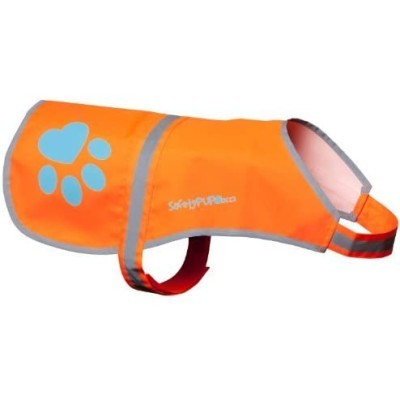 Our top pick for hunting vests is the SafetyPUP XD Dog Reflective Vest. This is a durable vest that is meant to provide your dog with more visibility. It is made of lightweight material and is intended for hunting in warmer climates with dogs that won't become cold. It has an adjustable strap and is ideal for low vegetation areas.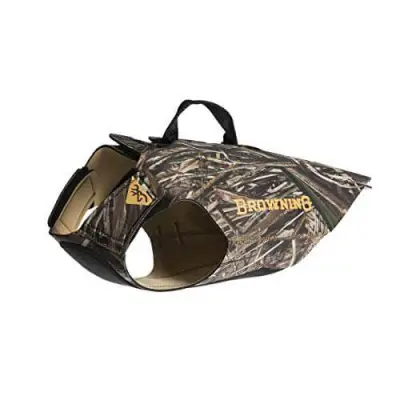 The best camouflage dog vest is the Browning Camo Neoprene Dog Vest. This vest is made of neoprene, so it will keep your dog warm even if they are diving into the icy water. The neoprene material is extremely durable, so not only will it help with your dog's buoyancy, but it will also keep their belly and chest free of cuts and bruises.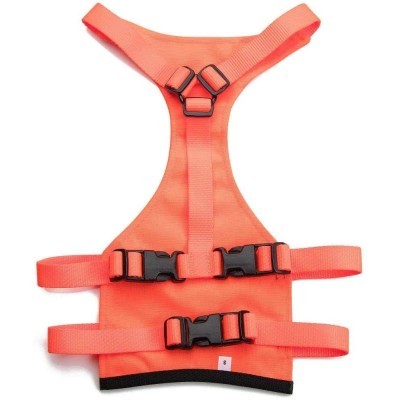 If you are looking for a protective hunting vest, the Mendota Pet Skid Plate is the right choice for you and your dog. If you are familiar with protective fabrics, you will love the fact that this vest is made of 1000 denier Cordura nylon. This material makes the vest very safe and highly durable. This is the best protective dog hunting vest you can wish for; a great pick and a top recommendation.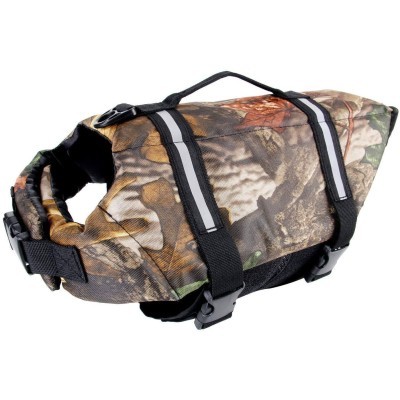 If you have a dog that retrieves prey from the water, you might want to get them a hunting vest that helps with their buoyancy. The Camo Pet Life Preserver Jacket is a life jacket that has a camo print on it. It has a handle on the back that will make pulling your dog out of the water a lot easier. This is an excellent pick for your hunting/retrieving dog.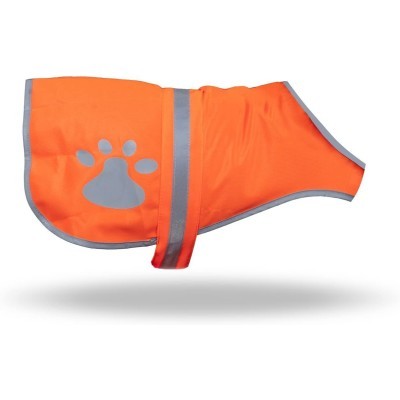 This is another excellent reflective dog hunting vest meant to increase your dog's visibility without impairing their working ability. The Petflect Reflective Dog Vest is easy to place and secure on your dog and makes it an excellent pick for hunting in low visibility areas. The reflective trim is a great feature for urban walks as well.
World Dog Finder team